This past December we took a much-needed trip to Walt Disney World for Christmas.  We decided to make this trip more about our son, Connor (4), and do some things for him that we hadn't done before.  So, we stayed in a Pirate Room at Disney Caribbean Beach Resort, and booked the Pirate Adventure Cruise (designed for children between 4 & 12) that departs from the Caribbean Beach Resort.  We knew he would love the theme of the room, and we had high hopes that our little pirate would think the cruise was fantastic too.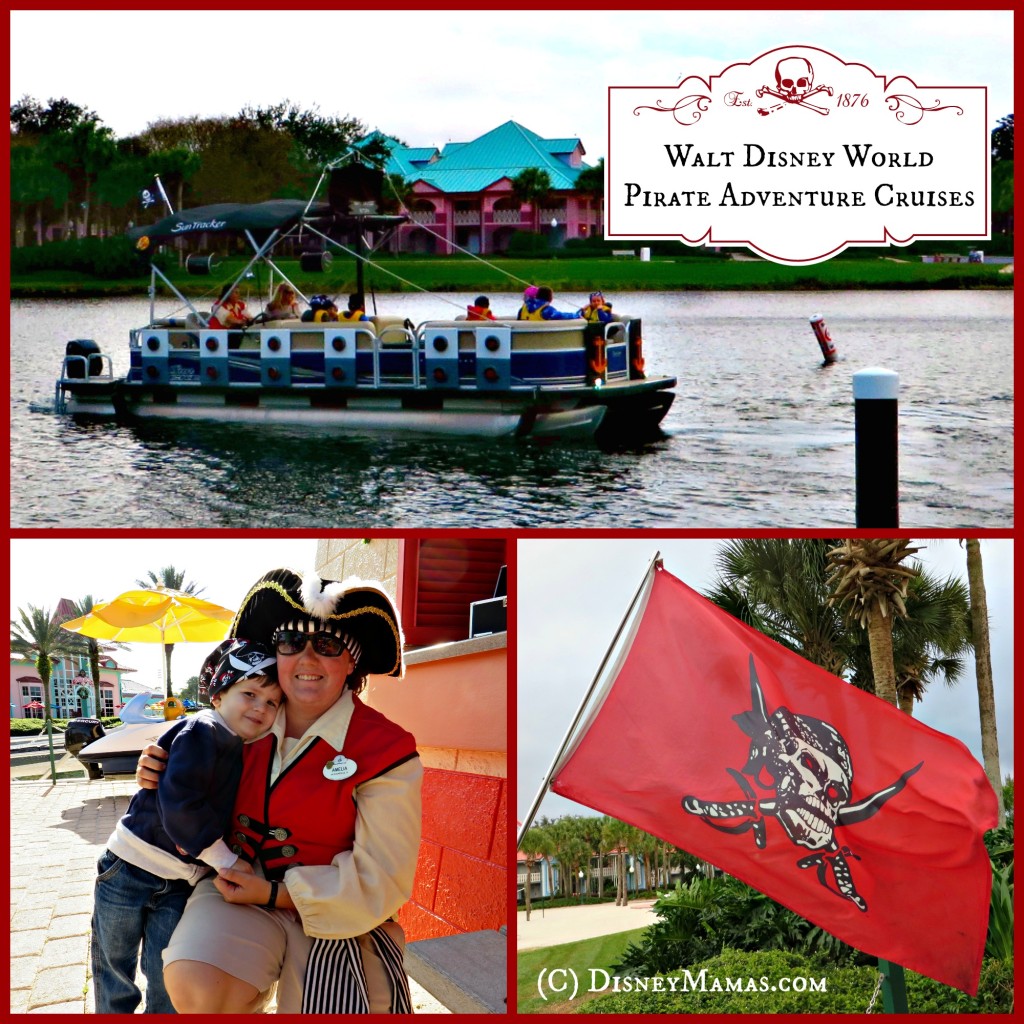 We were not disappointed.
The Pirates Adventure Cruise at Caribbean Beach, officially named the Islands of the Caribbean Pirates Cruise, sails on select mornings each week.  While we were there the dates were Sunday, Tuesday and Friday.  We opted for Tuesday, which just happened to be Christmas Eve.  It allowed my husband and I the opportunity to do some last minute Christmas shopping at Downtown Disney while Connor was out looking for treasure, so this was an added bonus.
We didn't tell Connor about the cruise, but rather told him that he was going to get to do something special on Tuesday morning without Mommy and Daddy.  Tuesday morning proved to be a bit chilly, and rain seemed imminent, but my husband called and confirmed that they were indeed going ahead with the cruise regardless.  We got Connor up, bundled him in the warmest clothes we had brought and headed to Port Royale to grab a bite before walking down to the dock.
This whole time he had no idea what he was going to be doing.
As we were headed down to the dock he spied a Pirate flag, and thought it was pretty cool, but didn't think anything of it.  There was a small group gathered at the mouth of the path, and a sign for the Pirates Adventure Cruise displayed by our Pirate Captain.  Now Connor was confused.  Who were these other kids?  And why was this lady dressed like a pirate?  I asked him if he had any guesses about what his special activity was, and then told him that he was going to go on a pirate adventure with the other children.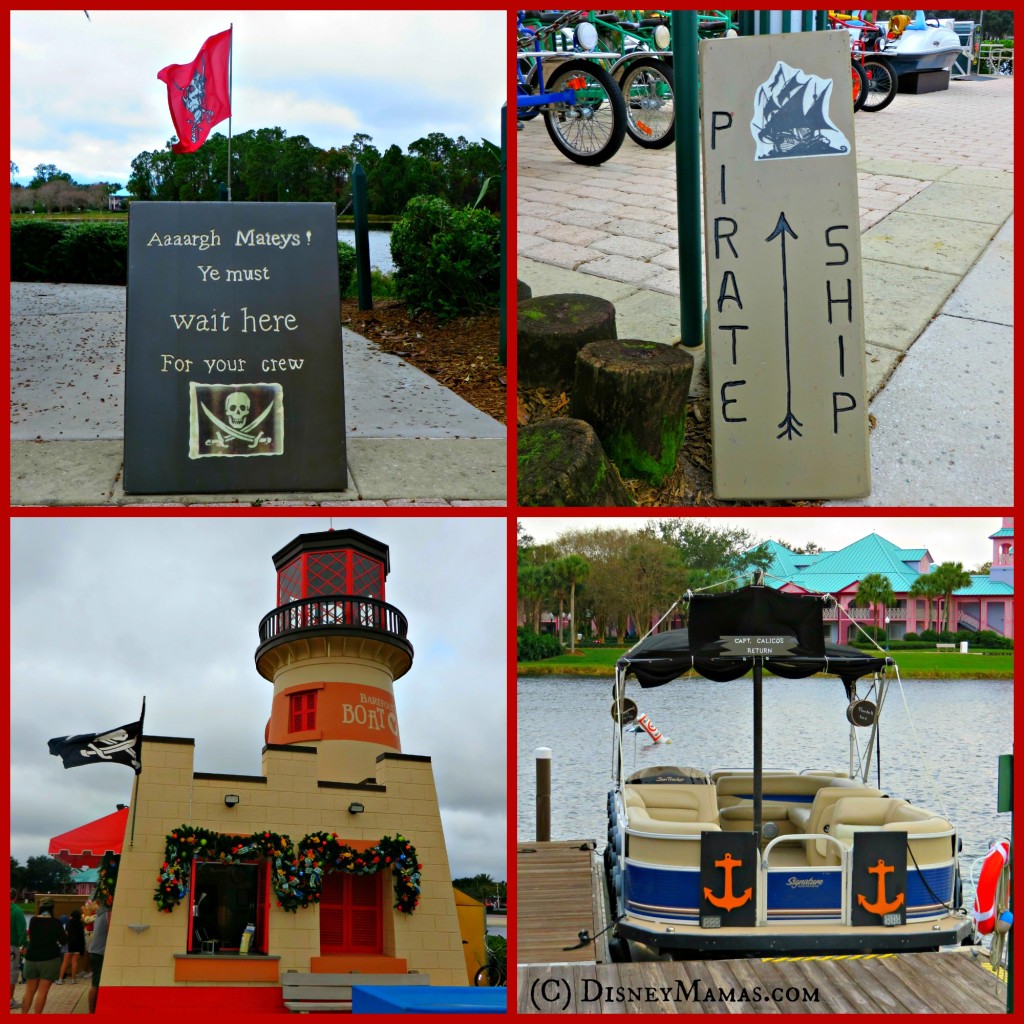 The smile that spread across his face was precious.
He was so excited.  He had woken up groggy and a bit cranky, but now he was bouncing off the walls.  He couldn't wait to get going and immediately started chatting up the other kids.  We waited for the remaining participants to show up, and then headed down the path to the boat dock to pay for the adventure, which comes in at right about $25 per child.  When it comes to Disney, that is surely a bargain.
The kids were suited up with their canon-proof vests (life jackets) by their pirate captain and her first mate.   Then they each got to pick a pirate bandana to wear on their head for the cruise, and to take home with them.  They had bandana styles for both boys and girls, and the First Mate tied them on in pirate fashion quite expertly.
They looked seriously adorable.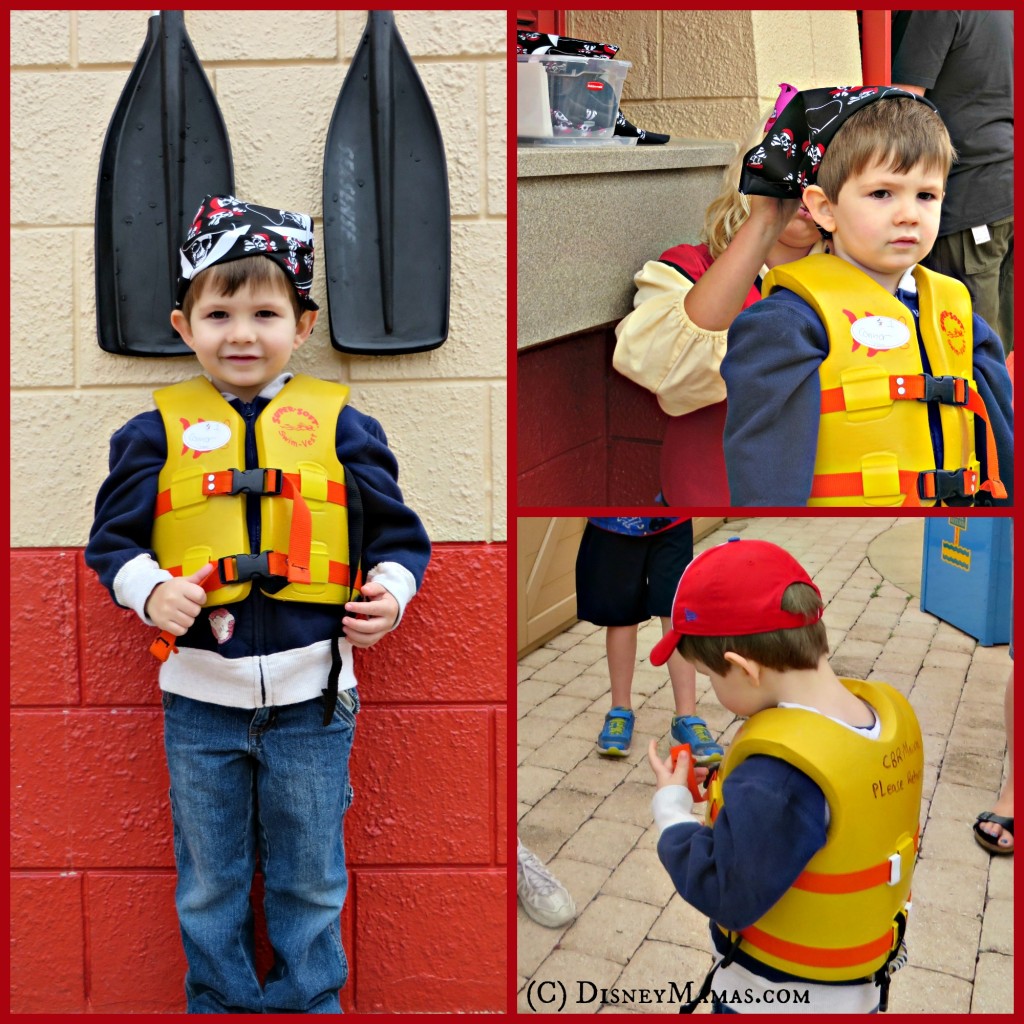 A brief safety orientation and they were off on their adventure.  They headed down the dock to their pirate ship, a little pontoon-style boat that had been done up with a bit of pirate flair.  They all loaded in and waved good-bye to those of us left behind, and they were quickly off on a search for pirate treasure left behind by Captain Calico, while learning the story of the pirate aforementioned, who was a real Caribbean pirate from years past.
Now it was our turn for adventure, as we took the two-hour window we had and braved the Christmas Eve crowds at Downtown Disney in search of those last few Christmas gifts.  Surprisingly the crowds were pretty near absent since it was so early in the morning.  I should note we had our own vehicle, which allowed us to get to Downtown Disney, shop, and return in less than 2 hours possible.  My husband and I agreed that such a quick trip would not have been successful on Disney transportation.
We made it back to the dock just a couple of minutes after the ship had docked, and just in time to see the kids on their final treasure hunt.  This hunt culminated in the discovery of a treasure chest, which contained a loot bag for each child.  Filled with typical pirate party trinkets, it made my son's day.  It had come out of a real treasure chest, after all!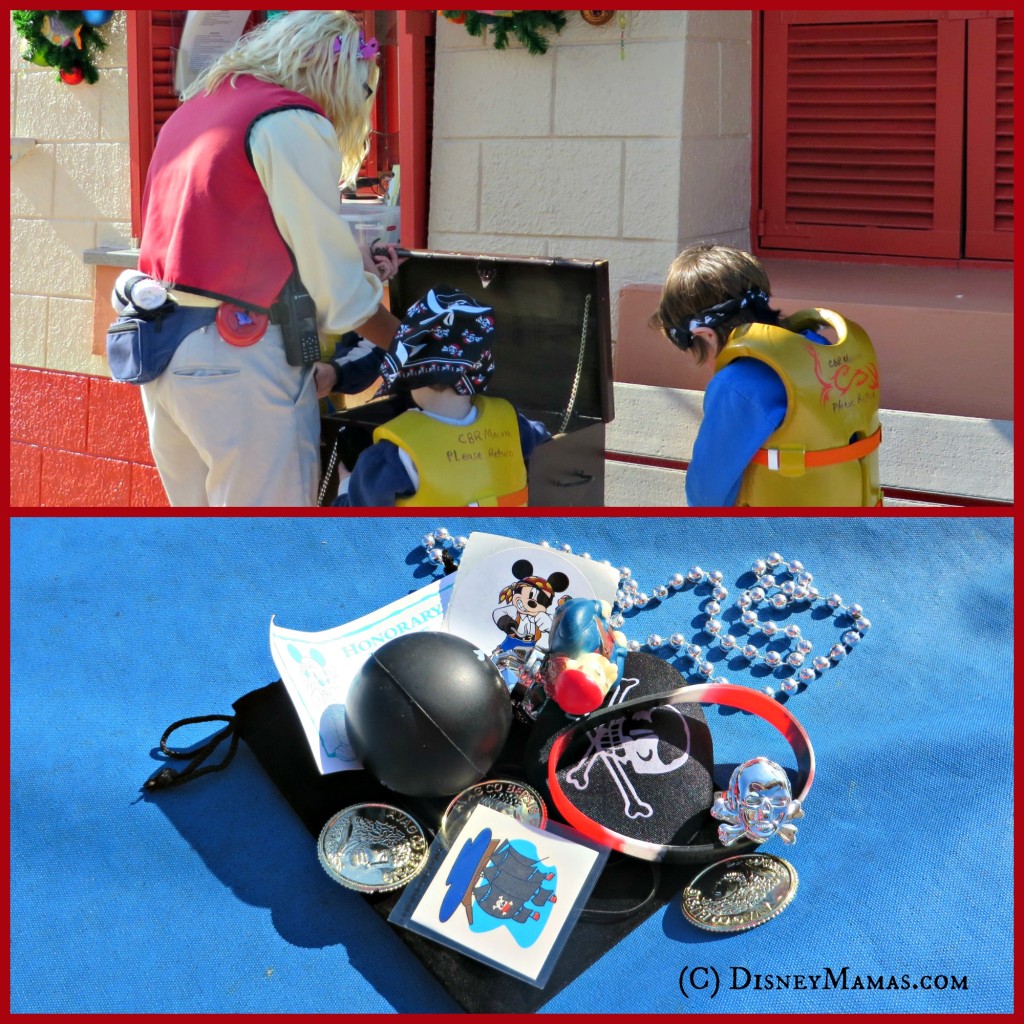 Connor had fun regaling their tale to us randomly throughout the day.  They took their ship to a beach where they had to defeat another pirate who was trying to steal treasure, then back on the boat for another destination, and then finally to their big treasure hunt.  He told us how funny the pirate captain and first mate were, how much he liked sitting in the front of the boat, and about the real pirate they had learned about.  I'm not sure we ever heard the whole story, but the parts we did hear were pretty entertaining!  He had a blast, and said at the end of the trip that it was one of his three favorite things from the vacation.  (High praise from a little boy who would rather ride the train or monorail than do anything else).
In addition to the Islands of the Caribbean Pirates cruise at Caribbean Beach, there are three additional resorts that offer a Pirate Adventure Cruise.  Departing from The Grand Floridian Resort is Disney's Pirate Adventure, featuring the "Legend of Gasparilla".  The Albatross Treasure Cruise sails from Disney's Yacht & Beach Club Resorts, retelling the Legend of the Albatross.  Finally, young pirates can sail from Port Orleans Riverside down the Sassagoula River on their Bayou Pirate Adventure, learning about New Orleans Pirate, Captain Jean Lafitte.
For more information on Disney's Pirate Adventure Cruises visit https://disneyworld.disney.go.com/events-tours/pirate-adventure-cruises/ or call 407-WDW-PLAY