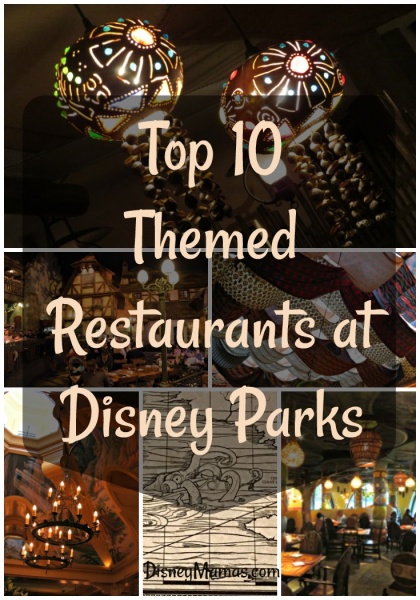 Dining at a Disney Park or Resort is an experience that many Disney fans look forward to as much as they do the parks and attractions, and with good reason. Not only does Disney offer dining experiences to suit essentially any taste, dietary need, and budget, but the restaurants themselves are much more than just a place to sit and eat. From the architectural design, interior details, cast member costumes, menu design and the food itself, these are more than restaurants – these are immersive and fully themed restaurants at Disney Parks. Because at Disney, the food is every bit as much an attraction as a favorite ride.
There are literally dozens of amazing table-service dining locations between Disneyland, Walt Disney World, Disney Springs and the Disney Resorts. Narrowing down my list to ten was a task, and much more difficult than I had anticipated. Read on for my top ten themed restaurants at Disney Parks.
1. 50's Prime Time Cafe
Location – Disney's Hollywood Studios at Walt Disney World Resort
Theme – The family kitchen and dining room in the 1950's
Menu – Mom's cookin' and Dad's drinks, or "comfort food"
I still remember the first time I dined at 50's Prime Time Cafe. It was 1992, it was our first trip to Walt Disney World, and our waitress made my Uncle Macyl stand against the wall for putting his elbows on the table and not finishing his vegetables. At ten years old I found this hilarious. Not much has changed. At 50's Prime Time your server is a member of your family – Aunt Bette, Uncle Joe, Cousin Ed, etc., and they treat you as if you are the closest of relatives. My oldest, Connor, always gets a kick out of being told to set the table as he's handed a basket with napkins and flatwear, and under the watchful eye of his new favorite family member is instructed in where everything goes on the table. The decor is 1950's kitch with walls and shelves adorned in Jell-o molds, ceramic chickens, calendars of the era, and pastel colors. During Christmas tinsel is abundant and the tinsel tree in the lobby is reminiscent of my Great Grandma's tree from my childhood. The menu is all comfort food and yum: Mom's Old-fashioned Pot Roast and Aunt Liz's Golden Fried Chicken are house favorites, and for dessert you can't go wrong with a Mom's Brownie or a PB&J Milk Shake.
2. Tusker House
Location – Disney's Animal Kingdom at Walt Disney World Resort
Menu – Buffet of African-inspired dishes with some American classics for the kids
When Connor was 3 he desperately wanted to eat with Mickey Mouse, and at the time I had yet to score a Chef Mickey's reservation so I booked us a meal at Tusker House hoping it would serve it's purpose. It did so in grand form. Connor was thrilled to meet his buddies Mickey, Donald, Goofy, Pluto and Daisy dressed out in their safari-gear, (and he was glad to find chicken nuggets and macaroni on the kid's buffet). My husband and I were impressed by the offering's on the standard buffet, and both agreed that the African-spiced meets and the hummus were delicious. On another visit my Nana fell in love with the Salmon and for the first time ever I saw her go back for seconds. The exterior architecture is designed to look like a larger building housing a restaurant and rooms for travelers and is all white stucco and large painted letters, while the inside is adorned with dark woods, reds and yellows. African artwork, camping and exploring supplies and tapestries adorn the walls and the buffet itself is situated in a room with soaring ceilings with hanging tapestries, woven baskets and worn posters showcasing exotic locations throughout the continent.
3. Skipper Canteen
Location – Magic Kingdom at Walt Disney World Resort
Menu – Eclectic collection of dishes from South America, Africa and Asia
Officially called Jungle Navigation Co. Ltd. Skipper Canteen this beautifully themed restaurant was a much needed addition to the Magic Kingdom dining offerings. The restaurant carries with it much of the charm of the Jungle Cruise, and our Skipper could have been fresh off a Jungle Cruise voyage with her sarcasm and quick wit. The menu is fairly exotic but everything we tried was delicious and my Nile Nellie's Noodle Bowl with Chicken was amazing; I could have eaten my weight in the "flavorful broth", which had a delightful lemongrass note and the "Kungaloosh" dessert was amazing. The restaurant is divided into three dining rooms, each dedicated to the fun of exploration. We dined in S.E.A Room, a nod to the Disney-famed Society of Explorer's and Adventurer's, and I loved the large map of the world over our table, complete with a Nautilus submarine in one of the Seas. What a great Disney detail. Other decor included African drums, tribal masks, beautiful crystal-ware, maps, photos and paintings, ship-crew gear, Jungle Navigation Crew notices, and much more. I highly recommend you walk through each room regardless of where you are seated, as there is a lot to look at and appreciate! The Mess Hall is particularly fun if you enjoy the decor of the Jungle Cruise queue line.
4. Biergarten
Location – Epcot at Walt Disney World Resort
Menu – Buffet featuring traditional German dishes
Tucked inside Epcot's Germany Pavilion you can hear the Biergarten before you see it. No matter the time of day the sounds of polka can be found in the air, often coming from the live band inside the restaurant. Step inside and you're transported to an evening in a lively German village with twinkling lights, Bavarian architecture and a small proscenium stage with dance floor set down into a lower level. All the tables are family style, and you are encouraged by the friendly servers, all from Germany and its surrounding Bavarian countries, to get acquainted with your table mates and enjoy the buffet. The buffet features a large variety of potato and sausage entrees and a delicious traditional apple strudel for dessert. The band plays short sets throughout the day and night, encouraging young and old alike to join them on the dance floor, only adding to the magical atmosphere.
5. Blue Bayou
Location – Disneyland Park
Menu – Louisiana-inspired dishes
Located in the heart of New Orleans Square at Disneyland, Blue Bayou is a very uniquely themed dining experience. The restaurant resides inside the show building for Pirates of the Caribbean and boats full of guests glide slowly through the back of the restaurant as they make their way back to the unloading area. Additionally the atmosphere is that of an outdoor dining location near the Bayou of New Orleans; stately homes with balconies surround the central dining area, "fireflies" twinkle in the trees, the sound of crickets, frogs and banjos are heard softly in the background, large trees with hanging lanterns illuminate the venue, cobblestone floors adorn the pathways and a route iron fence separates hungry diners from the pirate river and boats. It is peaceful, relaxing and nice respite on a hot day. The food at Blue Bayou is among my favorite at any Disney restaurant, and I'm particularly fond of the Pan Seared Salmon, though many would argue that the Monte Cristo Sandwich (only available at lunch) is what the restaurant is known for!
6. Raglan Road
Location – Disney Springs at Walt Disney World Resort
Menu – Authentic Irish Cuisine created by Master Chef Kevin Dundon
I fell in love with Raglan Road the first time I stepped foot inside, and we have been back countless times since. And when it comes to authenticity and theme, Raglan Road hits it out of the park. The decor and furnishing were all brought over from Ireland, well except for the bathrooms, and it is breathtaking. The wood is hand-carved, smooth and dark, colors are rich and fabrics are soft. Many of the tables have a great view of the stage area where live performances of Irish pub numbers and step dancing take place nightly, and if you happen to be in a side room the step dancers will occasionally bring in a portable hardboard to show off their dancing skills. The dancers also invite little ones up to the stage to learn a few steps. The food was all created by Irish Master Chef Kevin Dundon, who has won numerous awards and takes deep pride in every dish. Be sure to ask for some Soda Bread with Guiness Dipping Sauce, and whatever you choose as an entree, save room for Ger's Bread & Butter Pudding; its decadent and worth every single calorie. You're going to walk them off anyway so you might as well indulge!
7. Whispering Canyon Cafe
Location – Disney's Wilderness Lodge at Walt Disney World Resort
Menu – Chuck Wagon favorites served either in bottomless family style platters, or individual plates.
Wilderness Lodge is my favorite resort, and a lot of that is due to the theme. You may be only a short distance from Magic Kingdom, but you feel like you are in the middle of a National Park, complete with erupting geyser, flowing stream, waterfall, and a gorgeous resort hotel constructed out of what appear to be giant Lincoln Logs. The resort would be right at home in the middle of Yellowstone, and Whispering Canyon Cafe is the perfect stop for a hearty meal. Whispering Canyon is anything but quiet! The atmosphere is lively and fun, with games for kids to keep them occupied and entertained. Connor always gets a kick out of the stick horse races around the restaurant perimeter. The servers here are hilarious and their zany antics add a lot to the overall environment; ask for Ketchup or a refill and see what happens. And don't even think about not finishing your veggies! The decor is all Cowboys and Indians with furniture resembling large logs, a lot of red, green and plaid and cowboy and Indian artwork and artifacts adorning the walls. And the food! I'll be honest, we've never ordered anything but the All-You-Care-to-Enjoy Skillet; it's that good. I dream about the cornbread.
8. Carthay Circle Restaurant
Location – Disney California Adventure Park at Disneyland Resort
Menu – Southern Californian
Carthay Circle Restaurant serves as a beautiful omage to the beginnings of the Walt Disney Companies success. A replica of Carthay Circle Theatre, where Snow White and the Seven Dwarfs had it's film premier, the restaurant is situated right on the central corner of Buena Vista Street, serving as the entrance "weenie" for Disney California Adventure. The white theatre marquee stands out against the blue California sky beckoning you to come inside to enjoy a cocktail in the first floor lounge, or a meal on the second floor. The decor is classic Hollywood, and is full of photos of Walt Disney, Roy Disney and other photos of Disney Company history, as well as memorabilia pieces. The detail to the different dining room locations is impecable, with the main dining room being full of golden-age oppulance (be sure to look up!), the small private rooms each themed to a moment in Disney history (try to catch a glimpse of the Snow White room and it's magnificent table) and the outdoor terrace dining areas overlooking the lovely Buena Vista Street. Food at Carthay Circle Restaurant is a work of art, and the menu offers a wide range of options using locally sourced California ingredients. Many of the servers will happily give you a tour of the restaurant photos and memorabilia if you ask!
9. Sci-Fi Dine-In Theater Restaurant
Location – Disney's Hollywood Studios at Walt Disney World Resort
Menu – Classic diner-fare
When it comes to themed dining the Sci-Fi Dine-In Theater is one of the most heavily themed of all Disney restaurants. Most of the tables are created in replica 1950's convertibles in pastel shades with three rows of seating facing a large movie screen at the front of the restaurant. The movie screen plays clips of 50's era Science Fiction movies (nothing too scary and most quite campy), and you dine while enjoying the show. The convertible tables can make it difficult to hold a conversation with your entire party, but the experience is worth trying for sure. There are also a few standard tables to accommodate larger parties or those that may not be able to transfer into the benches of the convertibles. The surrounding area of the dining room features a tall fence covered in film posters, and painted behind the fence is a nighttime landscape for additional ambiance. Sci-Fi is known for their burgers and milkshakes, and they certainly fit the restaurants theme!
10. Sanaa
Location – Disney's Animal Kingdom Villas – Kidani Village at Walt Disney World Resort
Menu – African cooking with a focus on Indian flavors
A bit off the beaten path, my husband Chris and I took a chance on Sanaa on our first stay at Kidani Village. We fell in love immediately and when we renewed our vows on our 10th anniversary we choose Sanaa for our family reception dinner. The restaurant is located on the bottom floor of Kidani Village and overlooks the resorts savanna; a daytime meal affords you an incredible view of zebras, giraffes, ankoli cattle and other animals as you dine. The word Kidani is Swahili for necklace, and giant beads make up a lot of the pillar work inside of Sanaa. Each bead is painted with great detail and the colors bring a softness to the atmosphere. The different dining areas of Sanaa are representative of different countries and cultures of Africa, and if you wish to learn about them your server can provide some great information. You can also stop by Sanaa during certain times of the day; inquire at the front desk for more information. Sanaa's menu is adventurous and flavorful, with the Indian spices being heavily showcased in the cuisine. I adore the Butter Chicken, and if you think you love bread now, wait until you've experiences the Indian-Style Bread Service (which you can sample during the tour)! It is well worth the trip to Kidani Village to experience the magic of Sanaa.
Honorable Mentions:
When I sat down to make this list I had the hardest time narrowing it down to just ten, so while I won't go into detail now I have five restaurants on my honorable mentions list. They are, in no particular order, Be Our Guest, Tony's Town Square, Chefs de France, Hollywood Brown Derby and Jock Lindsey's Hangar Bar. Someday soon I hope to get out another post covering these and a few more!
Disney is all about the details, and those details are what sets Disney apart from so many other theme parks and resorts. To me, Disney themed dining experiences are a natural extension of my theme park vacations and one I look forward to exploring on each trip. Did your favorite themed restaurant make the list?
---
For more on this really awesome topic,
check out the other great posts from the Blogorail!
---