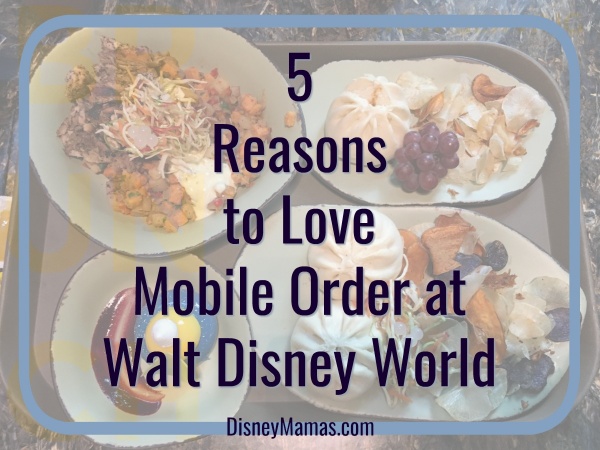 As a mom of two I have come to appreciate mobile ordering features at some of my favorite local places (there is nothing better than ordering my Starbucks or Chick-fil-a ahead of time and just showing up to have it waiting for me). When Walt Disney World announced they were rolling out a Mobile Order feature through the My Disney Experience app this spring I was stoked. When I was able to try the feature this summer I fell in love. Here are 5 reasons why you should love Mobile Order at Walt Disney World too!
1. One Family, Different Tastes, Different Restaurants
My oldest, Connor, wants to dine on chicken nuggets and cheeseburgers at every meal, while my husband I like to try different things. Sometimes this caused a little unnecessary dining stress, and often resulted in someone being less than thrilled with their choices. While at Animal Kingdom Connor wanted a cheeseburger while Chris and I were craving a little Flame Tree Barbecue action. Enter Walt Disney World Mobile Order. it has often been a pain on vacation when my husband and I want to venture out a bit more. Mobile Order at Walt Disney World was our answer. Using my phone I was able to order a cheeseburger from Restaurantasaurus for Connor and also order pulled pork sandwiches from Flame Tree for Chris and me. Problem.Solved.
2. Mobile Order at Walt Disney World is Quick and Easy to Use
I use an iPhone while my husband is an Android guy. Using our My Disney Experience app the Mobile Order feature was easy to use on both platforms. On the app homepage under "My Plans" select Order Food and then pick a participating restaurant for the particular park or Disney Springs. Order your meal, making customizations as necessary, and pay at the end. When you are ready re-enter the app and click on your character avatar, taking you to a page that allows you to notify the kitchen that you are ready to eat! Click the "I am here, prepare my food" link for the restaurant and the kitchen will begin cookin'! Give yourself 5-10 minutes notice to avoid a wait once you actually arrive. Once your food is ready you receive a text notification that your order is ready for pick-up! The only downside is that mobile order at Walt Disney World cannot currently utilize Disney Dining Plan credits, gift cards or take any discounts.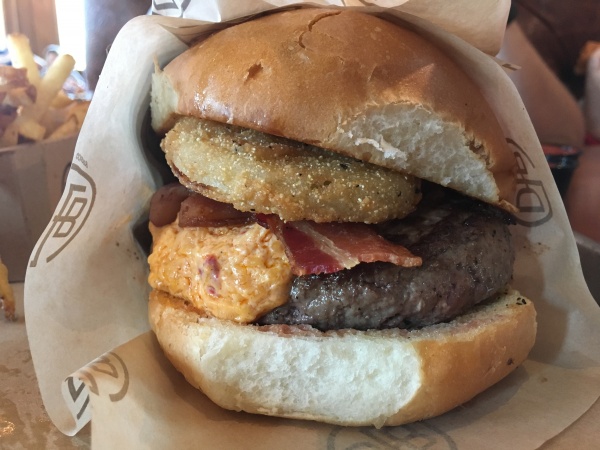 3. Picking Up Your Food is a Breeze
When I received my Restaurantasaurus text Connor and I made our way that direction only to discover a line that was out the door. Thankfully there was a Cast Member stationed at the front who directed us inside to the mobile order pick up line. There was one other person there and our food was in hand. Within minutes we were on our way back to Flame Tree where I had just received my second text that our food there was ready; no wait required. It was amazing. After years of dealing with my hangry kids as we wait in long lines to order and then receive our food this was a literal dream come true.
4. Order In Advance, From Anywhere
Planning to head to Animal Kingdom and want to eat when you get there? No problem! You don't have to be inside the park to utilize the feature. We processed both of our orders while we waited for our bus at the resort. As soon as we arrived at Animal Kingdom I headed to app to send my "I am here" message and we headed in the direction of the restaurant choices. You could be at Epcot waiting on the Monorail headed to Magic Kingdom and order your Columbia Harbour House Lobster Roll before even boarding the Monorail. You can even store orders for later since the kitchen won't actually begin preparing your food until you notify them you are ready.
5. More Restaurant Choices Being Added Regularly
When first announced mobile order at Walt Disney World was only available at select Animal Kingdom restaurants, then they added D-Luxe Burger at Disney Springs. In the past month Disney has expanded their mobile order offerings to include Magic Kingdom, Epcot and Hollywood Studios as well. There are currently 13 total locations available for Mobile Order and expect to see that number increase steadily over the next couple of months.
Overall we were very impressed with the ease and convenience of the mobile order feature, and we will definitely be utilizing it again this coming holiday season. I look forward to the expanding options, and hope they are able to incorporate Dining Plan credits as well as Annual Passholder and DVC discounts into the system.
Have you tried Walt Disney World's Mobile Order feature? Let us know what you thought in the comments!
---
For more on this really awesome topic,
check out the other great posts from the Blogorail!
---