Disclaimer: I was provided with a digital copy of The Not-So-Evil Stepmother in the Most Magical Place on Earth by the author for review purposes. All thoughts and opinions are my own.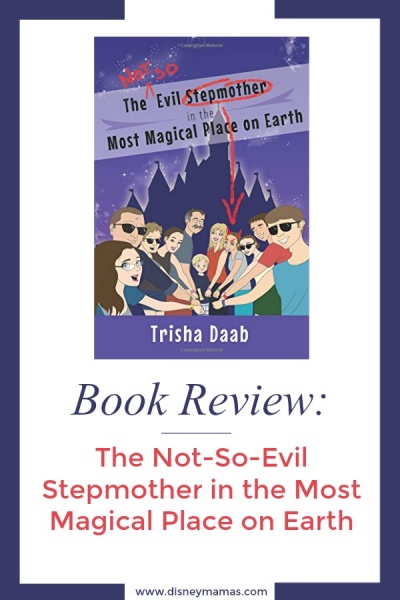 My family and I visit Walt Disney World regularly, sometimes just us and sometimes with extended family, so when I was asked to review Trisha Daab's book The
 Not-So-Evil Stepmother in the Most Magical Place on Earth
,
I eagerly agreed. Normally I'm not one to read guidebooks, but her book sounded unique. She would be looking at Walt Disney World trips from multiple planning points of view; from romantic getaways up to extended family vacations with a party of 11, and include information on her Disney wedding. It was something a felt that I could review from a unique perspective, having experienced fairly similar trips, just without a step-family. The book is set up as an exploration of four distinct trips that Trisha has taken with her family, and each trip is divided into a few chapters that detail the experience and offer tips to readers who are in the planning stages of their own Walt Disney World vacations. Following each trip is a chapter or two divulging a "Not-So-Scary Stepmother Disney Secret".
Overview
I used to frequent the Disboards and was an avid reader of trip reports. In my opinion, The Not-So-Evil Stepmother in the Most Magical Place on Earth reads more like a trip report than a guide or planning book. Each trip begins with a brief overview and character list, sometimes with a trip itinerary but not in each instance. Then the book goes day by day through the trip, offering up opinions of select experiences and occasional tips to the reader.
The first trip in the book was for Trisha and her now-husband Joe's Disney Wedding in 2005. The trip party topped out at eight people, and they spent a week at Disney's Beach Club resort. In this section Trisha details how she arranged the trip and spoke to her experience working with Disney Fairy Tale Weddings.  We meet Trisha and her family here and learn about a few of their must-do experiences.
Trip two is a an extremely short section on a romantic Disney trip for two in 2007 that takes up all of two pages before switching chapters to another Disney Secret. Quite honestly, this chapter was unnecessary and spent a significant portion of the two pages talking about Spoodles, a restaurant that no longer exists at Walt Disney World. The Disney tip within the chapter, however, is a good one.
Trisha's third trip was a week long first trip with her husband and youngest son to celebrate his 5th birthday in 2013. This was my favorite trip in the book. I have very special memories of each of my boys' first trips, and the way she describes her son's expressions and reactions to "magical firsts" brought back a lot of my own fond memories. Most of the tips in this chapter are fantastic for anyone travelling with a young child and reading about her son's experience with Jedi Training will truly touch your heart.
The final trip in The Not-So-Evil Stepmother in the Most Magical Place on Earth covers a 2015 trip for a party of 11, where the significant others of some of the older kids joined in on the fun. This trip finds the Daab family at Animal Kingdom Villas – Kidani Village celebrating Trisha and Joe's 10th anniversary. This was the first trip following the full roll-out of My Disney Experience,  Fastpass+ and MagicBands, and Trisha discusses how her family reacted to these new planning additions. This is the longest segment of the book and has quite a bit of redundant information from previous sections, as well as a few comments that I personally felt were inappropriate and unnecessary. (Please don't make comments about cast members being flamboyant or insinuate that yelling at Tinkerbell as if she is a tiny Mexican man is appropriate. Regardless of how you feel, you are talking about real people and impacting the experience of other guests).
Highlights
As previously mentioned, I used to read a lot of Disney trip reports. As such, the narrative of each trip was familiar to me and far more conversational than a typical Walt Disney World planning or guide book. Trisha set out to write a book that felt like a chat with a friend about their Disney vacations, and in that regard I believe she was successful. There are several humorous moments in the book, and several times when I could recall my family experiencing a very similar situation. It was easy to relate to her passion and enthusiasm.
My favorite portions of The Not-So-Evil Stepmother in the Most Magical Place on Earth are the chapters dedicated to "Not-So-Easy Stepmother Disney Secrets." There are seven of these chapters in total and for the most part they provide a strong foundation for beginning trip planning. For example, the five questions Trisha uses for determining the best resort options for her travel party are questions that I use when planning my trips and questions I ask my guests when planning their vacations. Other "secrets" such as stopping to savor moments and taking time to appreciate each trip are valuable bits of advice for both the new and seasoned Disney traveler.
The travel tips sprinkled throughout the individual trips also provide some good advice to travelers. Things like scheduling at least one character breakfast, going with the flow when travelling with young children, using resort package pick-up and eating meals at slightly off times to avoid crowds are great advice. With all tips, however, do a quick search to determine if the discussion point is still an offering. My favorite tip? When travelling with extended family try to plan a Disney date night for you and your significant other.
Missteps
While The Not-So-Evil Stepmother in the Most Magical Place on Earth is a fairly easy and enjoyable read, there are certainly a few missteps throughout. Overall there is some good information but it is difficult to find within the pages. Points skip around quite a bit with no transitions, and then back again, making the narrative hard to follow in places. Beyond these mistakes, there are some spelling and grammatical errors and a significant overuse of the comma. My middle school English teacher, Mrs. Eisenthal, would have loved that…but to most of us that poor comma needed a break.  I also found quite a bit of the information to be redundant. For example, experiences at Sci-Fi Dine-In Theater and Les Chefs de France are restated in multiple trips. I also struggled with the fact that there is not a single photograph in the entire book. I'm a very visual person, and Walt Disney World is very visual place; I really wanted to see Trisha and her family experiencing some of this things she speaks of in her book. I also can't think of any other Disney planning book where there hasn't been images throughout to punctuate the pages.
Further there are numerous recommendations and reviews of experiences that are no longer offered at Walt Disney World; a simple check of MyDisneyExperience or Google search should have been conducted to see if the experience is still offered. To date, the following experiences have been eliminated from Walt Disney World:
Fastpass+ for Wishes ended in 2015 (and Wishes has now been replaced as well).

The "Honey I Shrunk the Kids" play area at Hollywood Studios closed in early 2016.

Star Wars Weekends ended in 2015.

Epcot's Segway tour ended many years ago (though the tip regarding splitting up a large party to keep the peace is a good one).

Minnie Mouse is not a regular character at Animal Kingdom's Tusker House character buffet. In fact, in our numerous dining experiences here we have never encountered her. In doing my own research, it seems she is only there on very rare occasions when Daisy is not available.

There is not an Illuminations dinner package. There are Candlelight Processional packages, Eat to the Beat Concert packages, and the Illuminations Sparkling Dessert Party (which is being replaced by the Frozen Ever After Dessert Party soon) but not a general Illuminations dinner package.

There is not a breakfast buffet at Disney's Coronado Springs Resort. The only thing I can think of that Trisha may be referring too is the small buffet set out for concierge guests.

The Phineas & Ferb Meet & Greet at Hollywood Studios ended in 2015.

Celebrate the Magic ended in late 2016 (this is the only one where Trisha mentioned that the experience was no longer there with the exception of mentioning that Spoodles had since closed in her 2007 trip).

Do I Recommend The Not-So-Evil Stepmother in the Most Magical Place on Earth?
With reservations. If you are looking for a book that will truly help you plan a Disney vacation for your family I believe there are far better choices available to you. However, if you are looking for a book that is more of a memoir or trip report than a planning guide, or a supplement to a more detailed planning book, you may find this book enjoyable. Whatever you choose, however, know that Disney changes regularly and always do your own research to verify that something mentioned or discussed is still available. That goes for any guidebook, regardless of its age.