Free and Disney aren't terms that typically go together, but there ARE several free activities and souvenirs throughout the Walt Disney World Resort that you can find. In our family, this means a stop at the Main Street Fire Station to pick up a pack or two of Sorcerers of the Magic Kingdom playing cards and an hour or two spent "battling" Disney villains throughout the lands of Magic Kingdom. Not only is it completely free of charge to play, but it's a great way to take a break without actually leaving the parks, and the cards themselves make great souvenirs to take home with you.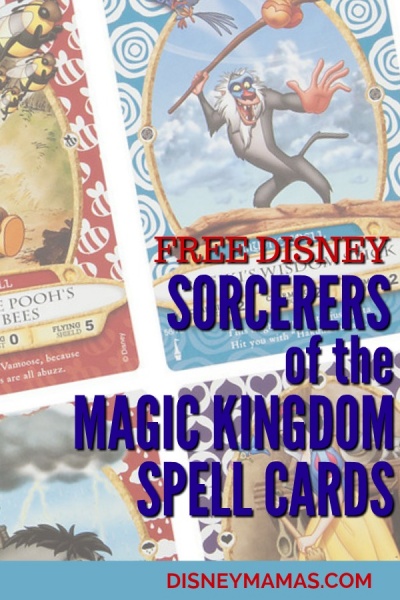 Your quest begins at the Fire Station where Merlin is seeking recruits to help keep Magic Kingdom safe from Hades and other Disney Villains working with him. On your first visit, you will get all signed up and go through a training round with a Cast Member where they will show you how to use the cards and follow the map. Then they will send you off on a mission where you follow the Sorcerers Map to begin your quest. It's a lot of fun to play, even you if you do run around the parks a lot.
Disney Mamas Tip: Regardless of how many people in your party intend to actually play the game go ahead and get everyone signed up. Each person that signs up is given a pack of cards, so my husband and I both sign up and then give Connor our cards to use in addition to his own cards.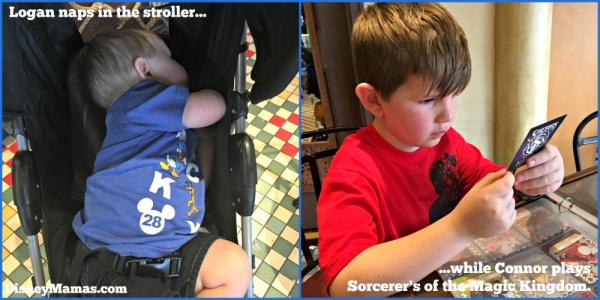 While we enjoy playing the game during our trips, I honestly think my son's favorite part is collecting the Sorcerers of the Magic Kingdom cards themselves. They are a little like Pokemon cards, each featuring a different Disney character featured on the front. Each one has a special "power" to help you defeat the different villains, and somehow the cards increase in power as you use them. Don't ask me how they work, I have no idea! But, my son has fun playing, our youngest usually naps in the stroller, and we have fun watching and following along. Connor carefully sorts and organizes all his cards into the card binder he bought on one of our trips, and he recently discovered that other players hang out in the Tortuga Tavern trading cards and talking strategies with each other. It's a great community of people young and old alike.
Disney Mamas Tip: You can pick up a new set of cards each day, and there are special limited edition cards available each year at Mickey's Not-So-Scary Halloween Party and Mickey's Very Merry Christmas Party.
Overall, the Sorcerers of the Magic Kingdom Cards are a fantastic souvenir item that is included with your theme park admission. While Disney does sell booster packs in the gift shops and online they are not needed to play the game. It is handy to have something to keep your cards in, but a simple lanyard pocket will hold a single pack of cards.
---
For more free and cheap Disney souvenirs,
check out the other great posts from the Blogorail!
---