Welcome to this month's Blogorail Orange Loop. Today we are sharing kid reviews of Disney Resorts.
---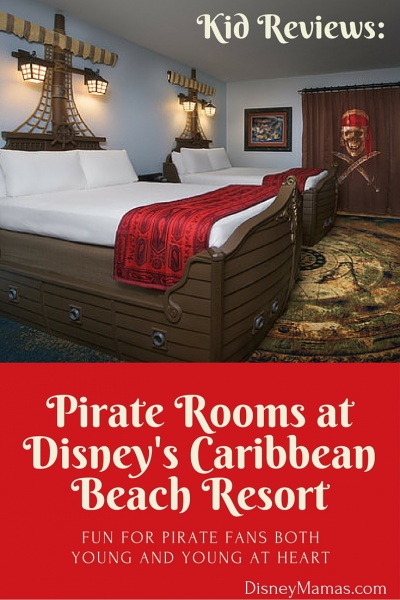 For some reason Disney's Caribbean Beach Resort gets a bad wrap in many online forums and websites; generally people state the sheer size of the resort as a negative, and rank it at the bottom in the Disney Moderate Resort catagory. My family disagrees. We've stayed at Caribbean Beach a few times, and have thoroughly enjoyed each visit. In fact, it is one of Connor's favorite places to stay on our Walt Disney World vacations. The Pirate Rooms at Caribbean Beach Resort are perfect for pirate fans young and young at heart, and Connor is here to tell you why they are his favorite rooms on property, as well as why else he loves Caribbean Beach Resort.
Connor, I know you love the Pirate Rooms at Caribbean Beach Resort. Can you tell me what you love about them?
They are just so cool! The beds are shaped like pirate ships and there is a huge curtain with Jack Sparrow's skull and crossbones on it. The drawers and like pirate boxes and the fridge is in a huge barrel! I also like the picture from Pirates of the Caribbean on the wall. It makes me feel like I'm a real pirate.
The beds are shaped like Pirate ships? That's pretty cool. Is that your favorite part of the room?
Oh yeah. There is like a steering wheel and ropes and a mast and you can pretend you are steering the ship, even though you can't really reach the steering wheel. I pretended I was Jack Sparrow and we had to get away from the bone pirates. Dad had to be a bone pirate. The carpet was water so I had to be careful not to fall off my ship if I got shot at! I like to pretend I'm a pirate.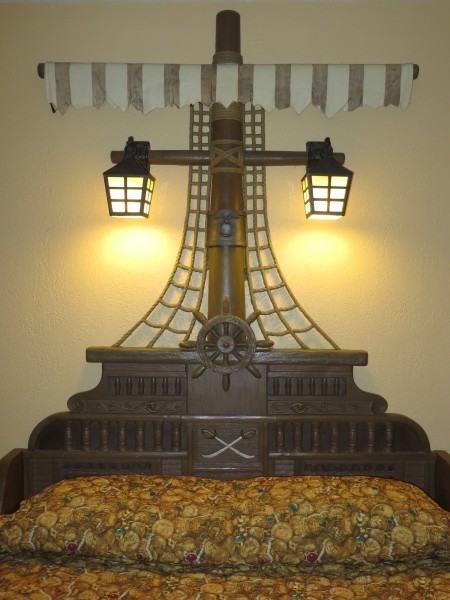 Were there any other Pirate things you liked about the rooms?
There was a big bench that I pretended was a treasure chest, and I liked my clothes being in pirate crates. I also liked the curtain in the bathroom with all the pirate ships on it. It was cool to look at when I was taking a bath. I liked the Jack Sparrow curtain too, but it was a little scary at night so I wouldn't let you close it if it was dark.
Is there anything else you like about Caribbean Beach Resort?
Oh yeah! The pool is pretty cool. It looks like an old fort kind of like in the Pirates of the Caribbean ride, and the splash park was a big pirate ship. That was fun. But my favorite was the Pirate Cruise I got to go on by myself! We got to ride on a boat and hunt for treasure and have snacks! It was the best! No parents allowed!
So, Connor, would you recommend this resort to other kids?
Yes! If you like pirates it's the place for you! I love pirates and I want to stay in a pirate room all the time and go on another pirate cruise! It's the best!
Mom's Take
As stated previously, a lot of people dislike the size of the resort, and I will admit this can be an issue, particularly in the Pirate rooms which are located in Trinidad North. That being said, we never ran in to a problem, and we stayed there over the week of Christmas. There is an internal shuttle that ran pretty consistently if we wanted to get to the food court and/or pool without walking. We also found that the bus transportation to the parks seemed quicker than many other resorts we have stayed in over the years. Buses ran frequently and there were usually multiple buses to a single destination running back to back.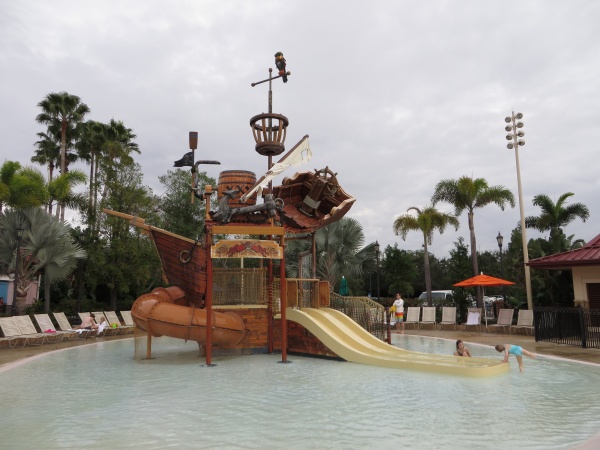 The dining at Caribbean Beach has always been a favorite, as I consider their food court to be one of the best. They also have a huge gift shop with some really unique merchandise you don't see at other resorts. Kids activities were plentiful and the Pirate Adventure Cruise was affordable and easy to book.
While the Pirate Rooms at Caribbean Beach Resort do only feature double-beds we did not personally have any issues. All other rooms on property have since been renovated to feature two queen beds instead of doubles, but the shape of the pirate beds prevented this for those rooms. The pirate rooms have, however, been renovated since we last stayed in one and feature new bedding, carpets and color schemes. They are gorgeous and we can't wait to stay in one again.
For more kid reviews of Disney resorts,
check out the other great posts from the Blogorail!
---
Here is the map of our Magical Blogorail Orange | Kid Reviews | Disney Resorts Loop: