Welcome to this month's Blogorail Orange Loop. Today we are sharing our reviews of the deluxe villa resorts at Walt Disney World.

---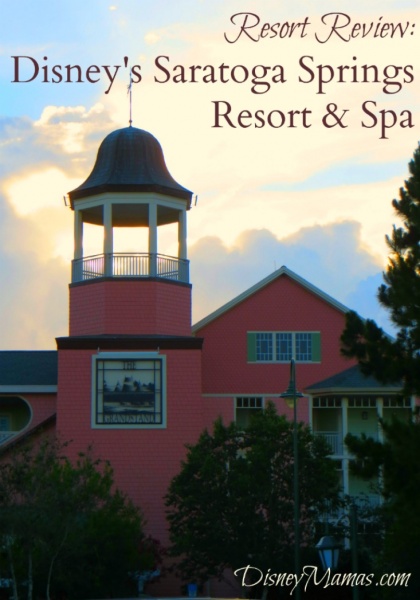 When visiting Walt Disney World the right accommodations are often key to your overall vacation enjoyment. As Disney Vacation Club members we have grown to love Disney's Saratoga Springs Resort and Spa for it's accommodations, amenities and proximity to Disney Springs.
We purchased our Disney Vacation Club membership at Saratoga Springs in 2012 and have been extremely happy with the resort. I often hear complaints of Saratoga Springs being too far from the theme parks, but we have never found this to be an issue. The rooms are nicely sized, there are plenty of common spaces, several pools, a fantastic members Community Hall. Additionally, the boat to Disney Springs is a significant benefit, especially now, and the Lake Buena Vista Golf Course is accessed from the resort. We always find plenty to do around the resort on every trip!
Themeing
Disney's Saratoga Springs Resort and Spa is themed as a Disneyfied version of Saratoga Springs, New York, complete with equestrian decor and elements. There are 5 resort room sections, plus the now-incorporated Treehouse Villas. Each of the 5 room sections features pastel buildings, lush greenery, walking paths, and tranquil views of the Sassagoula River, Lake Buena Vista Golf Course or the resort grounds. As far as a Disney element goes, its a bit non-existent. There are smatterings of Disney horses here and there, with a gallery of sorts in the children's corner of the check-in area, and a few pillows in the guest rooms. Beyond that, Mickey and co are fairly absent from the resort. For us, the absense of Disney elements helps us to unwind and relax in our resort after a busy day in the parks. Others, however, may feel that the resort is a bit too generic.
Rooms
Saratoga Springs has three levels of resort rooms, plus the Treehouse Villas. We have stayed in a studio several times, and my parents in a 2-bedroom unit. We have our first 1-bedroom unit reserved for this Christmas! One of the things I really like about the rooms at Saratoga Springs is that they are very bright and well-lit from both natural and artificial sources. The palatte of the rooms is a light wood with green, blue and cream accents. Since Saratoga Springs is a Vacation Club property the Studios feature a kitchenette with coffee pot, toaster, microwave and sink, and all other room catagories include a full kitchen complete with appliances and dishes. Each room also features a porch or patio, and is the perfect place to enjoy a cup of coffee while the family gets ready in the morning or after the kids go to bed for the night.
Be aware that the resort is very, very large. When you complete online check-in you will have the opportunity to request a specific section of the resort. Check the resort map and select a location that is most convenient to your party. Personally, we always request the Grandstand due to the bus routes. Others prefer Congress Park as it is located nearest the pedestrian bridge into Disney Springs. The Springs, in turn, houses the second largest pools at the resort. Honestly, each area has something to offer, so do a little research to determine which best suites your travel party. We have never had a problem with our resort room during any of our Saratoga Springs stays.
Dining
Saratoga Springs Resort and Spa features several dining locations. There are two restaurants located in the Carriage House; The Turf Club Bar & Grill and Artist's Pallete. I've never dined at The Turf Club, but we enjoy Artist's Palette. Artist's Palette has some great flatbreads, and a kid's menu with several decent options. It also has a very nice selection of grab & go items. The unique design locates it right next to the resort shop, and they share a check-out area. This has allowed the location to house the food and beverage items you would normally find in the DVC gift shop in the dining line instead. One of our favorite features are the easles and crayons located on the tables, allowing aspiring artists young and old to create masterpieces while they wait for their food or wait for their party to finish.
Additionally the Paddock Grill is a large quick-service location located at the main pool, while the Backstretch Pool Bar features snacks near the pool in the Grandstand section. There are also a couple of lounges located on property.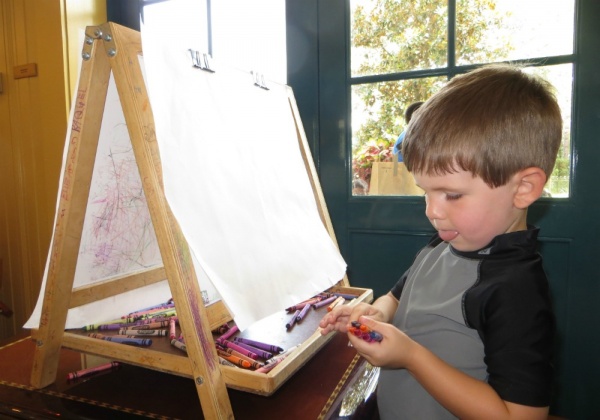 Recreation
One of our favorite things at Saratoga Springs are the pools. There are five pools throughout the property, though we have only visited the feature pool and the pool at The Grandstand. The feature pool is zero entry and a really nice size; not too big or too small. It has a small water feature and a slide, as well as a jacuzzi. There also always seem to be plenty of chairs around the pool. The feature pool area is also home to the nightly Movie Under the Stars, and is near the campfire location which features a nightly marshmallow roast (quite possibly my son's favorite thing). You can also rent bicyles and surrey bikes, play in the arcade, do your laundry (yay), and much more in the area. There are several playgrounds situated around the resort as well.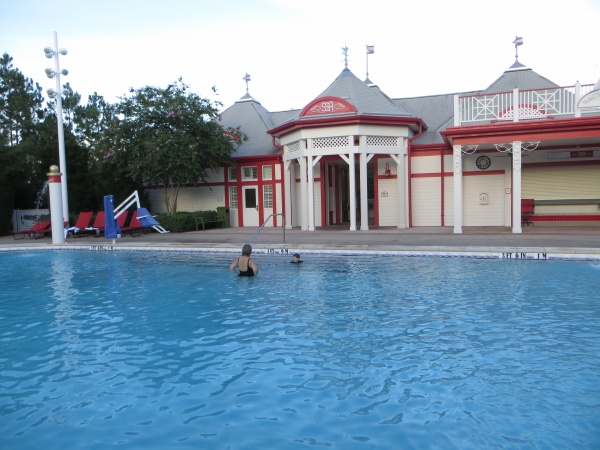 We also enjoy spending time at the DVC Member Community Hall. There are games and crafts (some requiring an additional fee), and you can rent DVDs to take back to your room. Do be aware, DVC Community Hall is reserved for those that are members of the Disney Vacation Club and you must present your membership card to gain access.
Saratoga Springs is also home to the Lake Buena Vista Golf Course and one of two Sense's Spas on Walt Disney World Resort property. Sadly the hubs and I have never had the chance to take advantage of either of these, no matter how much we want to!
Who is Disney's Saratoga Springs Resort and Spa Right For?
Saratoga Springs is a great resort for families that want time to relax and enjoy their vacation away from the theme parks. It is ideal for families with older kids, couples and family groups travelling together. It may be a bit too spread out for families travelling with small children or who really plan on spending all their time in one of Disney's Theme Parks.
For more Walt Disney World deluxe villa resort reviews,
check out the other great posts from the Blogorail!
---
Here is the map of our
Magical Blogorail Orange | WDW Deluxe Villa Resort Reviews
Loop: