Disclaimer: I was provided with a digital copy of this book by the author for review purposes. All thoughts and opinions are my own.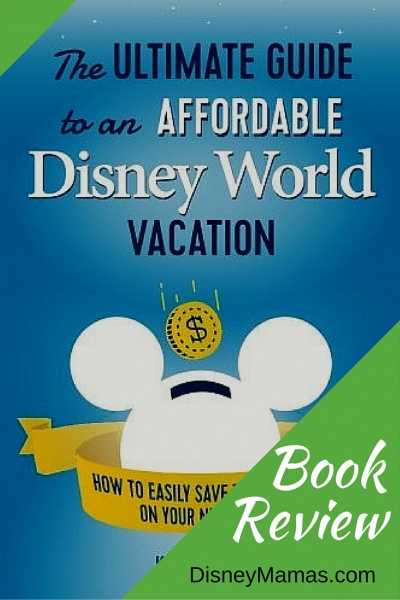 Let's face it, everyone wants to be able to afford a Disney vacation. Unfortunately, they can be pricey, and with costs rising annually one can easily be "priced out" of their dream Disney vacation before any actual planning even begins. Kevin Barry seeks to alleviate many cost concerns in his new book,
The Ultimate Guide to an Affordable Disney World Vacation.
Focusing on Walt Disney World specifically, but with tips that can be applied to any vacation destination, Barry provides the reader with an example of how you can save on everything from flights to theme park tickets, but without the whole "packing a peanut butter sandwich to eat in the park for lunch" mentality.
The book is a quick read, and takes the reader on a trip planning quest with the fictional Barry family as they plan their Disney vacation, ultimately saving over $2000 on an original trip estimate of over $4000. Using methods tried and used by the author, the information is easily digested and much is fairly easy to apply to your own vacation planning.
Some of the highlites of the book are the sections on how to shop for and obtain good deals on flights, and how to "bid" for rental cars using Priceline.com. The author provides solid research here that can be easily applied to travel anywhere. Additionally, it is to the authors credit that he points out very directly that you absolutely cannot purchase Disney theme park tickets from ebay, Craigslist or any other such website, and that tickets should ONLY be purchased through an Authorized Disney Ticket Broker. This book also does a really nice job of providing the reader with options, and then discussing the pros and cons of each option and how it could relate to your own travel needs. Rathen than providing a one-and-done method to vacation planning, Barry has done a nice job of providing the reader with various options for travel, accommodations, dining, and more, thus allowing the reader to consider which option works best for them, even if it is not the option the author ultimately recommends in the chapter.
My favorite aspect of this book is the consistent use of the fictional family. I really enjoyed this format, as it is much easier to follow the money-saving path when the example proves consistent. Following a family throughout the process, and being shown multiple scenarios along the way really helps ground the reader in the planning. I particularly like how the author concludes each section by discussing which of the presented options the family went with, and the reasons why they made their choice.
However, the book is not without its flaws.
There is one area specifically that  I feel I must address: taking out multiple credit cards with the exclusive goal of earning free flights and hotel rooms.
Barry discusses at lenght how to take out specific credit cards to earn free flights, free hotel nights and dining gift cards. He provides very specific examples of how to use this method to your advantage, and details how you earn miles and points using the Southwest Rapid Rewards card, and the Starwood Preferred card specifically. However, I simply cannot recommend that people take out additional lines of credit simply for this reason. While the author does state that this method should only be used if you can pay the card off in full each month, it isn't something that can be guaranteed. It is just too easy to rack up high credit without realizing it, and it isn't a risk I recommend taking. If you know you can pay the card off, consider opening a single card, but never two or even three. Consider the minimum purchase amounts to earn miles and points, the amount of time you have to spend x amount, etc. and you have a recipe for troubled credit.
Additionally there are a few errors that I picked out during my reading that one should know about.
The author refers to the Swan & Dolphin resorts as on-site locations, and states that the Barry family opts not to purchase the Disney Dining Plan for their stay. While the Swan & Dolphin is physically located on Disney property it is not considered an on-site resort and the Disney Dining Plan is not an option for guests staying at this resort. While Disney has extended the ability to use resort to park transportation, Extra Magic Hours, and the 60 day FastPass+ window to guests staying at Swan & Dolphin, the ability to use Disney's Magical Express airport transfers and purchase any Disney Dining Plan is not possible. Additionally, there is no mention of the resort and parking fees that accrue daily for stays at the Swan & Dolphin resorts.
There is reference to Disney's ability to split discounts for travel. This is misleading. The author clarifies that if you check in under a discount that expires during your stay you will be able to use the discount for the portion of your travel that falls during the discount period. While that portion is, for the most part, accurate, it is not entirely clear what the author means. First, to the reader it sounds as if you could apply one discount to the onset of your trip and then switch to a different discount when the first expires, hence splitting the offers, but you can't. However, depending on the discount you may be able to apply the discount to your entire stay regardless of when it expires. For a room only discount you receive the room discount for only the nights that the offer is good for. Example: offer is good for stays through August 14th. You check in on August 12th and out on August 17th, so the room discount would be applied to the room for the nights of August 12, 13 and 14 but not 15 or 16. On the otherside, a package discount is applied for your entire stay, so even if you check in on the last day of the offer your reservation would show that discount for the entire trip. Example: the Free Dining offer is valid for stays from August 22nd through October 2nd. You check in on October 2nd for 6 nights, so you would still receive free dining for your entire stay.
The section regarding Disney Vacation Club purchases is a bit misinformed. I'm chalking it up to a mistake in math and understanding exactly how the Disney Vacation Club works, but the author essentially states that it is not every a good value, which isn't true for everyone.
Barry also never mentions taking advantage of the services offered by working with a travel agent who works with an Authorized Disney Vacation Planner agency. In my opinion this is one of the easiest ways to ensure that your vacation is a good value. An agent who specializes in Disney vacations will monitor discounts for you, advise you of cost saving measures and options (ie: is the dining plan right for you? Do you need a park hopper ticket?), help you with dining and FastPass reservations, and be there for you before, during, and after your trip. Agencies are paid by Disney, not by you, so many have no associated fees and are free for you to utilize. And in a world where time is money a good agent is an invaluable resource and advocate for your vacation dollar.
Overall, this book is a decent read for someone who visits Walt Disney World every few years and is looking for a few cost-saving methods, but for someone new to the Disney scene who is led to believe they can save over $2000 on a single vacation I believe it is misleading and/or confusing. Likewise, the experienced Walt Disney World traveler is left with little new information. Despite a few issues it is certainly worth reading, as the information on finding flights and working with sites like Priceline are extremely well-researched, and many of the tips in the dining and tickets section are simple to apply in your quest for an affordable Disney World vacation. For a book of a similar theme check out Lou Mongello's 102 Ways to Save Money For and At Walt Disney World, which I think has a bit more information for the experienced Disney traveler.
What are your thoughts? Any tips you would like to add?