A trip to Walt Disney World would not be complete with the food, and I'm sure we all have a favorite restaurant or two.  Or Six.  One of our top dining destinations and experiences is the Disney Junior Play 'n Dine, located at Hollywood & Vine in Disney's Hollywood Studios.  This was our first dining stop of our Christmas Vacation to Walt Disney World, and we had an early ADR for lunch.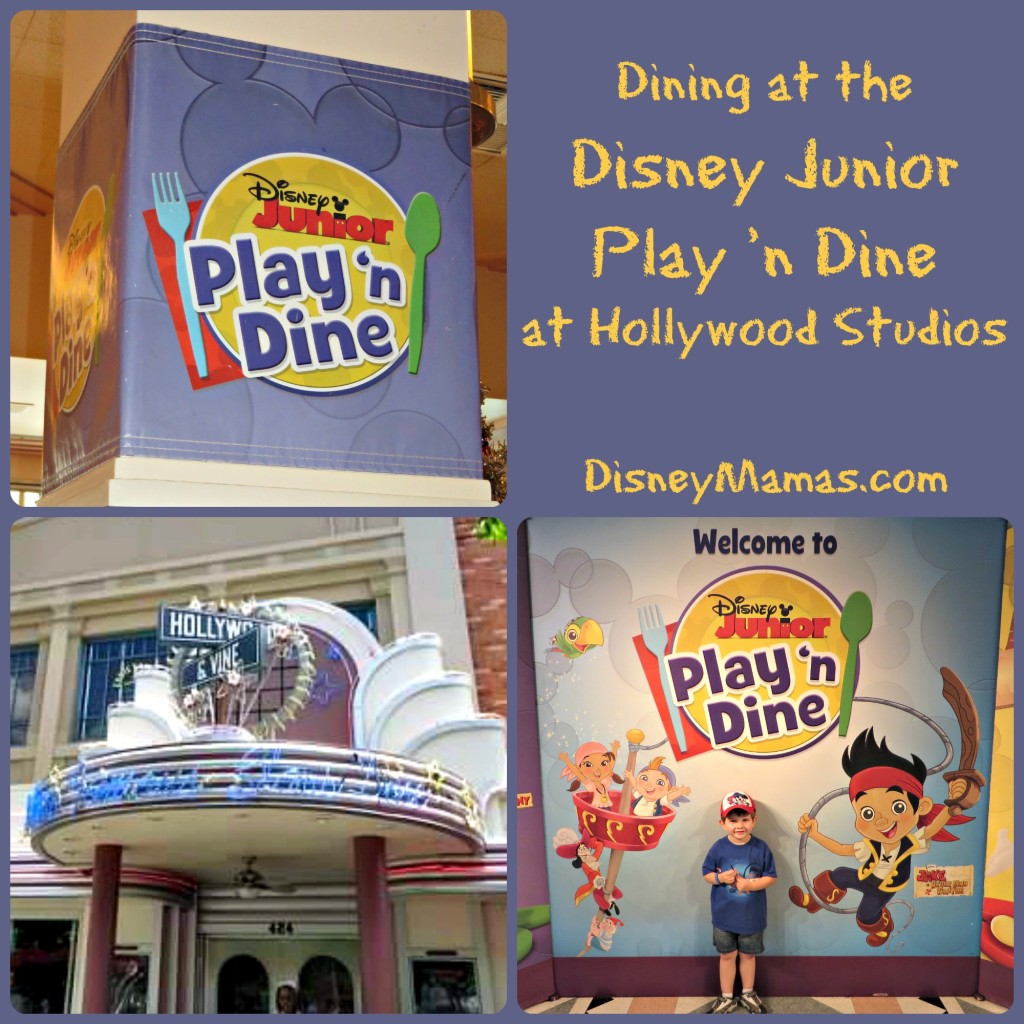 Characters – Hollywood & Vine is a character buffet for breakfast and lunch daily, however in the evening it features a standard buffet.  Characters currently featured at the Disney Junior Play 'n Dine meals are Jake from Jake & the Never Land Pirates, Handy Manny, Sophia the First and Doc McStuffins.  This character set is new since our trip in December, which featured June from Little Einsteins and Special Agent Oso instead of Sophia & Doc.  I had heard they were replacing Handy Manny rather than Oso, but I guess not!  As regular character meal attenders I can say with confidence that the character interaction here is quite nice.  Since the meal caters to young children they have broken each hour into blocks of time, and approximately every 20 minutes there is a dance break where all children are invited to join the characters and hosts in song and dance.  My son has an absolute blast dancing with the characters, and they perform songs like "Talk Like a Pirate" and "The Hot Dog Dance".  The dance breaks allow adults to sit and enjoy their meal, rather than having to rush through the meal because your young companion is anxious to ride the attractions and meet characters.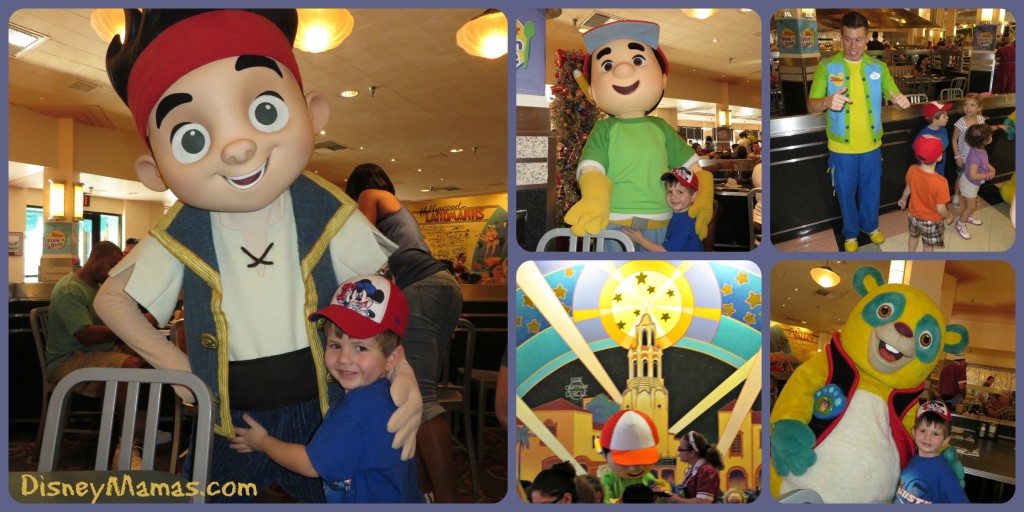 Menu – The Disney Junior Play 'n Dine is a buffet meal with delectable offerings, particularly at lunch.  While the kid's section of the buffet features your everyday mac & cheese, chicken nuggets and broccoli, the rest of the buffet is filled with absolutely delicious entrees and sides.  There is a build your own pasta station, a large selection of salads, several proteins and a plethora of sides to choose from.  My absolute favorite items on the buffet are the marinated mushrooms, creamed corn bread and lobster macaroni & cheese.  Yes, lobster macaroni & cheese.  If I were to put together a list of "The Best Things I Ever Ate" this would be in the top 10 dishes anywhere.  It's that good.  The real gem at this meal, however, is dessert!  Rather than a standard dessert buffet of dry pastries and cookies Hollywood & Vine features a chocolate fountain with fresh and dried fruit, and a soft serve ice cream machine with toppings bar.  There are still a few standard desserts, but they are definitely worth skipping to fill up on chocolate-dipped pineapple.  To keep the mess at bay the fruits are dipped by a chef, and placed on small skewers.
Atmosphere – In all honestly there isn't much atmosphere at this location, which is its one drawback.  The side walls are painted with identical murals featuring Hollywood landmarks, and created in the style of a mid-century post card, and the tables and chairs are chrome trimmed and basic.  I do like the Mickey in the back of the chairs, but they aren't comfortable at all.  Another design drawback, Hollywood & Vine shares a bathroom with 50's Prime Time Cafe, and is quite possibly the most inadequate restroom in all of Walt Disney World.  Five or Six stalls to serve two full-service restaurants in simply a bad idea…

Fantasmic Dinner Package – Lunch at Hollywood & Vine is a choice for those wishing to book a Fantasmic Dinner Package.  The Fantasmic Dinner Package is a set price ($35.99 for adults & $19.99 for children 9 and under at this location).  It provides you with VIP seating to Fantasmic.
Dining Plan – Hollywood & Vine does accept the Disney Dining Plan, and utilizes one table service credit per person.  Reservations are recommended, and a credit card is required to secure your reservation.
Disney Mama's Rating – We want to help you make informed decisions about your dining options when travelling at Walt Disney World.  We have developed a system to rate dining locations based on their value, food quality and more.  Check out the ratings for the Disney Junior Play 'n Dine meal at Hollywood & Vine below, and let us know if you have any questions!
Character Interaction:
Menu Variety & Quality of Food: 
Service:
Atmosphere:
Value:
Overall, My son loves this restaurant since it features some of his favorite characters, and since he can get up and move around rather than just sit and wait for us to finish eating.  My husband and I enjoy the buffet since it features some nice options.  Overall, its a nice dining location, and the perfect way to start a day at Disney's Hollywood Studios!
Hungry for more Disney Food News?  Then hop on over to DisneyDaybyDay for Foodie Friday!