Overall Disney Mama Rating:
When thinking of character dining at Walt Disney World it is natural to automatically conjure images of Chef Mickey's, 'Ohana, and Cinderella's Royal Table.  But, there are many other options available!  For our family, a new must-do location for character dining is Tusker House Restaurant, located in the Africa section of Disney's Animal Kingdom.
Since the beginning of this year we have had the opportunity to dine at Tusker House twice, experiencing both their breakfast and lunch options.  In this review I will provide you with information to help you decide which option is best for you & your family.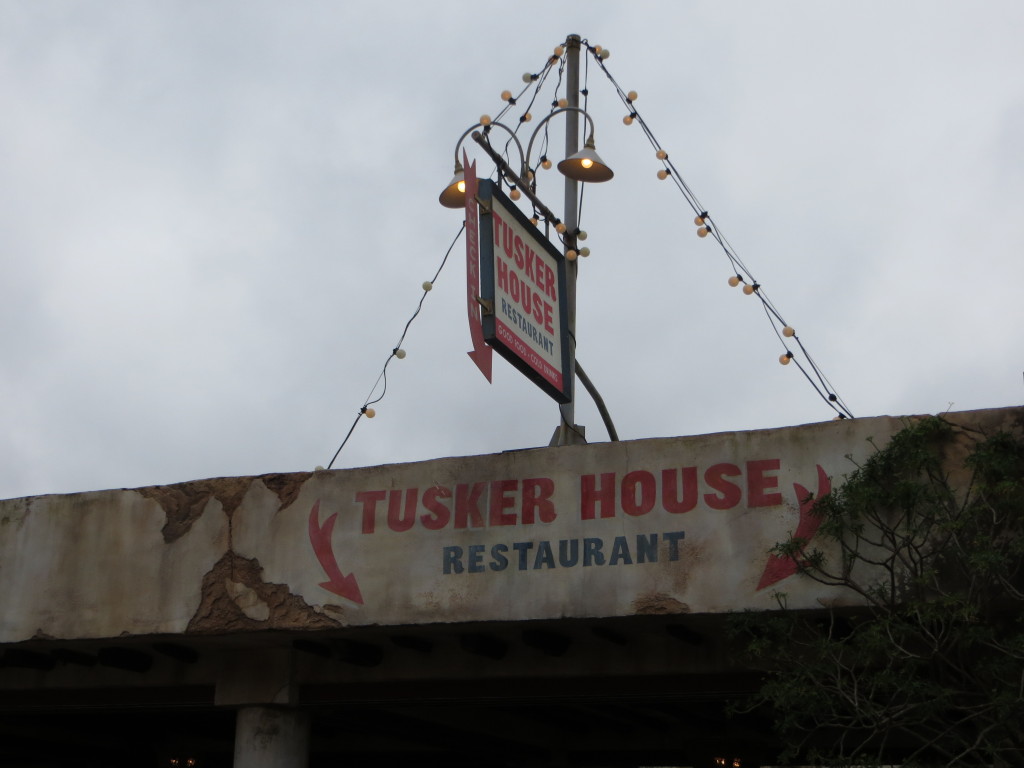 Characters:  Both meals feature the same set of characters: Mickey Mouse, Donald Duck, Goofy and Daisy Duck.  We enjoyed the character interactions at both meals, but found the breakfast interactions to be more enjoyable, with less of a rushed feeling.  As with many character meals there are little entertainment interludes to get kids off their feet.  At Tusker House this involves a walk through the restaurant following behind one of the characters, complete with a few musical instruments.  At breakfast this occurred two or three times, while at lunch it only occurred once during out meal, though both of our meals lasted approximately the same length.  Interestingly, and perhaps just in our experience, the PhotoPass photo taken at breakfast was taken at the front of the restaurant without a character, while our lunch photo was taken in the back of the restaurant with Donald Duck.  It was raining for our breakfast, so that could have been a factor in Donald's appearance. (As of late 2014 there is no longer a PhotoPass photo opportunity with Donald Duck. He is now just a character in the restaurant).
This slideshow requires JavaScript.
Menu:  Tusker House features a unique menu, especially for a character meal.  In many of our character meal experiences the food has been pretty standard with few, if any, specialty dishes.  Tusker House, on the other hand, is exactly the opposite.  The menus for both breakfast and lunch are full of African and African inspired dishes, with some standard American fare thrown in for the less adventurous diner.  Overall we enjoyed breakfast more than lunch, but felt that both meals offered a great variety of menu options to satisfy even the palette of a picky toddler.
Breakfast includes dishes such as: coconut sweet potato casserole, basmati rice, mealie pap and chocolate mango bread, as well as scrambled eggs, bacon, and Krispy Kreme donuts.  Carving stations featuring breakfast meats were also available.  Breakfast meals also include a fantastic beverage called Jungle Juice, which is essentially a combination of guava, passion fruit and orange juice.  Breakfast dishes were probably a bit more typical with less African flare, but many of the hot options featured unique flavor combinations.  My son was quite taken with the coconut sweet potato casserole, which was a nice break from his typical choice of eggs and a donut.
Lunch featured numerous meat and seafood options including: Kenyan coffee BBQ pork loin, spit-roasted chicken, curry chicken, peri-peri marinated baked salmon, and seafood stew.  Everything I tried was delicious, but we all went back for more of the salmon; it was among the best salmon I have ever tasted.  In addition to meat entrees there were fresh-made hummus options, basmati rice in multiple flavors, saffron-infused root vegetables and many, many more.  For the less adventurous diner there were plenty of fresh cold cuts for sandwiches, multiple salad offerings, and seasoned vegetables to name just a few.  Kids, and adults, could enjoy typical fare such as macaroni & cheese, chicken nuggets and corn.  And the desert menu at lunch was never-ending.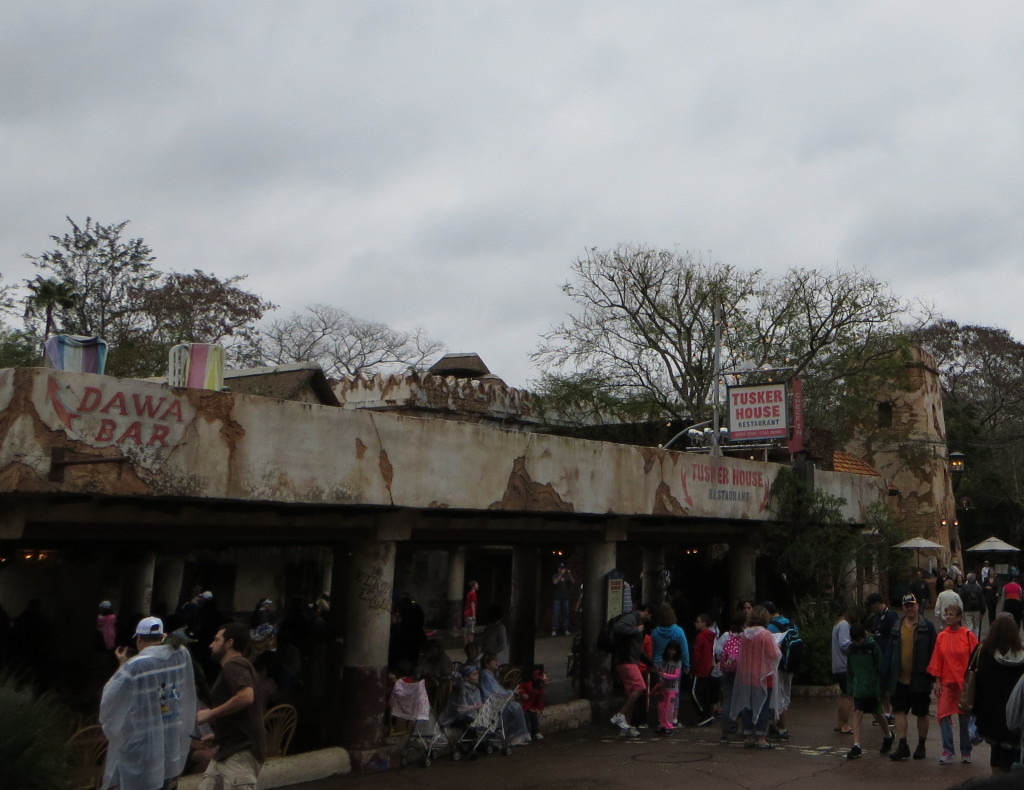 Atmosphere was enjoyable.  The restaurant is decorated in deep colors with warm wood, but the walls and flooring are light, almost like stucco.  It didn't feel quite as loud as many other character meals we have experienced, nor did it feel as crowded.  I felt they had done a much better job of sectioning portions of the restaurant to keep it from getting overly cramped, and feel this contributed to the character interactions as well.  The layout of the buffet is great, and very spacious.  Restrooms were large and very clean.  The only downfall to the design of the restaurant is that there is no indoor waiting area.  While the waiting area is covered it would be a hot wait when the restaurant gets backed up, or a wet one if it were raining.  The proximity to Kilimanjaro Safari can't be beat.
Tusker House has become our must-do character meal for our trips, and we can't wait to return.  We have had outstanding service on each visit, truly enjoy the unique offerings on the menu, and find the character interactions to be just right.  If you have any questions or comments about Tusker House just leave them in the comment section and I will be more than happy to answer.
Disney Mamas Category Ratings:
Character Interactions:
Menu Variety:

Quality of Food:
Service:

Cleanliness:

Atmosphere:

This restaurant is suitable for guests of all ages.
Tusker House Restaurant is a buffet and accepts some Disney Dining Plans.  A credit card guarantee is needed to secure a reservation.  Advanced Dining Reservations are advised.
I would highly recommend this restaurant!