Hi there!  Thank you for #RidingtheRails with me this week as we talk about what to do in Disney Parks at Night!  Evening is my favorite time to be in the Parks; I absolutely adore the way everything twinkles in the lights.  Real Magic.  So, I thought I would give you a run down of what I consider to be the ultimate nighttime touring tips for Disney Parks.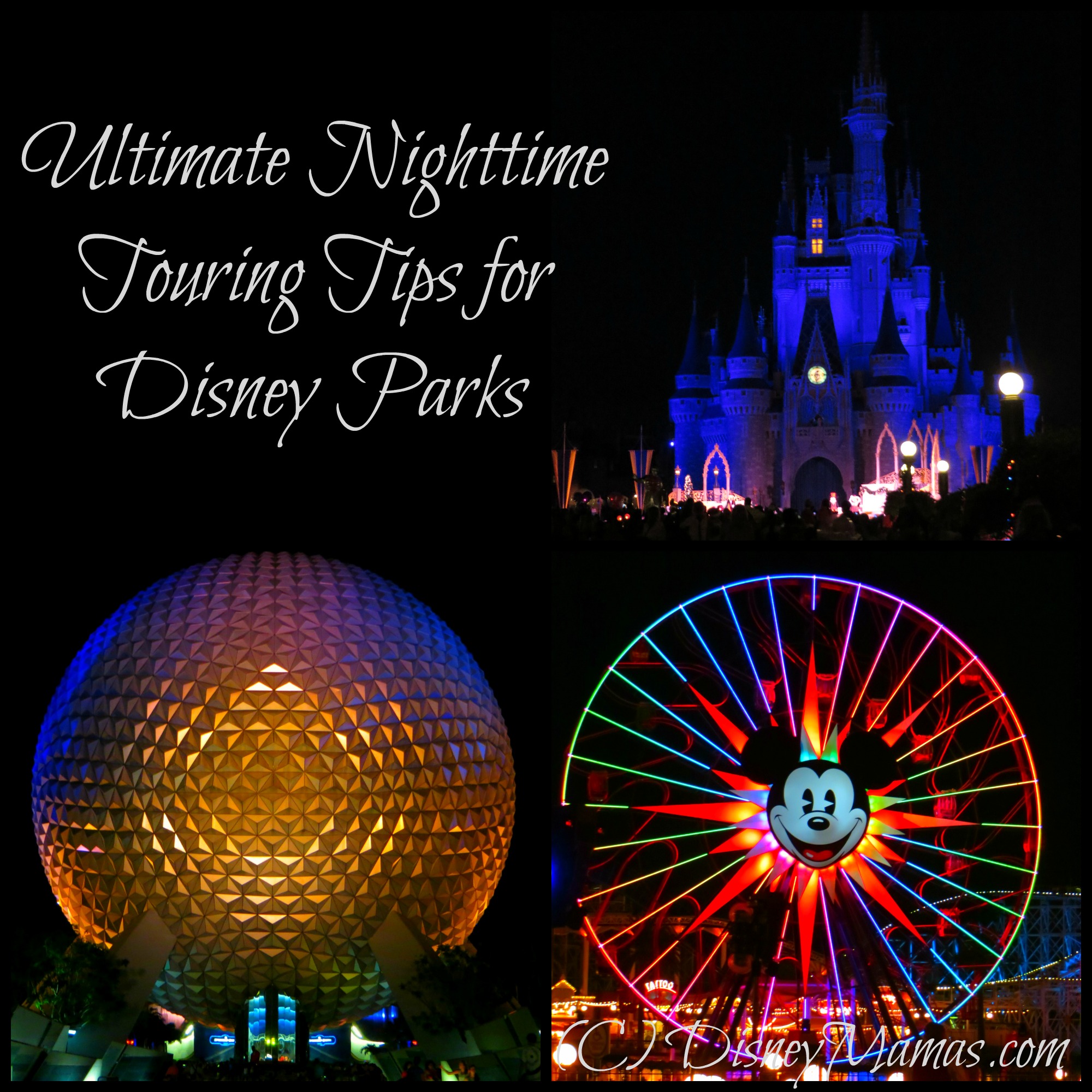 1.  Notice the Motion
Walt Disney was fascinated by motion.  In fact, the hubs of both Disneyland and Magic Kingdom are designed so that you see motion in each direction when standing in the center.  At night this motion creates some stunning imagery.  Astro Orbiter in Tomorrowland and the Carousel in Fantasyland look simply spectacular when seen whirling around at night.  Sadly, people walking in the Tree House (Swiss Family or Tarzan) don't really show up at night, but the Tiki Torches create a lovely flicker as you look towards Adventureland.  And there is much more beyond that.  At Magic Kingdom the Dueling Dumbos are breath-taking at night!
2.  Catch the Second Performance
Many nighttime parades and shows are performed twice during heavier crowd times.  The Main Street Electical Parade at Magic Kingdom, Fantasmic! at both Hollywood Studios and Disneyland, and World of Color at Disney's California Adventure will feature a second showing on some or all nights during many seasons of the year.  Take advantage of the shorter lines at attractions during the first performance!  We have often walked right on to Peter Pan's Flight during the first parade at Magic Kingdom.  Likewise, the crowds to view the second performance will be lighter as well, meaning you don't need to camp out for  a good spot nearly as early.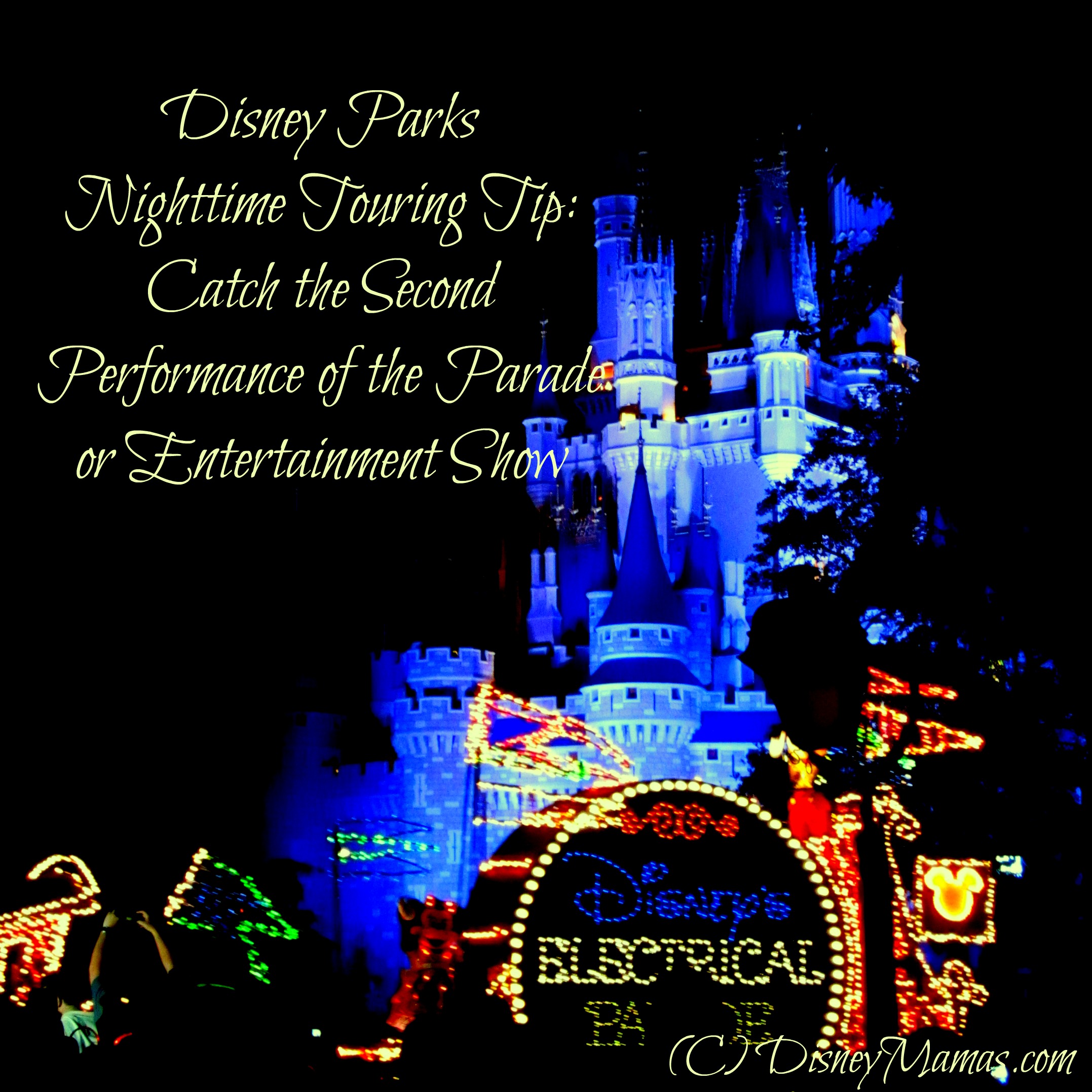 3.  Familiarize Yourself with Your Camera Settings Ahead of Time
Did you know that the average flash will not work beyond 6-10 feet in front of the camera?  Whether you have a simple point and shoot, or an advanced DSLR, make sure you know how to adjust things like shutter speed, flash mode, and shooting mode before you need to…lest you miss the perfect firework shot, or end up with a shot of a very well lit back of the head in front of you with a very dim Electrical Parade float in the background.
The Disney Mama quick tip here is lean toward longer shutter speeds for fireworks to catch the dramatic motion of the falling embers.  Bonus tip: if you don't want to lug around a tripod, use your short wife's head to stabilize your shot.  You're welcome Chris.  🙂
4.  Enjoy the Atmosphere
There is a different energy in the parks at night.  During the day everyone is go-go-go-go, rushing from place to place with a frantic energy.  At night everyone slows down.  Unless you are on Main Street between the first parade and the second parade.  Tip: Avoid Main Street and the surrounding areas as much as possible.  Lands at Magic Kingdom and Disneyland have a more distinct personality in the evening, as do their supporting attractions.  Haunted Mansion and Tower of Terror are particularly eerie at night, while Rapunzel's Tower and Journey Under the Sea are lovely.  Carsland and Buena Vista Street at Disney's California Adventure, and Hollywood Blvd at Hollywood Studios look incredible in their neon lights.  Cinderella's Castle is spectacular at night, and Sleeping Beauty's Castle is warm and inviting.  Main Street at both Magic Kingdom and Disneyland is particularly special at night.  We are big fans of evening Extra Magic Hours.  There is something quite magical about walking around a nearly empty park after the masses leave following the last parade or event.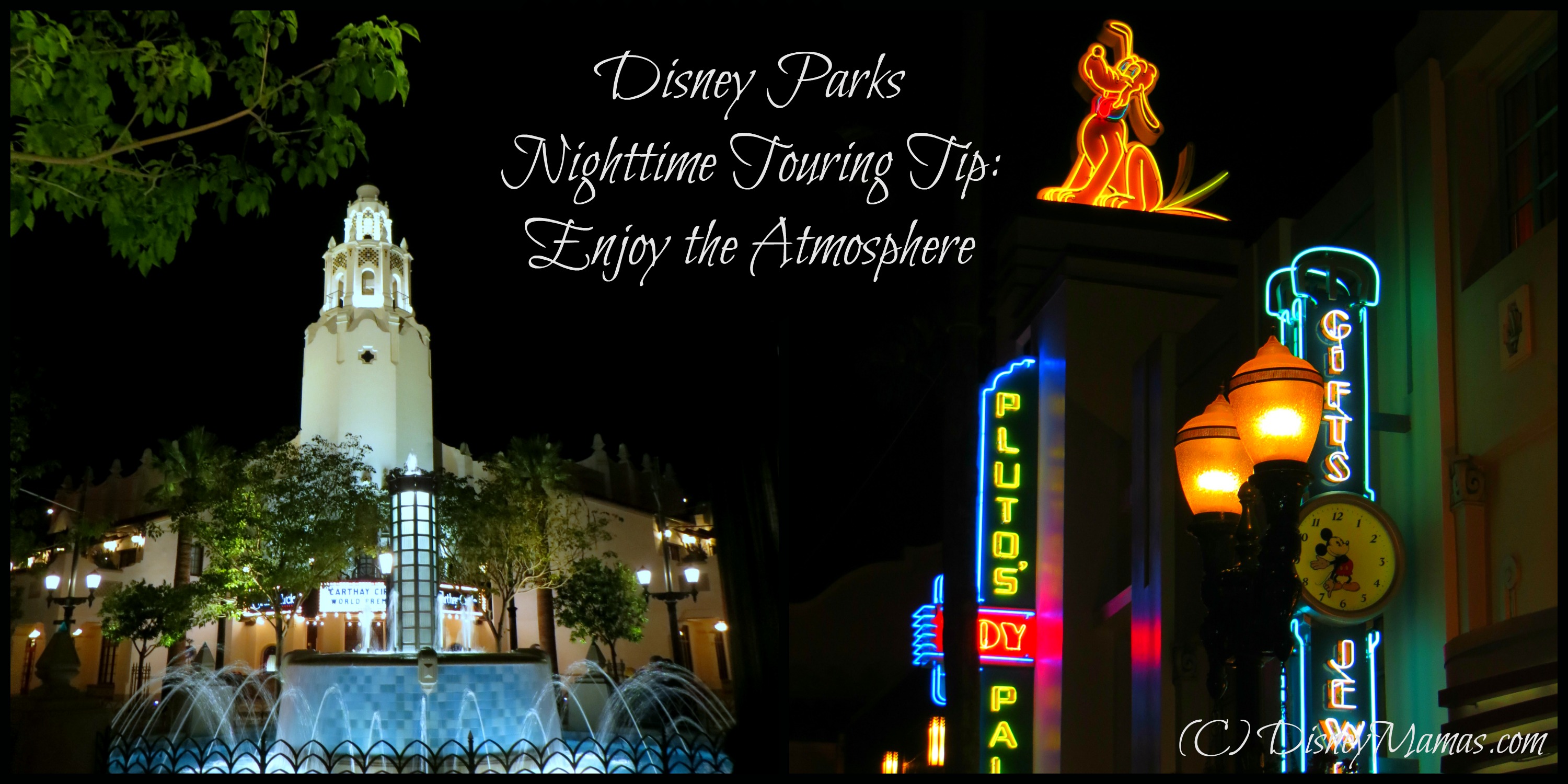 5.  Don't Rush to the Exit – Take Your Time
You know that old mantra, hurry up and wait?  It was coined at the Walt Disney World Bus Loops.  Okay, not really, but it could have been.  Don't stress yourself out trying to get out of the park and to the bus.  Chances are 200 people at your resort had the exact same idea.  Unless you want to get to your bus stop just to sit on the pavement and wait through several bus cycles you are better off taking your time exiting the parks.  Take a stroll through the shops, hit up another attraction, or just sit and people watch for a while.  As the crowds thin, so will the lines at the bus stops.
6.  Be Familiar with the WDW Transportation Schedule
On the other hand, don't linger too long!  Make sure you know when the last bus, monorail, ferry boat or resort shuttle is going to run, and if necessary set a timer on your phone.  It is quite easy to lose track of time while in a Disney Park, and you don't want to linger so long that you miss your transportation and have to rely on a taxi.
7.  Cooler Weather
Face it, it gets hot in Florida and California during the summer.  Luckily when the sun goes down the parks tend to get a bit cooler, and a bit less humid.  One the flip side, however, it can get downright cold in the evenings during other parts of the year.  This is especially important during Florida "winters."  Our experience is that the temp will drop 15-20 degrees when the sun goes down.  That's enough to require a light jacket or new hooded sweatshirt from the Germany pavilion to round out your Disney wardrobe.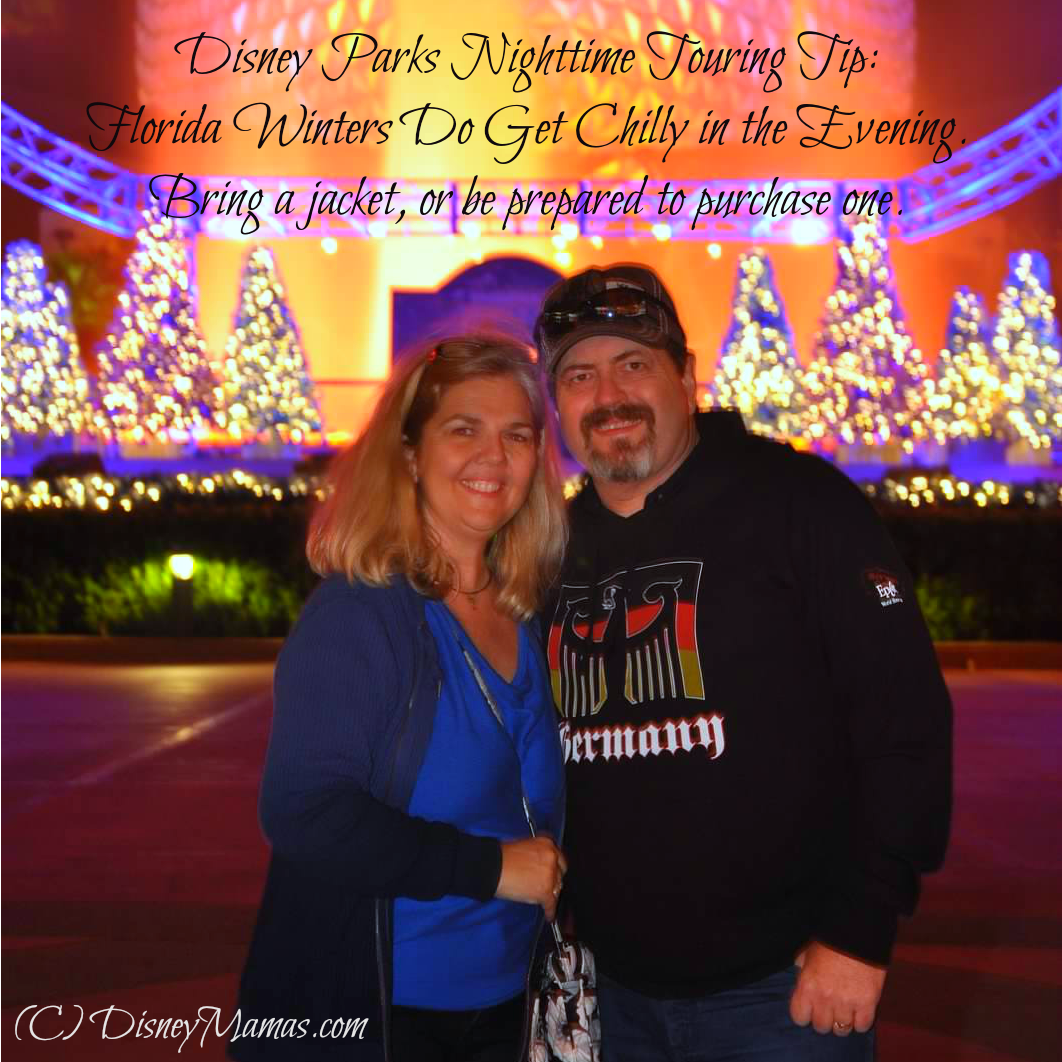 Disney Mama tip: if you plan to stay at the park all day, into the night (see tip 10) tie your sweatshirt/jacket around your waist to avoid the bag check lines, then rent a locker for a few bucks to store your outerwear…or request a bag at the closest retail shop and hook it over your stroller handles with your jacket folded neatly (or wadded up) inside.
8.  Make an ADR for a Late Meal
Snagging a late reservation can be a really unique experience.  I always hear chatter about people wanting the earliest, prior to the park opening seating but rarely do I hear anyone looking for a late reservation!  A late seating means you get to walk around the park afterward on your way to the exit and literally soak it all in sans people.  We enjoyed a late ADR at Yak & Yeti for Thanksgiving a couple of years ago, and getting to walk through Animal Kingdom when it was practically empty was an unforgettable experience.  There are hardly any guests around and the pathways are so peaceful.  It is a lovely end to a day.  And don't worry, they won't rush you through your meal.  🙂
9.  Ride Attractions Again – Because They are Different in the Dark
All outdoor attractions take on a different flavor at nighttime.  For many of them, the experience during the day is vastly different than the experience in the dark!  Logs plummeting down Splash Mountain, run-away mine trains on Big Thunder Mountain and Expedition: Everest, free-falling elevators on Tower of Terror, speeding cars on Test Track and Radiator Springs Racers, jungle boats cruising the rivers on The Jungle Cruise, they all become a different thing when the parks are dark.  A couple of our favorites are Dumbo, with the colorful accent lighting dancing in the water, and the Tomorrowland Transit Authority which provides a great, leisure-paced opportunity to check out the area lighting in Tommorrowland and a couple unique shots of the castle.
Disney Mamas tip: ride the TTA during the Main Street Electrical Parade for a unique view of this staple.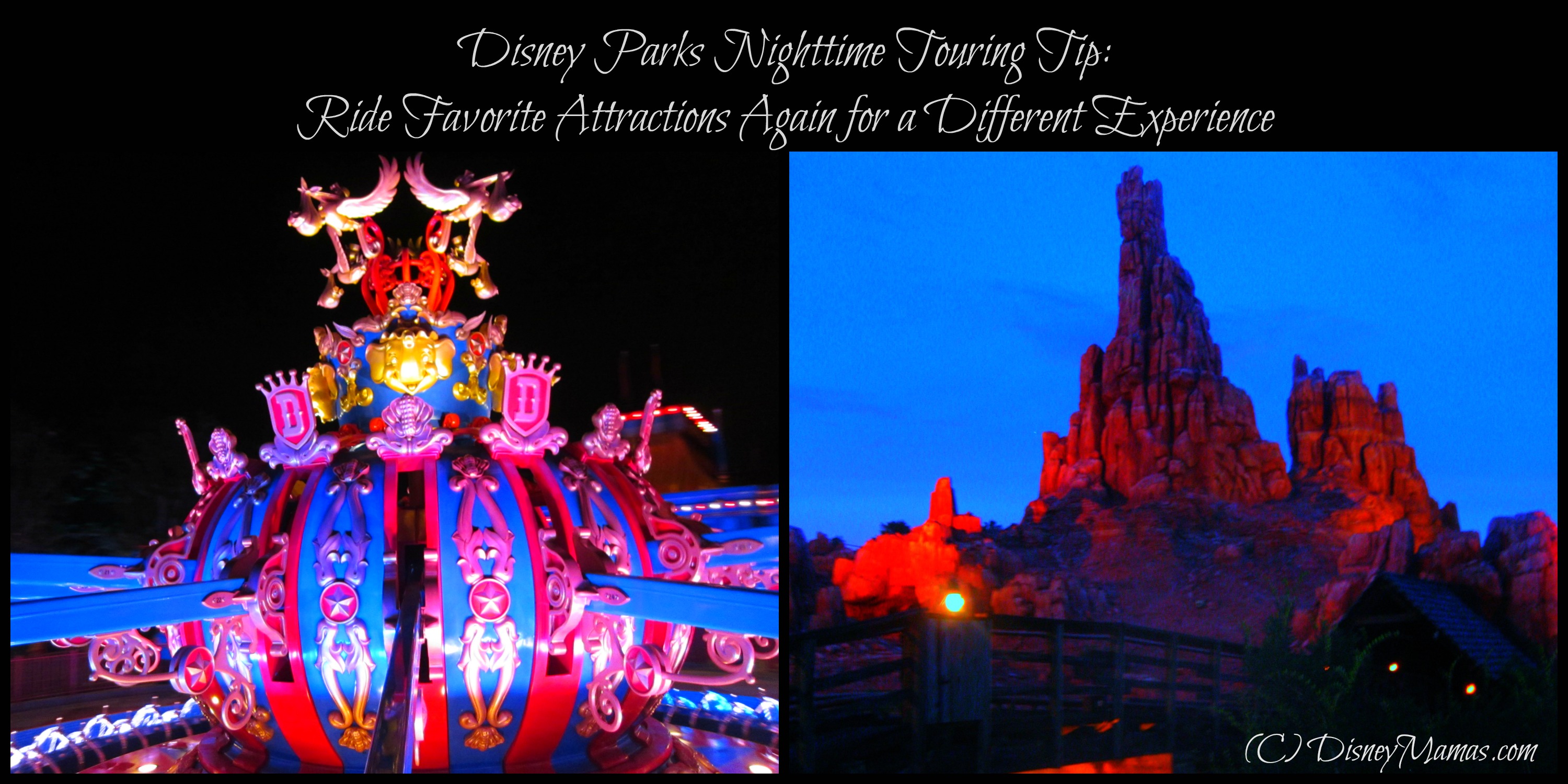 10.  Balance Late Nights with Late Mornings – Plan Your Day Around Your Night
If you plan to be out for a late night make sure you give yourself time to recover, particularly if there are Extra Magic Hours involved.  If Magic Kingdom is open until 3AM don't plan to be at Epcot at rope drop five hours later.  Try  to plan a late morning for the next day, and do your best to schedule some afternoon downtime heading into your late evening.  There is nothing fun about a tired and cranky family…
Do you have a favorite nighttime touring tip to share?  Comment below!
I hope you will check out the other fantastic posts in this series over at MagicalBlogorail.com!