Thinking of staying off property when you visit Walt Disney World? The Blogorail is sharing tips and info to get you ready for vacation.
---
Let's face it, a trip to Walt Disney World is expensive no matter how you look at it. Once you factor in transportation, accommodations, tickets and food, not to mention spending money, you are looking at a steep price tag no matter how you spin in. One great way to save money (and your waistline) is by having groceries delivered to your vacation home. There are several Orlando area grocery delivery service including GardenGrocer.com, WeGoShop.com, StrollersandGroceries.com and Amazon.com just to name a few. Personally we usually stick with GardenGrocer, but that is just our preference!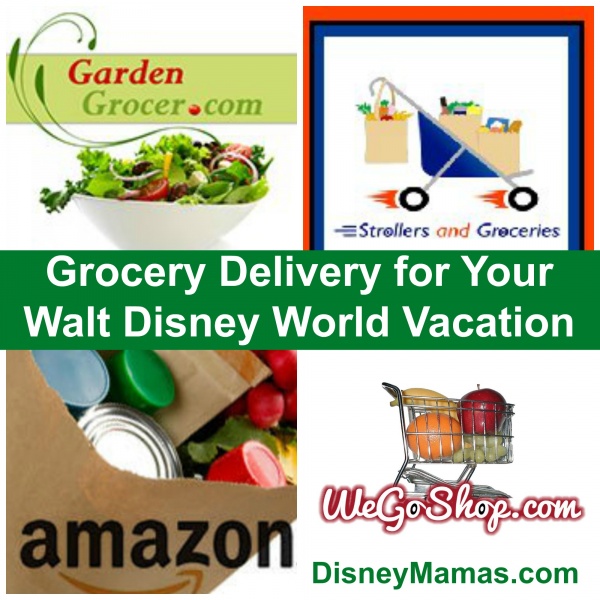 The Basics
Eating all our meals and snacks in the parks won't work for my family. First, like I said it gets really expensive. An average quick-service lunch runs close to $15 per adult, and an average table-service dinner close to $30 per adult, and that doesn't include any character buffets. Secondly, we deal with some food sensitivities that make dining out a bit of a challenge at time. And finally, after a week of eating nothing but high calorie, high fat meals we are all grumpy and feeling the effects of poor food choices. I'd much rather prepare some of my families meals on my own so that I know we are getting at least one solid, nutritious meal a day.
While all grocery delivery services charge a delivery fee, and tend to have a minimum purchase amount, it is far lower than the cost of eating all your meals in the theme parks, and the fees are generally pretty small. Additionally some companies offer discounts based on how far in advance of your arrival you order your groceries. Let's take a look at some of the basic fees charged by these services.
GardenGrocer.com
Garden Grocer has a minimum order amount of $40 for food and drink items and a delivery charge of $14. You can save 5% on your order by placing your order 15 days in advance, 7% by placing your order 30 days in advance and 10% by placing your order 60 days in advance of your arrival.

StrollersandGroceries.com
Strollers and Groceries also has a minimum order of $40 and a delivery charge of $14. And, as an added bonus, you can score free grocery delivery if you rent a stroller from Kingdom Strollers using the code on the Strollers and Groceries home page. Strollers and Groceries is a joint product of Kingdom Strollers and Orlando Grocery Express.

WeGoShop.com
We Go Shop is a little more difficult to calculate cost. There is no minimum order, but their delivery cost is based upon the check-out total of your cart, but starts at $19 for orders up to $50. They shop a wider variety of store location to obtain merchandise, but add $5 to your total for each additional grocery stop. There is also an automatic $3 fuel charge, and 10% or $5 (whichever is higher) gratuity charge added to your bill.  This can all add up quickly if you aren't careful.

Amazon.com
Amazon is a great option for having dry goods delivered, especially if you have an Amazon Prime account. It isn't great for delivery of items that require refrigeration and Amazon Local has yet to offer grocery service in the Orlando area. That being said, you have complete control over the process and it's easier to find the exact products that you need for your vacation stay, and since it's Amazon you can order additional vacation necessities at the same time for one delivery fee (in most cases). For standard Amazon users just select the Grocery & Gourmet Food category from the Amazon categories list. If you are an Amazon Prime member visit Amazon Pantry.

The Convenience
While it might seem a bit strange to WANT to cook for yourself on vacation, it's a nice option to have. You will save money and eat healthier, and you can spend the money you saved on a couple of expensive character meals without guilt. You are also able to control what you are putting in your body and stay more on top of calories, fat and portions when you are doing your own cooking.
We have found that by eating a good breakfast prior to leaving for a day in the parks we save money, are more energized, stay full longer and are starting our day with the right fuel. Additionally, if you want to spend a day lounging by the pool or only spend a partial day in the parks its great to be able to cook your own meal in the comfort of your vacation home without having to worry about reservation times or transportation.
It's also much easier to adhere to specific dietary needs when you are in charge of your own meals! Within my immediate family we have gluten, wheat, dairy, egg and potato intolerance issues. This makes eating in the parks a little more difficult, despite the fantastic way that Disney handles allergies. It's nice to know that I can have my gluten-free flour, almond milk and additional ingredients on hand at my home-away-from-home and easily and quickly whip up some waffles and bacon for breakfast for about a quarter of the cost of purchasing a similar entrée in the parks.
Having groceries delivered to you also makes in-park snacking more convenient and affordable. We like to snack on fresh fruit, and having it delivered is much more cost-effective than purchasing it in the parks. For example, I can have a 3 pound bag of apples delivered for about $7.50, giving me approximately 9 apples, or I can purchase a single apple at Animal Kingdom's Harambe Fruit Market for $1.69 plus tax. Or, I can order humus cups with pretzels for about $2.79 each or purchase the exact same item at Anaheim Produce in Hollywood Studios for  $4.39.
The Benefits
Having your groceries delivered to your vacation home in advance may sound like a hassle, and the idea of cooking on vacation may sound a bit off, but it doesn't have to be! Even having just basics like cereal, milk, fruit, water bottles and pre-packaged snacks delivered can really cut down on the cost of your vacation, and the time spend dining in parks. Plus, you can use the money you saved for a special meal, a few more souvenirs or a fun activity you normally wouldn't budget for! I think I'll splurge for a round of mini golf next time.
A Couple of Notes
Grocery delivery is also available for your Walt Disney World Resort.  However, if you are staying at a resort that hosts conventions you may be charged a $14 handling fee for your package. These resorts include: Disney's Contemporary Resort, Grand Floridian Resort & Spa, Boardwalk Inn, Yacht Club, Beach Club and Coronado Springs Resort. I recommend calling the resort in advance to inquire about the fee. Additionally, the Swan & Dolphin Hotels no longer accept packages.
For more information staying off property when visiting Walt Disney World,
check out the other great posts from the Blogorail!
---
Here is the map of our Blogorail Special Edition | Tips for Staying Off Property at Walt Disney World Loop: