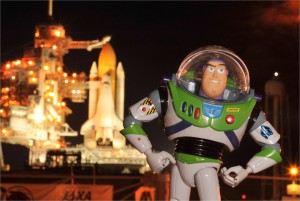 After spending 467 days in space, and breaking a record for longest duration in space, Buzz Lighyear returned to Earth.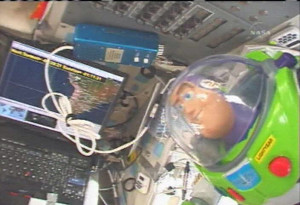 In June of 2008, Space shuttle Discovery delivered Lightyear to the International Space Station as part of an educational partnership between NASA and the Walt Disney Company. The collaboration included a mission patch design contest for students, a series of educational online games, and videos featuring footage of the figure floating in space.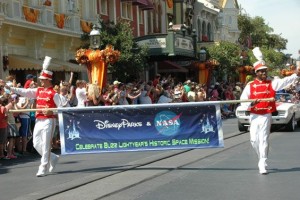 Disney celebrated the Space Ranger's real space adventure at its amusement parks, too. At the Disneyland Resort flight footage was shown to park visitors. And later, Disney World's Magic Kingdom in Florida threw a ticker-tape parade to welcome Buzz back to Earth.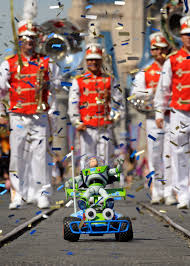 The parade featured NASA astronaut Mike Fincke, who was on the space station with Lightyear, and Apollo moonwalker Buzz Aldrin, the character's namesake.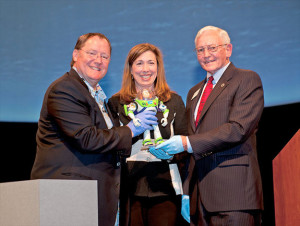 On March 29, 2012, John Lasseter donated Buzz to the Smithsonian's National Air and Space Museum in Washington, D.C. Lightyear went on display later that summer in the National Air and Space Museum's "Moving Beyond Earth" gallery where he joined Magellan T. Bear, the "first official teddy bear in space."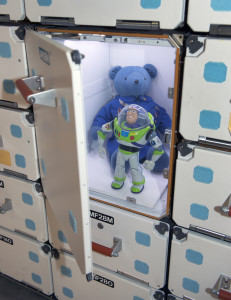 Buzz Lightyear's arrival at the Smithsonian will complete Lasseter's vision for the toy while it was in space:
"Frankly, I would love it to go to the Smithsonian so that kids can actually see this Buzz went to space," Lasseter told collectSPACE.com in 2009 interview. "It is a character I created and for us at Pixar to have him go, there are so many times I've said, 'It is a dream come true,' but this one truly, truly is."
 later in August 2009, will go on display later this summer in the National Air and Space Museum's "Moving Beyond