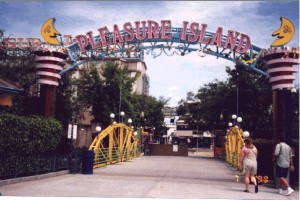 While reading some updates on the transformation of Downtown Disney into Disney Springs, I was thinking of the original concept behind Pleasure Island. The idea behind Pleasure Island started with Disney watching its guests leave property in the evenings to hit the nightlife at Church Street Station in downtown Orlando. Disney had the available land, so why not utilize it. When I heard the announcement that Pleasure Island was coming to Walt Disney World – adjacent to Lake Buena Vista Shopping Village* – I was quite excited to go play pool like Pinocchio.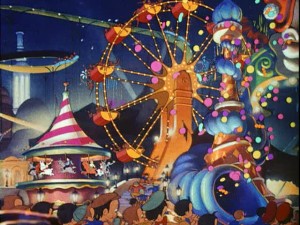 Ok, so that's not what the Imagineers had in mind. Pleasure Island was one of the first attractions that came with its own mythology. The story goes: after a recent discovery of Merriweather Adam Pleasure's abondoned shipbuilding operation, Disney Imagineers were inspired to restore the site into an entertainment district. The best example of this "restoration" was the Adventurers Club which featured memorabilia from Pleasure's trips around the world. Some of the relics, including the bar stools, would interact with guests. To the dismay of many guests – including yours truly – Adventurers Club closed on September 27, 2008.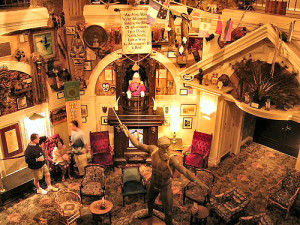 Along with Adventurers Club, Pleasure Island opened with several night clubs including; Neon Armadillo, XZFR Rockin' Rollerdrome, Mannequins Dance Palace ("mannequins" would come alive and dance with guests – which turned out to be a bad idea after some guests had a few drinks), Videopolis East (teen club without alcohol), The Comedy Warehouse, and Baton Rouge Lounge. Featured shops included: Avigator's, The Island Depot, The Mouse House, Changing Attitudes, Hammer and Fire, Doodles, YesterEars, D-Zerts, Suspended Animation, Front Page, and SuperStar Studios. A few restaurants were also on the island: Empress Lilly, Portobello Yacht Club, Fireworks Factory, Merriweather's Market, and Sweet Surrender. To round out the amenities, you could catch the latest film at the AMC Theatre. Each evening would end with a New Year's Eve style fireworks celebration.
The weirdest thing to me was Pleasure Island's mascot – Funmeister. What I thought was so hokey was how much he looked like McDonald's Mac Tonight character which debuted a couple of years earlier.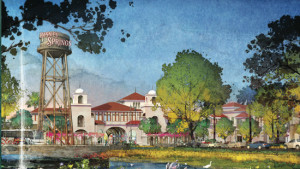 I'm looking forward to the re-Imagineered Disney Springs area – how about you?
* Downtown Disney just celebrated its 40th anniversary on March 22nd  and was originally called Lake Buena Vista Shopping Village.
D23's A to Z section was used in producing this walk down memory lane.