So, you're lucky enough to be spending Thanksgiving or Christmas at Walt Disney World! Congrats! No cooking, no cleaning, and no surprise house guests. All the makings of a fantastic holiday.
The holidays are such a magical time to be at Disney, but it can be overwhelming. Today I want to give you a few quick tips to make the most of your holiday at Walt Disney World.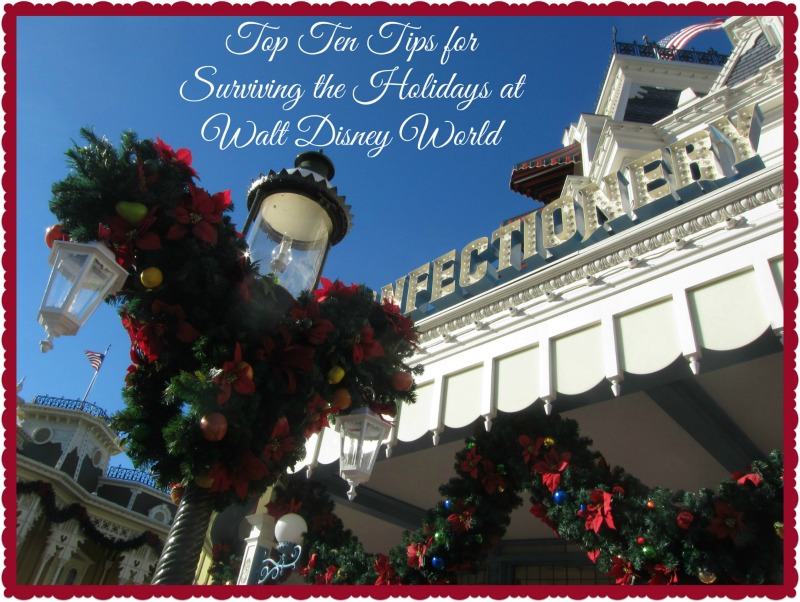 Disney Mama's Top Ten Tips for Surviving the Holidays at Walt Disney World
1. Make sure that every member of your travel party has a say in what you are doing throughout the trip, because its their vacation too!
Don't assume that your plans are right for everyone else, so ask questions. Find out what everyone wants to do and try your best to accomplish at least one thing each day for each person; even if it means sacrificing something yourself. Your 4-year old may want nothing more than to ride Buzz Lightyear Space Ranger Spin 14 times each day of your vacation, while your spouse may think that a quiet afternoon break for ice cream is a necessity, and you may think that catching the afternoon parade is a must-do. Find ways to compromise so that everyone enjoys their day, and no one feels like they are just along for the ride.
2. Utilize FastPass+ because there will be lines. Everywhere.
The holiday season is the busiest time of the year for Walt Disney World, so it is important to have a plan of action. Prioritize what you want to do each day and come up with an itinerary that works for your family. Hopefully you already know what your top choices for FastPass+ experiences are in each park and are prepared to make those FastPass+ reservations as soon as your reservation window opens. Book your reservations early, and remember that you can edit them later, but the faster you get online to reserve the most coveted attractions the better. Some experiences will be out of Fastpasses (Anna & Elsa Meet 'n Greet anyone?) practically immediately, so have a second option in mind. Once you have used our initial FastPass+ reservations during your trip visit the in-park kiosks to book an additional experience (pending availability). Not sure what to reserve?
Mini-Tip: Don't promise a child you will Fastpass an experience until you have reserved that FastPass+ reservation online.
3. Plan for meals.
If you don't already have Advanced Dining Reservations you will probably find it near impossible to get a reservation at this point, but don't give up hope! Even if you can't snag a reservation there are plenty of great counter-service restaurants to choose from, and many feature special holiday meals on Thanksgiving and Christmas. Check out Holiday Dining Guide for more information on where to dine throughout the Walt Disney World Resort.
Additionally you will also need to plan time for meals. Lines for counter-service locations will be longer than normal, and the wait for your advanced dining reservation may have you dining significantly later than your reservation time.
4. Take advantage ofExtra Magic Hours
If you are staying at a Walt Disney World Resort you can take advantage of morning and evening Extra Magic Hours. Know ahead of time what parks feature these bonus hours each day, and plan accordingly. I find that morning Extra Magic Hours are a lot slower than evening, and we can get a lot done in that bonus hour. This is perfect for Thanksgiving and Christmas Day in particular. Start at Magic Kingdom for morning Extra Magic Hours if offered, stay until mid-morning and then get the heck out of that place before it becomes a full-on zoo.
Mini-Tip: We highly recommend utilizing morning Extra Magic Hours, but you can skip evening hours. Evening hours tend to be very congested, as day guests loiter on their way out of the parks.
5. Take breaks during the day.
There is something about the heavier-than-usual crowds that seems to exhaust everyone. Plan to take breaks daily to combat the fatigue before it gets out of hand. For some this means physically leaving the park and going to the resort for a nap, while for others this may just mean finding an out-of-the-way spot to sit for a while and relax.
6. Park Hop
We find that we don't park hop much when we visit during slower parts of the year, but when we visit for Thanksgiving or Christmas we park hop a lot. This is because we want to be at Magic Kingdom on the actual holiday, but don't want to spend the entire day there. Park hopping allows us to visit a park that may have something special going on for that day only in the morning, while heading to a quieter park in the afternoon. Know which parks are going to be the busiest on any given day, and plan to visit those parks in the morning, or on another day.
Mini-tip: Animal Kingdom and Hollywood Studios are significantly less crowded on Thanksgiving and Christmas Day.
7. Check out the resorts.
The holidays at Walt Disney World are lovely, and there are so many things to do outside of the parks. If you and your family love holiday decorations then resort hopping is definitely for you. Take the boat to Wilderness Lodge, or the Monorail to The Contemporary, Polynesian Village or Grand Floridian. Walk from Epcot to the Boardwalk, Yacht or Beach Club. Just soak up the different flavor of each resort. Check out the grounds, the decorations, the shops, the lobby. Each resort is completely unique, and resort hopping can be a lot of fun for everyone!
8. Take a holiday photo.
Our favorite holiday photos have come from holiday trips to Walt Disney World. There are lots of amazing decorations, and an abundance of PhotoPass photographers. Find some unique shots that you can't capture during the rest of the year and have fun snapping some fun photos of your week. There is nothing like a holiday photo card where you can tell that the picture was taken during a moment of joy!
9. Have a plan if you get separated.
This is really, really important, especially if you have young children. Make sure everyone knows what to do if you get separated from one another. There are times when it is literally wall to wall people, and a little one can get away from you in an instant. Making sure they know what to do is essential. Tell your children that if they get separated from you go to a Cast Member, or a parent with small children to ask for help. Make sure they know that they should avoid leaving the location they are in, and to find someone in that same store, attraction area, etc. And teach them your phone number and your real name. If they are too little to remember that, then get them an id bracelet that has that information. And a tip for parents, take a picture of your child before you leave for the parks each day, so that you have a record of exactly what they are wearing should you get separated.
Mini-Tip: Contrary to popular belief, MagicBands DO NOT contain personal identification information. You will not be able to rely on your child's MagicBand to help a cast member locate you if they are lost.
10. Remember that you're on vacation!
Don't let the crowds, the itineraries, the rides, etc., cause you to forget the reason you decided to celebrate the holidays at Walt Disney World in the first place. Put away your cell phone, your laptop, your iPad. Enjoy your time with your family. Enjoy laughing together, having fun together, and being kids together. Take time to be thankful for each other.
Well, there you have it! What are your tips for surviving the Holidays at Walt Disney World?