*Updated March 2016* Welcome to part two of my FastPass+ Guide, and part three of my MyMagic+ series! In this post I'll be sharing information about FastPass+ tiers at Walt Disney World theme parks, and recommendations that will help you make the most of your FastPass+ selections.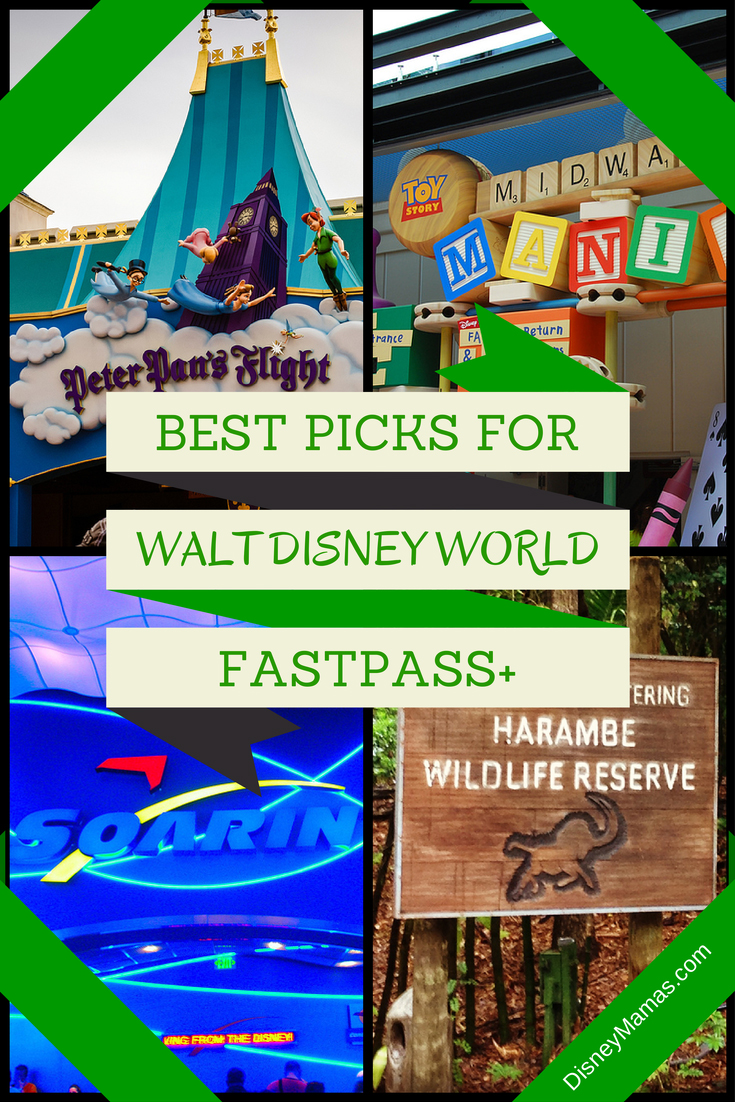 Choosing attractions and experiences for your FastPass+ options can be daunting. Without proper research you could potentially schedule FastPasses for attractions that absolutely do not need one, and bypassing those attractions that absolutely do! This is where I come in. I've been there, done that during the busiest times of the year. Since I'm a teacher, I literally travel the week of Thanksgiving, the week of Christmas, during Spring Break or over the summer. I don't know what it's like to be at Walt Disney World when crowds are low, or even normal! I've done the research and applied said research to my own touring plans, and I'm sharing it with you now! So read on friend! And discover how best to utilize your FastPass+ experiences.
Magic Kingdom Attraction Best Picks

Magic Kingdom has the most attractions and experiences set up for FastPass+, so choosing just three can be daunting. If you are travelling with little ones I recommend Peter Pan's Flight, Meet Anna and Elsa, and Seven Dwarfs Mine Train as your FastPass+ picks, but if you are travelling with older children (over 40″) I recommend swapping Seven Dwarfs Mine Train and/or Meet Anna and Elsa (whichever is least appealing to your party) for either Space Mountain and/or Big Thunder Mountain.
Once you have used those FastPass+ options, use the kiosks to book an additional attraction (and then continue to repeat this step for each additional FastPass+). Start with the Magic Kingdom Mountains you did not originally select, followed by Pirates of the Caribbean, Buzz Lightyear's Space Ranger Spin and Under the Seas Journey of the Little Mermaid.
If you want to see Enchanted Tales with Belle be sure to visit either right away in the morning or late in the evening to avoid a long wait. We walked right in after the fireworks on Christmas Eve last year, and the wait had been upwards of 90 minutes throughout the rest of the day.
Animal Kingdom Attraction Best Picks

Let's be honest for a minute. There really isn't that much to do at Animal Kingdom, and even less that requires a FastPass. Don't get me wrong, I love Animal Kingdom and can easily spend my entire day there, but much of that is spent on the Pangini Forest Trail and the Maharajah Jungle Trek. Animal Kingdom overall just does not have that many attractions, and until the Avatar expansion is completed, looks to stay that way. So, what are your best bet for FastPass+ options? Kilimanjaro Safari, Kali River Rapids and either Dinosaur or Expedition: Everest. If you have little ones that don't meet the height requirement for Dinosaur or Everest, go for the Adventurer's Outpost character meet & greets. Simple as that.
Parks with FastPass+ Tiers 
When it comes to FastPass+ not all Walt Disney World theme parks are created equal. When touring Magic Kingdom and Animal Kingdom you have the flexibility to use your three pre-scheduled FastPass+ experiences on your choice of any three Magic Kingdom or Animal Kingdom attractions. However, Epcot and Hollywood Studios present differently. At these two parks the attractions are placed into two tiers. Guests can make one choice from the A list attractions, and two choices from the B list attractions. This presents its own bit of touring plan woahs, as the most popular attractions tend to all fall into that A category list. Will Magic Kingdom and Animal Kingdom soon follow suit? I hope not… But, I digress.
Epcot Attraction Tiers and Best Picks

Group A
Illuminations: Reflections of Earth
Living with the Land
MISSION: SPACE Green
MISSION: SPACE Orange
Test Track
Group B
Disney/Pixar Short Film Festival
Journey Into Imagination with Figment
Epcot Character Spot
Spaceship Earth
The Seas with Nemo & Friends
Turtle Talk with Crush
Epcot is a little bit of FastPass letdown right now with Soarin' closed and new Frozen attraction not ready for opening, so for the time being the strategy is overly simple. If you have children under 40″ you can choose either Illuminations or Living with the Land for your Group A attraction. Living with the Land is a nice ride for a kid who likes to be on a boat, and it is a charming attraction that for some reason always has a wait time, but can be somewhat boring for many people. FastPassing Illuminations will get you reserved seating at International Gateway, which is nice but not 100% necessary. So, if you are stuck with those two choices it is genunely a matter of which one you feel better suits your party. Personally, our family would go with Illuminations. Now, if everyone in your party hits that 40″+ mark go with Test Track over MISSION: SPACE (either Green or Orange depending on your desired intensity level) regardless of height. Test Track is a great attraction, and the interactive bit at the beginning is fun for all ages. Overall, Test Track appeals to a broader demographic. To experience both Test Track and MISSION: SPACE I recommend scheduling a FastPass+ for Test Track, but making MISSION: SPACE your first stop of the day and utilizing the standby line. Your second Epcot FastPass+ experiences would be best served at Spaceship Earth, but the third one is a bit of a toss up! I recommend choosing between The Seas with Nemo and Friends or Epcot Character Spot, which usually features Mickey, Minnie, Donald, Pluto and/or Goofy.
After you have used your initial three FastPass+ experiences you  can book an additional experience, one at a time, via the in-park MyMagic+ kiosks. So far it seems that your fourth FastPass+ pick can come from either column 1 or column 2, so this is a good time to try to snag a FastPass+ for Test Track if you were unable to ride earlier in the day. Keep in mind that each FastPass+ pick will only show up at the kiosk if there is current availability, so during the busier times of the year there is less of a chance you will be able to choose a tier 1 experience for your additional FastPass+ picks.
Hollywood Studios Attraction Tiers and Best Picks

Group A
Beauty & the Beast – Live on Stage
Fantasmic!
Rock 'n Roller Coaster
Toy Story Mania!
The Great Movie Ride
 Group B
Disney Junior – Live on Stage!
Indiana Jones Epic Stunt Spectacular!
Lights, Motors, Action! Extreme Stunt Show
Muppet*Vision 3D
Star Tours: The Adventure Continues
For the First Time in Forever – A Frozen Sing-Along Celebration
The Twilight Zone Tower of Terror
Voyage of the Little Mermaid
Your best picks for FastPass+ at Hollywood Studios are Toy Story Mania, Star Tours: The Adventure Continues and For the First Time in Forever – A Frozen Sing-Along Celebration (while it is here), if the Frozen Sing-Along is not listed then go with Twilight Zone Tower of Terror. Rock 'n Roller Coaster often utilizes a Single Rider line, and I find it difficult to FastPass the production shows, as you are given a very specific return time. Additionally, the shows seat so many people that you will only find them completely full when the parks are at peak capacity.
If you really want to FastPass a production show, my vote goes to Beauty & the Beast – Live on Stage or (don't laugh) Lights, Motors, Action! Extreme Stunt Show depending on your families interests. My son adores the stunt show and begs to see it twice each time we are at Hollywood Studios, and despite what many people think, the show is entertaining and a perfect option if you have little daredevils and/or car enthusiasts in your group. Beauty & the Beast is a great short rendition of the classic film, and is always well performed. Both of these productions are exclusively outside, with no indoor queing, so the standby lines can get very hot and very humid. Hence the FastPass+ recommendation. While Indiana Jones is also all outdoors, it never seems to be quite as hot over in that area, perhaps due to all the trees.
There you have it! 
These are my personal FastPass+ picks for our family, and I hope you found this guide helpful! If you have any comments or questions please don't hesitate to comment below.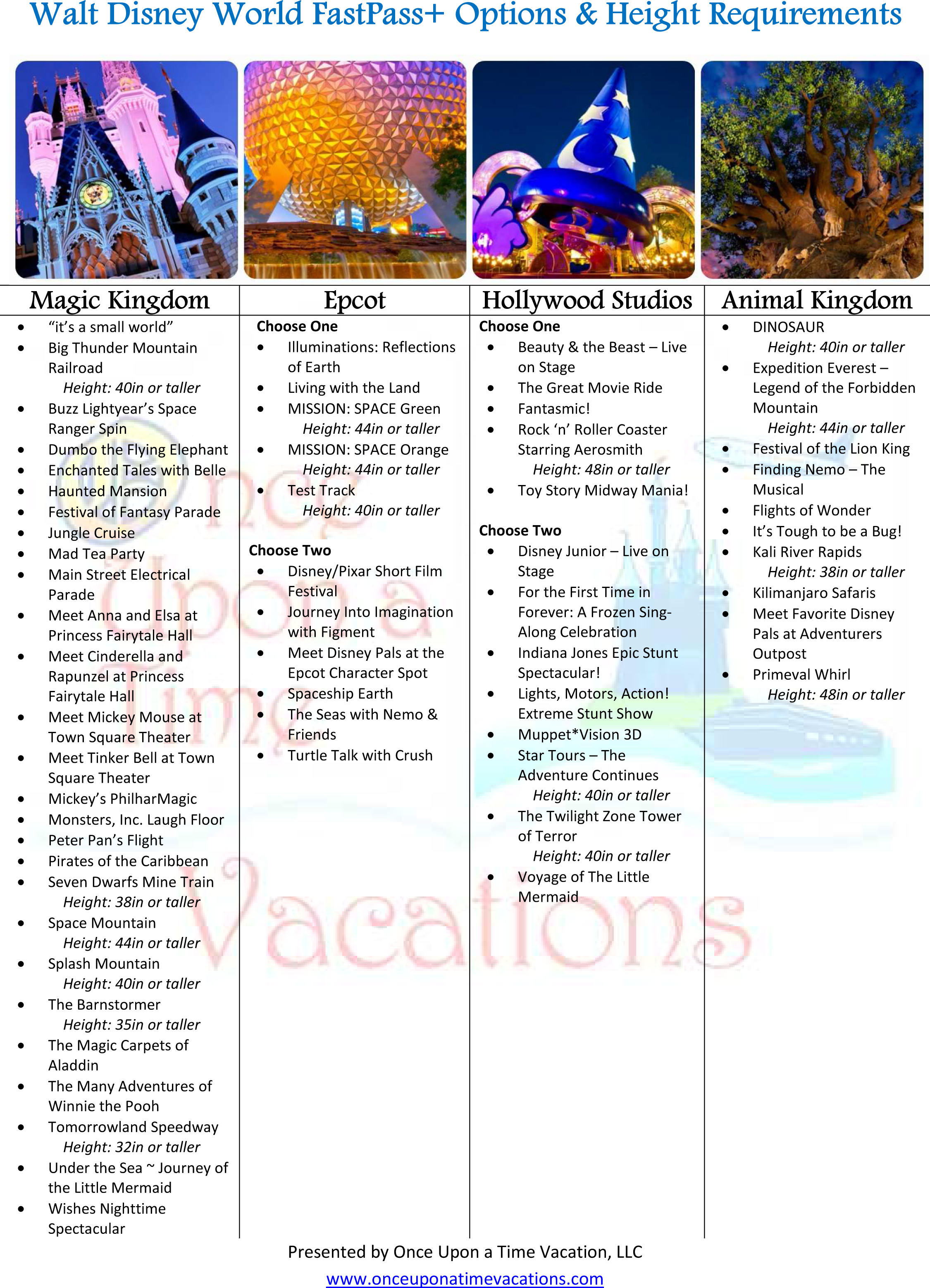 Printable Walt Disney World FastPass Tiers, with attraction heights, courtesy of Once Upon a Time Vacations
For more on FastPass+ and MyMagic+ check out these blog posts: Understanding FastPass+ and Guide to MyMagic+
For information on the Disney Dining Plan check out this blog post: Walt Disney World 101 – Disney Dining Plan