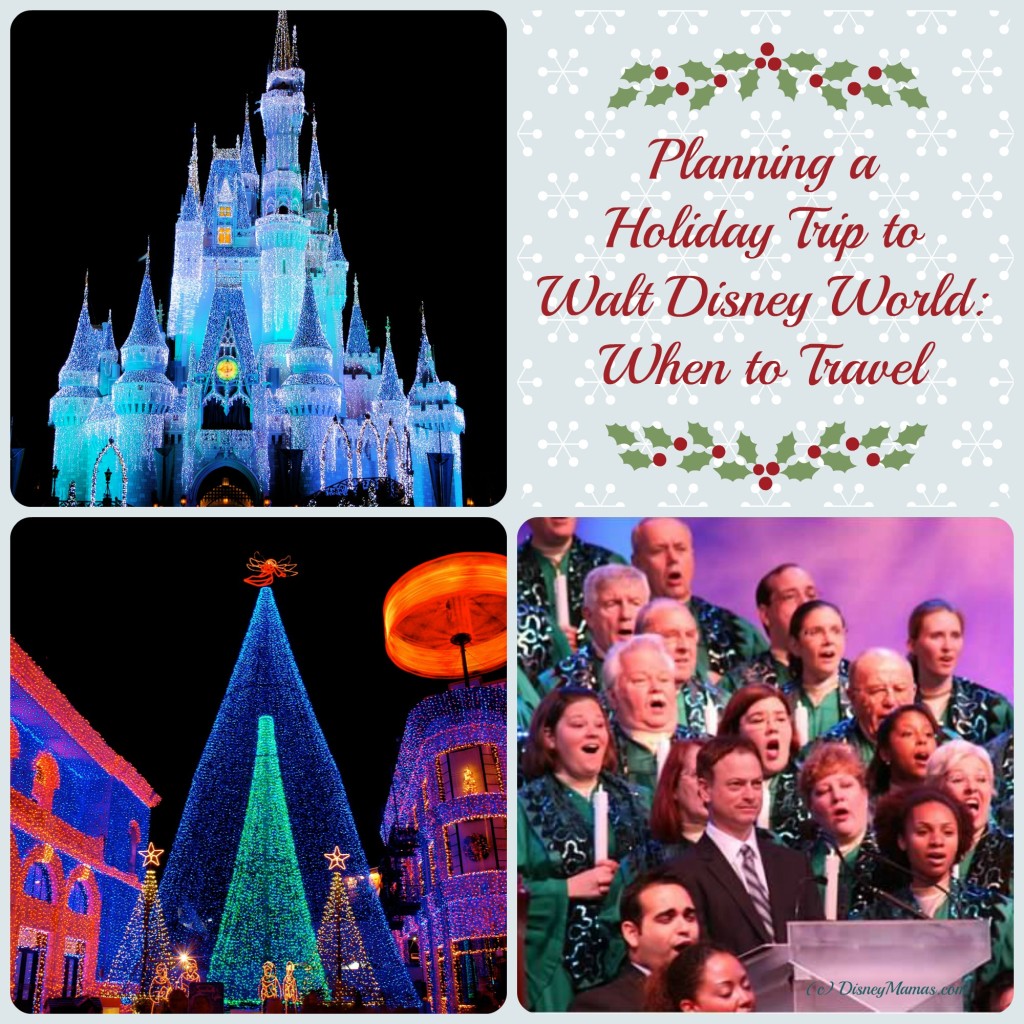 Last week I brought you some information on what to expect during a holiday trip to Walt Disney World, and I hope you found the information helpful! Today, let's talk about how to plan an actual holiday trip that allows you to maximize the fun and minimize the wait!
Sound good? Let's get started!
In this post, I will cover the following bits of valuable information:
When to travel
Special events to consider
Booking your trip
When To Travel:
First, you need to understand that the Holidays at Disney last much longer than one might expect. In the span of roughly a week the entire Walt Disney World Resort transforms from Halloween to Christmas. Magic Kingdom and Hollywood Studios are the first to turn into a winter wonderland, with Epcot and Animal Kingdom quickly following suit. The last Mickey's Not-So-Scary Halloween Party is typically the weekend of Halloween, and the first Mickey's Very Merry Christmas Party takes place the following weekend.
It's a rapid transition.
The holiday season at Walt Disney World, then, lasts from roughly the second weekend in November through the first week first of January.
I'm pretty sure the retail world took their cue from Disney.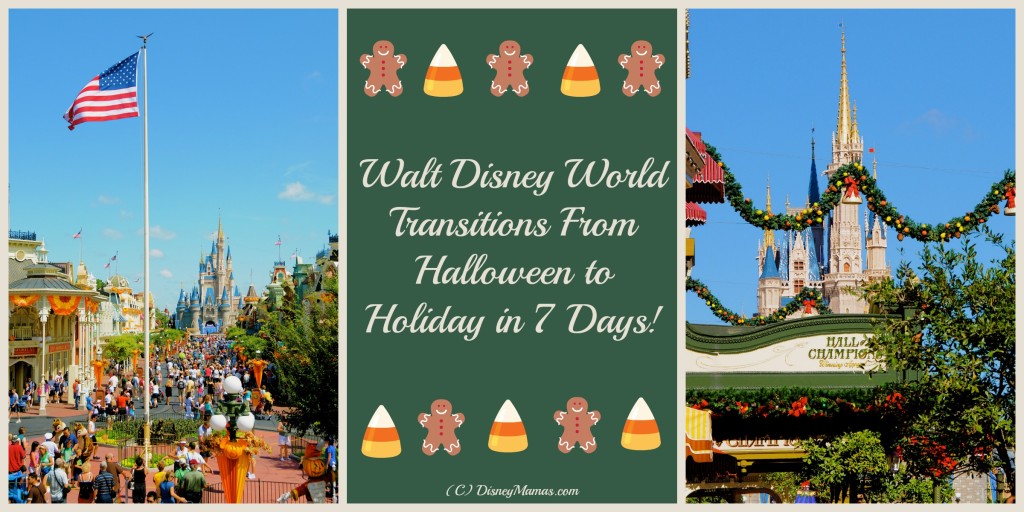 So, how do you narrow down your booking window and pick the right dates for your trip?
First, if you have school aged children, or like me, you are a teacher yourself, my recommendation is to go during either the week of Thanksgiving, or as soon as school is out for winter break. In my opinion the week between Christmas and New Year's is the one to avoid.
If you don't have to worry about a school schedule, I would recommend the early parts of November.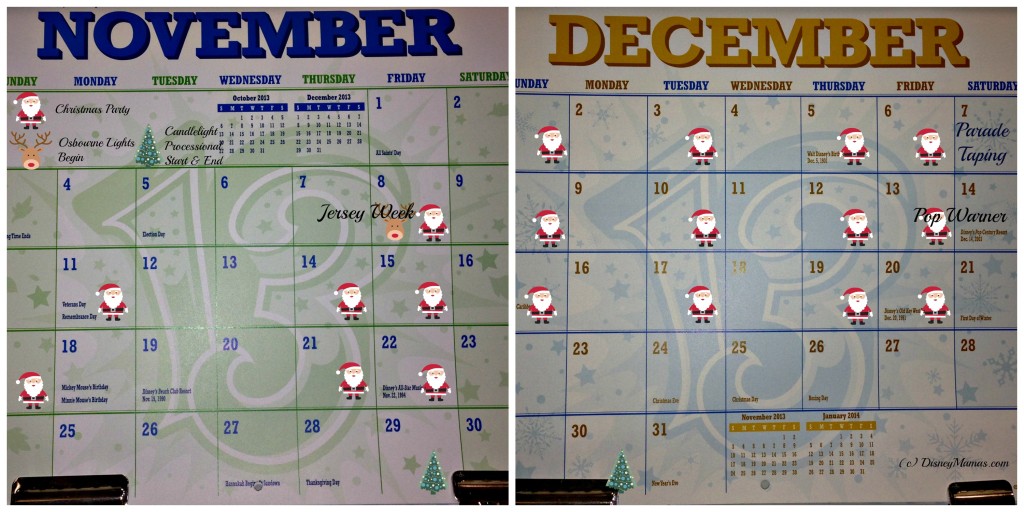 During early November you will have a lower resort rate, and possibly a promotional offer as well. Additionally, many people have just visited for the Epcot International Food & Wine Festival and the Halloween Party, and the crowds will be lower during early November as Walt Disney World is between seasons. The second weekend of November (Nov. 6-7 for 2014) is traditionally known as "Jersey Week", when the New Jersey school system releases students on Thursday and Friday for teacher in-service. During that weekend crowds may be elevated, but they won't be anywhere near the nightmares that some people describe…
If you search the Internet and Disney message boards looking for this information you have probably come across numerous references to the first two weeks of December being the best time to visit. But, this is no longer the case. These two weeks used to be very, very slow, but there have been some game changers.
First, (spoiler alert!) Disney tapes its annual Christmas Parade during the first weekend of December. Having been at Walt Disney World during the taping back in 2004 I can tell you that it is not nearly as fun as it sounds. You could barely get down Main Street, and we watched them rehearse and run the same Animal Kingdom segment for probably an hour. They might make it look like they filmed it in one fell swoop on television, but in reality they spend hours rehearsing and filming each scene in the parade to get it just right. Unless you are just dying to get a look at the Disney Channel Star of the Minute, or plan on avoiding Magic Kingdom during the entire weekend I recommend planning your visit during a different time.
Traditionally taking place during the second weekend of December is the annual Pop Warner Football and Cheerleading Championship. During this time the parks are full of football and cheer groups and their families. Due to the sheer number of participants, attendance numbers are driven up quite a bit, and can also mean limited resort availability since many teams stay on-site (avoid the value resorts at all costs).
For our family, we don't mind traveling during the most crowded weeks of the year. We have developed a touring plan that allows us explore the parks with little impact from the crowds. However, if you are a first-time guest, or are only able to visit every few years, this may not be the ideal time to visit, and I would stick with the November weeks if you really want the Disney During the Holidays experience.
Special Events to Consider:
As mentioned above, there are several special experiences and events that take place throughout the Walt Disney World Resort during the holiday season. Some take place daily, while others only happen on specific dates and times. In a future post in this series I will break it down park-by-park, but today here are some of the events to consider when planning your trip.
Mickey's Very Merry Christmas Party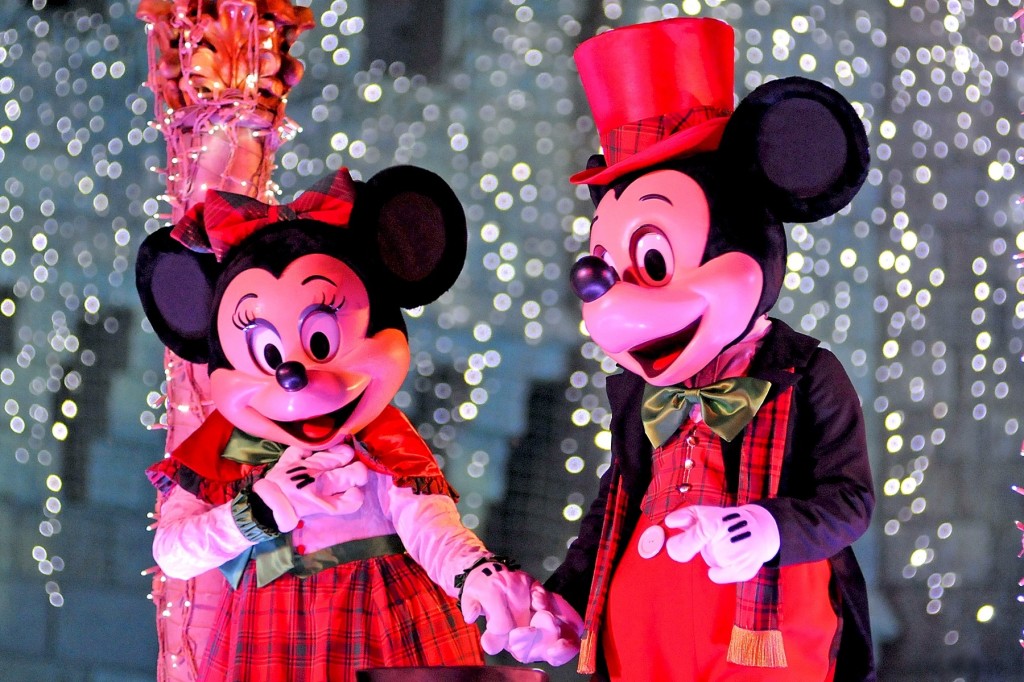 Taking place at Magic Kingdom on select nights from early November through mid-December,
This is probably the capstone event of the holiday seasons. This event requires a separate admission ticket, and tickets are not cheap (tickets for the 2014 party start at $67 per person), it is something that everyone should experience at least once. On party nights, the Magic Kingdom closes early for those not attending the Christmas Party. Featured throughout the party: special entertainment, parades, cookies & cocoa, and a holiday version of Wishes that is simply breath taking. Since Mickey's Very Merry Christmas Party only takes place on select nights, make sure you consult a calendar prior to planning your trip if this is a must-do for your family. The closer to Christmas, the more likely the party is to be sold out, so get your tickets early! And, if you plan on visiting the week of Thanksgiving or the week of Christmas, there are no parties taking place during these weeks.
Candlelight Processional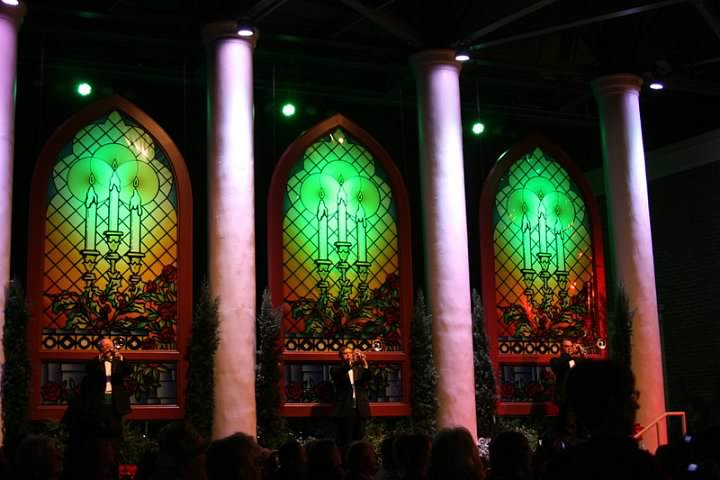 Taking place from the end of November through the end of December at Epcot, this retelling of the Christmas story is performed by a celebrity narrator and a mass choir consisting of Epcot's Voices of Liberty performers, Disney volunteers and high school students, and a 50-piece orchestra. Your celebrity narrator reads the biblical telling of Christ's birth, while the choir and orchestra perform seasonal favorites. It is an amazing experience, and one that I highly recommend.
The Candlelight Processional occurs each night from November 29th until December 30th for 2013 at 5PM, 6:45PM and 8:15PM. The celebrity line-up is always impressive and has included such stars as Gary Sinese, Neil Patrick Harris, Amy Grant, Whoopi Goldberg, Natalie Grant, Steven Curtis Chapman and more. Disney updates their list of performers frequently, so keep a close eye on their website.
If you plan on seeing the Candlelight Processional, I would consider booking Disney's Candlelight Processional Dinner Package, (particularly if you are planning on seeing the show when one of the popular narrators are in town). While the performance itself is free, you may find yourself waiting in some loooong lines for hours in order to get in to see the show if say, Neil Patrick Harris, is the narrator that evening. With the package you are paying for your table-service meal upfront and then have a guaranteed seat to one of that evening's performances.
Osborne Family Spectacle of Dancing Lights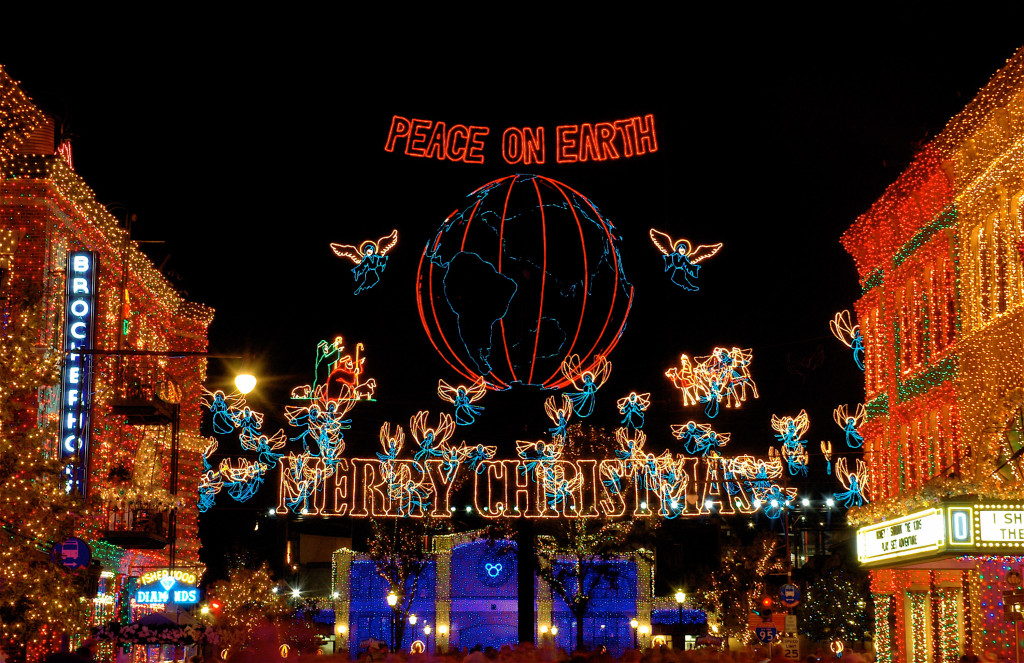 No, not that Osborne family.
Once upon a time there was a man named Jennings Osborne who created an over-the-top Christmas lights display in Arkansas for his daughter, Breezy. The display grew year to year, as did the town's displeasure and eventually a judge ordered Jennings to take it down. Enter Disney with an offer to bring the light show to the Streets of America at Disney's Hollywood Studios.
This Christmas display would render even Clark Griswold speechless. Disney has taken Osborne's light display and created an immersive experience for guests that includes animated figures, color-changing buildings, and more all synchronized to holiday standards. Each year the lights are a bit different, and there are hidden Mickey's throughout. The lights come on near dusk and run until park closing. The area can get very, very congested so I recommend that you visit the lights during one of the showings of Fantasmic! when crowds are thinner.
The lights are flipped on in early November and run nightly through the first week of January.
Frozen Holiday Premium Package
New for 2014 is the Frozen Holiday Premium Package at Disney's Hollywood Studios. Billed as a special party experience, this event takes place during regular park hours and is sure to be a hit with Frozen fans everywhere.
The package will include reserved seating to a performance of For the First Time in Forever: A Frozen Sing-Along Celebration, reserved location for viewing of the Osborne Family Spectacle of Dancing Lights and a Frozen-themed Dessert Party from 8:30-10:00PM. Each guest will also receive a special holiday lithograph and a Frozen pin to commemorate the event.
The Frozen Holiday Premium Package costs $89 per adult, and $59 per child (ages 3-9), with taxes and gratuities included. Required admission to Disney's Hollywood Studios is NOT included in the event cost. To book the package you can call 407-939-1854 or book through the Make Dining Reservations of MyDisneyExperience.com
Booking Your Trip:
So, you've looked at your calendar and picked the best week for you and your family to visit Walt Disney World, and checked the special events that are taking place while you plan to be there. Get your Once Upon a Time Vacations travel agent on the phone now and get your deposit paid, because time is running out to visit Disney during the 2014 Christmas season…of course it's never too early to plan for Christmas 2015 as well.
Go ahead, I'll wait.
…
Now that you've got that taken care we can get down to business. As we've discussed, the parks will be crowded, so we'll put together a daily plan to maximize our Disney fun each day. Before you dive headfirst into your daily plan, check back soon for details on each park's holiday events. But, in the meantime, are you excited yet?
Do you have a tip for planning a holiday Walt Disney World Vacation to share with us? Share your favorite tip in the comment section below!
You might also like the first article in this series. Planning a Holiday Trip to Walt Disney World, or, the Line is HOW Long?