There is no denying it, Disney has some Ah-Mazing treats for their guests!  From savory to salty to sweet, there is something to suit just about every palette!  Today let's highlight some of my very favorite treats of all: Six Deliciously Sweet Disney Snacks!  I'll hit my favorite treat from each Walt Disney World Park, Downtown Disney and a Disney Resort as well as I Ride the Rails with Magical Blogorail!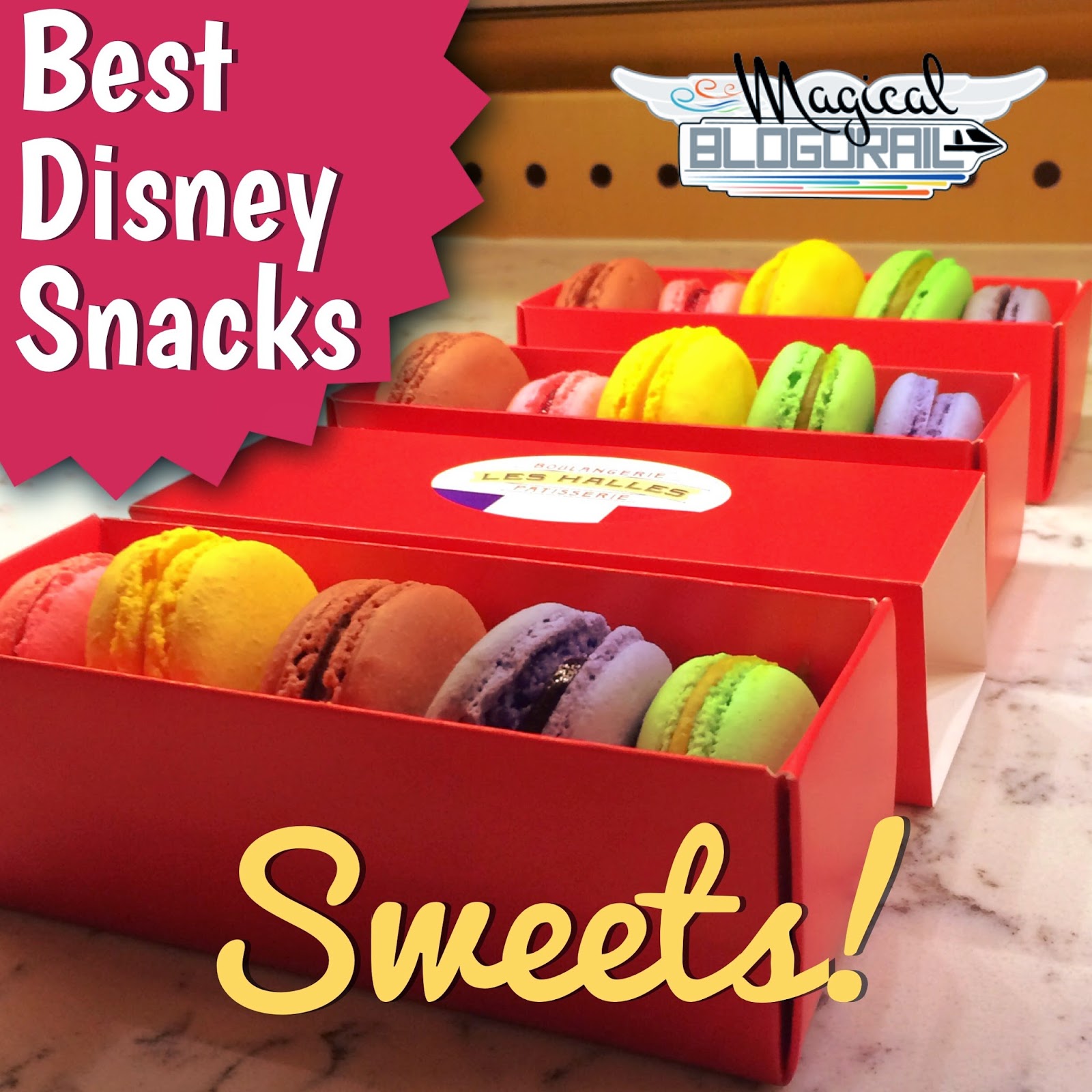 Magic Kingdom –  My favorite Magic Kingdom sweet snack is a bit cliche, but with good reason!  The beloved Dole Whip tops the charts for this pineapple lover, and no trip is complete without at least a couple of Dole Whip Floats!  I find it refreshing in the heat, light with just the right amount of tartness to balance out the sweet pineapple.  And, good news for those trying to snack on the healthy side, Dole Whips are among the healthiest Sweet Disney Snacks!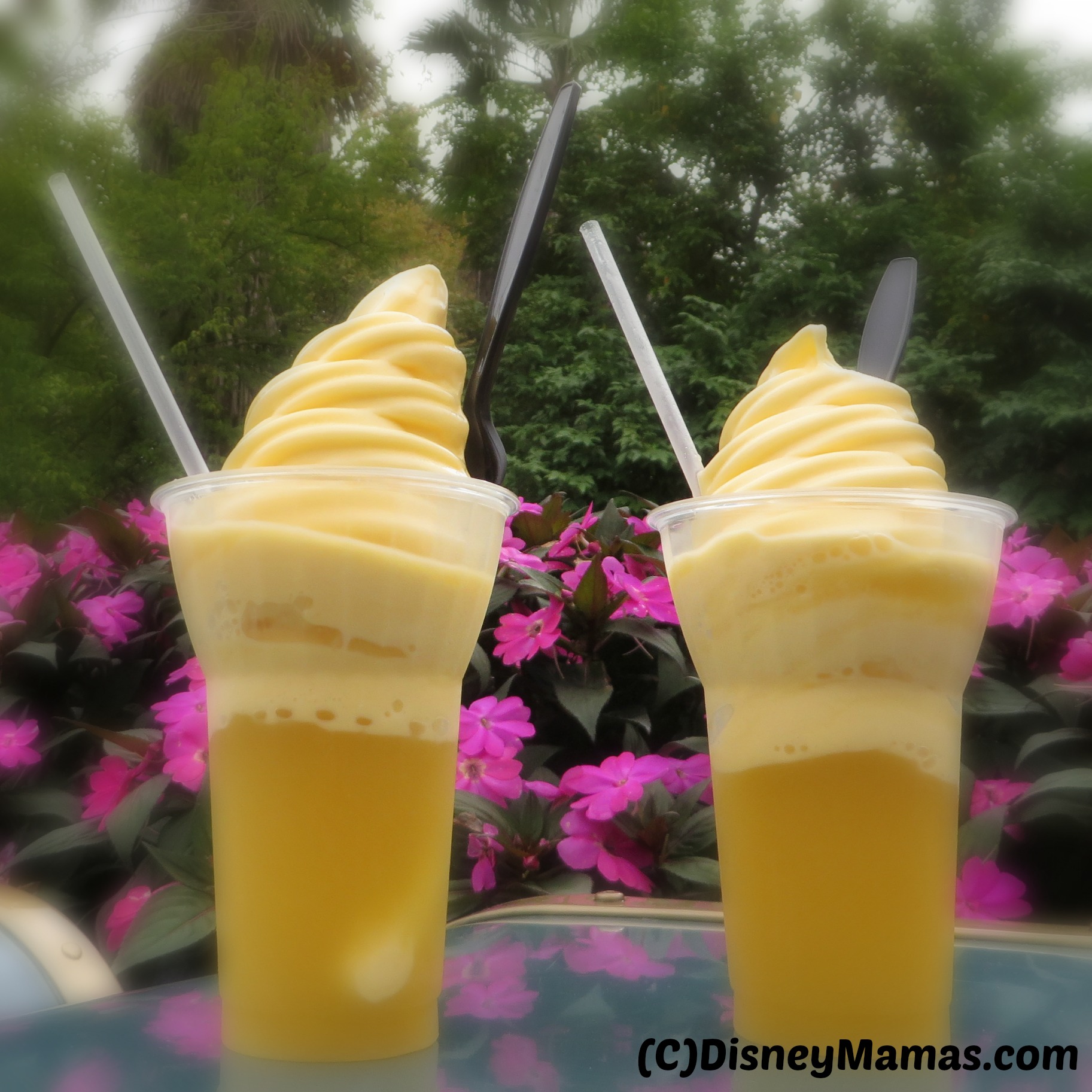 Epcot – This is a tough one.  Seriously.  I'm torn between the Creme Brulee at La Boulangerie Patisserie and the fresh Caramel Corn at Karamell-Kuche.  If I have to choose…I think I have to go with the caramel corn, since I can snack on it all day long, and it's a great value for it's size.  One of my favorite things about this caramel corn is that it isn't too sticky, or too coated in caramel.  And, while we're on the subject of Karamell-Kuche, they have a lot of other deliciously sweet Disney snacks to satisfy your sweet tooth as well!
Hollywood Studios – The Studios is all about the cupcake.  And the Darth Vader Chocolate Cupcake with Peanut Butter Filling is in the running for Best Disney Cupcake.  It is amazing.  Rich chocolate cake that is always perfectly moist, with a creamy peanut butter-chocolate filling, rich chocolate frosting, sprinkles and a chocolate Darth Vader (complete with food pick Light Saber) it is definitely worth turning to the Dark Side for.  Sadly, this dark confection is only available during Star Wars Weekends, which means I will miss out on it again this year, leaving me with only my memories of 2012.  But, the Yellow Shoe Creative Group released this creative video that at least brings a smile to my face.
Animal Kingdom – Over in Asia you will find the Royal Anandapur Tea Company kiosk; home of the most delicious Frozen Cappuccino on Disney property.  In all honesty, if I were to order this back home I would probably find it too sweet, but for some reason when I'm at Animal Kingdom it really hits the spot.  You see, I'm usually an Iced Coffee kind-a girl, but the ice melts so fast  without a lid.  Since the Frozen Cappuccino is a blended iced beverage it seems to maintain it's icy deliciousness much longer, which is key to enjoying a hot day at Animal Kingdom.  I've been known to walk all the way from the Dig Site in Dinoland to the farthest corner of Asia just to get myself a Frozen Cappuccino on a hot day.
Downtown Disney – Ghiradelli's!  Seriously, if you can make a trip past Ghiradelli Soda Fountain and Chocolate Shop without stopping in you are a much stronger individual than I am!  The smell of fresh waffle cones wafts through the air at all hours, luring you in with the intoxicating aroma.  We usually share The Cable Car, a Rocky Road Sundae featuring Rocky Road, Chocolate Chip and Chocolate ice cream covered in delicious marshmallow topping and hot fudge, with chopped almonds, cherries, whipped cream and a signature Ghiradelli chocolate square on top.  It's sinful.  And delicious.  And another decent value since we can share it among 3 or 4 people, which at $9.95 is still cheaper than individual single scoops at $3.95 (and those are without toppings).  Plus, if you really need a quick chocolate fix, stop into the chocolate shop side of the location and get a complimentary Ghiradelli chocolate square.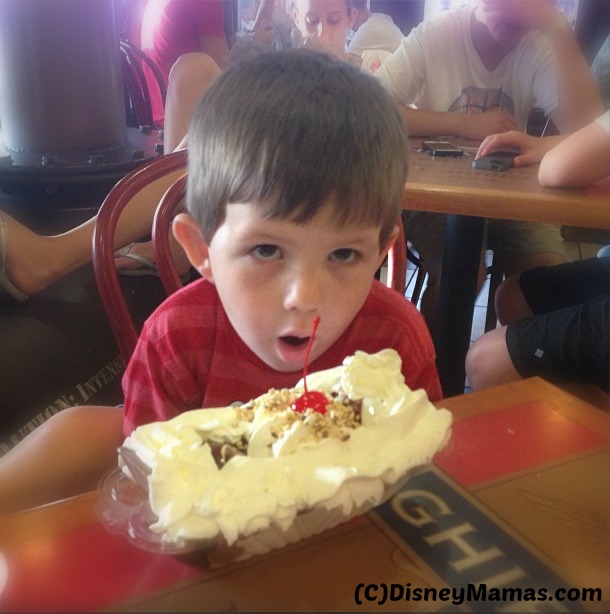 Disney's Contemporary Resort – The Contempo Cafe is home to many deliciously sweet Disney snacks, but one causes me to make a special trip over when possible: the Cool Mint Cupcake.  I'm fairly certain this is a seasonal cupcake offered around the holidays, but with the popularity of Frozen I'm lobbying for it to become a year-round staple, aptly re-named Elsa's Cool Mint Cupcake.  It is amazing (and tied in my completely unofficial, unscientific Best-Disney-Cupcake contest with the Darth Vader Cupcake).  Rich, dark chocolate cake with a hint of icy mint flavoring, ice blue mint frosting and an adorable white candy snowflake perched right on top, and miniature white snowflake sprinkles around the frosting base.  It is the perfect cupcake.  The light mint flavoring balances out the rich chocolate, making it neither too sweet or too heavy.  And it's beautiful.
And there you have it!  My Top Six Deliciously Sweet Disney Snacks!  I hope you found something to try on your next trip, but in the meantime, I would love to hear about your favorites!  Share them in the comments below!