Once upon a time a visit to Epcot meant a guaranteed stop at the Boulangerie Patisserie in the France Pavilion for a Creme Brulee.  While I still enjoy the Boulangerie Patisserie, my heart now belongs to the Karamell-Kuche in the Germany Pavilion.  So, hop on board and join me as I discuss my favorite snack options at Epcot's Karamell-Kuche as part of the Magical Blogorail #RidingtheRails series!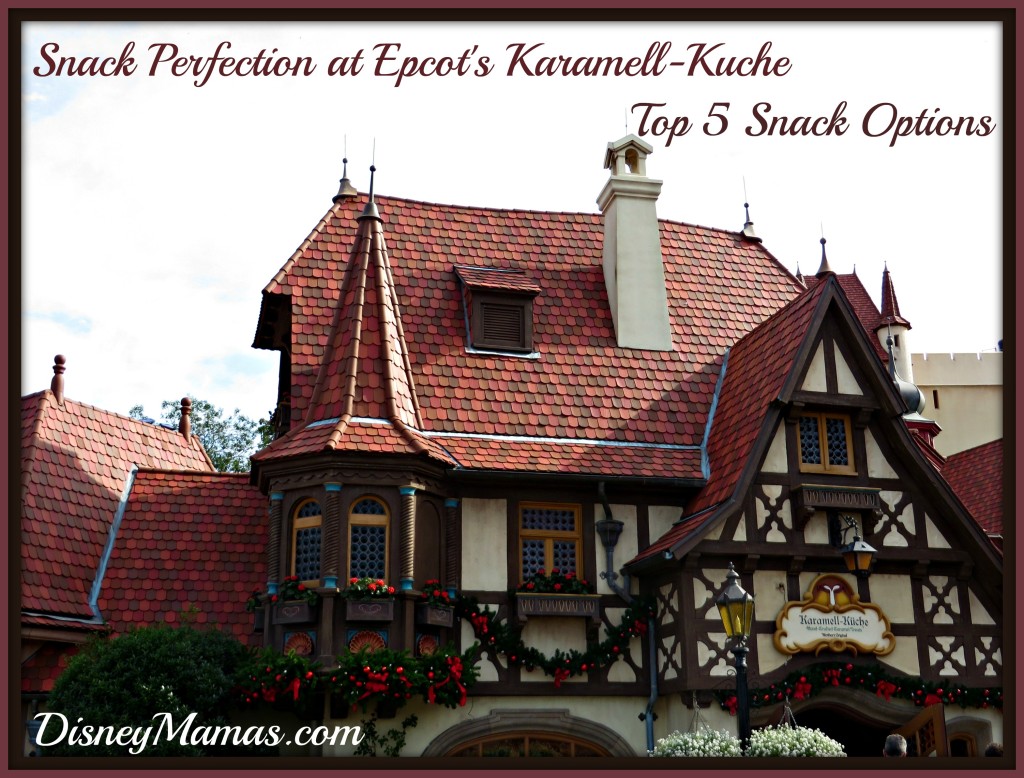 Let's get started!
The sweet scents of the Karamell-Kuche seep out of the shop and permeate the air throughout the Germany Pavilion.  It beckons you in and wraps you in tendrils of sweet caramel and chocolate the moment you step through the doors. The glass case displays rows of perfectly dipped fruit, glossy candies and over-sized cookies and bars.  Cast Members can be seen manning the caramel and chocolate vats dipping lovely apples, and stirring their signature caramel corn.  The shop is small and quaint, and the line to order your treats can be quite long, but that gives you ample time to drool over the case and pick the perfect snacks to take with you.
My family has several favorites.  We usually grab them in the mid-afternoon sometime between lunch and dinner as we shop around World Showcase.  And with a little boy who adores the miniature train display also housed in the Germany Pavilion he can watch those trains go around to his hearts content while his Daddy and I enjoy our snacks.  Oh, and we always get a large bag of fresh caramel corn to take with us.  Sometimes two.
Our five favorite snacks at Epcot's Karamell-Kuche
1.  Caramel & Chocolate Pineapple.  I looked at this lovely morsel of culinary delight in the case at Karamell-Kuche time and time again before I finally purchased one this past summer.  I have no idea why I waited so long.  It is 100% perfection.  The pineapple is always perfectly ripe and sweet, and there is a perfect balance of chocolate and caramel flavors.  It is simply a perfect snack.  There will never again be a trip to Epcot when I do not purchase a Caramel & Chocolate Pineapple Spear.  Over Christmas I think I had three…
2.  Caramel Apple  There is something about the caramel apple at Karamell-Kuche.  I'm not sure what it is, but it is just a bit better than the caramel apples you can find elsewhere in Walt Disney World.  Yes, it is entirely possible that this is all in my head, but they are just special.  The flavor of the caramel is complex.  Sweet with hints of molasses and maple.  The large green apples bring out the flavors perfectly.  Karamell-Kuche sells their caramel apples plain, with nuts, dipped in chocolate, dipped in white chocolate and more.  I prefer mine plain, but occasionally spring for the peanuts.  Ask for it cut to go and they will slice it for you and package it in a plastic container for you to take with you.
3.  Caramel Corn  Do Not Buy the Pre-Packaged Caramel Corn!  Just don't do it.  Get in the snack line and ask for a bag of their signature fresh caramel corn.  They pop the corn in house, mix it up in a giant copper pot with their signature Werther's caramel and bag it up to sell with their other snacks.  There is a small sized bag, but spring for the large.  You won't be sorry.  This caramel corn is nothing like what you can buy at a local gourmet popcorn shop.  Just purchase some and report back here.  It's for your own good.
4.  Caramel & Dark Chocolate Square with Sea Salt  Let's be honest for a minute.  When I get a box of chocolate for Valentine's Day I pick out the caramel pieces and eat them first.  It's a weakness.  Chocolate and Caramel are the perfect combination of foods.  Add some sea salt to the mix and you might as well send it straight on up to Heaven.  The sea salt really balances the sweetness of the chocolate and caramel.  These are available in a milk chocolate option as well, but in my opinion th milk chocolate is just a bit too sweet.  These squares are rather large, and can easily be shared (if you are so inclined), or snacked on throughout the day if it isn't too hot.
5.  Caramel Chocolate Marshmallow  This is my 4-year old Connor's favorite snack.  The kid is a sucker for marshmallows.  Dip it in chocolate and caramel and put them on a stick and he is in heaven.  Plus, he can snack on it for quite a while happily while we shop.  Does it get any better than that?
And the lovely treats certainly don't stop with my list!  Karamell-Kuche also houses chocolate covered strawberries, caramel stuffed cookies, caramel cheesecake, and so much more.  Don't forget to grab a bottle of water with your order, because I guarantee you're going to need it!
What's your favorite snack from Karamell-Kuche?