Welcome to those of you joining me from Home is Where the Mouse Is and those of you just hopping aboard. I am the Final stop on our Magical Blogorail loop today!  This week Magical Blogorail Blue is bringing you tips, tricks and information for staying fit and healthy while on a Disney vacation!  I'll be sharing my tips for choosing healthy snacks at Walt Disney World.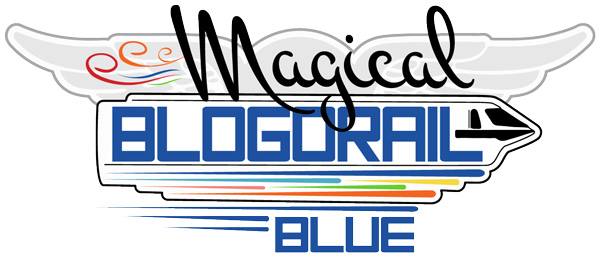 Making healthy choices at Walt Disney World can be a challenge.  From the moment you arrive in the morning until the moment you depart in the evening your senses are faced with countless scents and sights of delicious food and beverage choices.  For our family we find that making smart decisions at meals is easier than making smart decisions when it's time for a snack, which may sound strange, but it is definitely true.  Think about it for a second.  During meal time your options are layed out for you.  Your entree comes with a side, and often times you can choose a side salad or grilled vegetables to accompany your meal, and there is often a sugar-free dessert option.  Kids meals featuring the Mickey's Healthy Check symbol indicate that that particular menu item satisfies specific criteria and is generally a lean protein with vegetables and fruit as sides and dessert.  Simple and easy to follow.  Snacks, on the other hand, are an entirely different situation.
For one, there are snack carts and counter-service locations absolutely everywhere.  Even when you know you aren't hungry the scent of popcorn can convince you to pick up a bucket, and it becomes easy to pick up the extra snack "to share" every couple of hours.  But lets face it, we don't snack that often at home!  So, how do we make healthier choices for ourselves when Disney is so good at making us hungry?  Do a little research ahead of time, and carry a few healthy snacks with you to munch on as needed.  Both your pocket book and your waistline will thank you.  🙂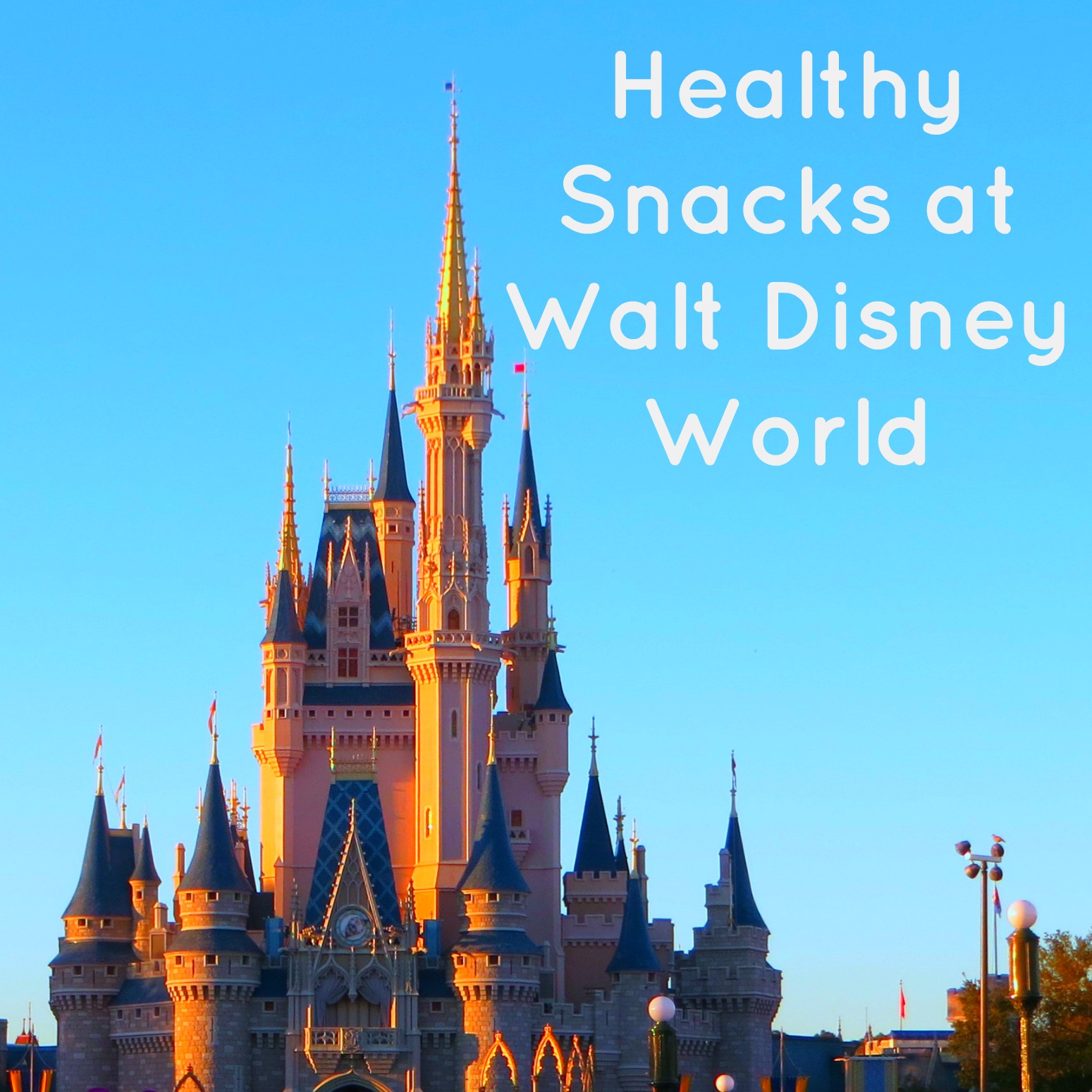 Know Before You Go
Knowing what types of snack options there will be is a huge benefit when planning your travels.  It allows you to map out the locations where you can find healthier options, and arms you with the knowledge of which items on the menu are better choices.  Disney doesn't provide full nutritional information for their menus, but if you know that the Ice Cream Carts throughout the parks offer Premium Mickey Bars, Mickey Ice Cream Sandwiches, Edy's Strawberry Fruit Bar and a Nestle Itzakadoozie Ice Pop you have a great starting place for making some pre-arrival decisions.
For example, CalorieKing.com has the nutritional information for Edy's Strawberry Fruit Bar.  It is listed as having 80 calories, 0 grams of fat, and 21 grams of carbs.  Likewise, while they do not have nutritional information for the Itzakadoozie specifically they do have information on the Lick-a-Color Ice Pop, which is a similar product.  It is listed as having 90 calories, 1 gram of fat and 22 grams of carbs.  It gets a little trickier with the Mickey items, but you can look up similar treats to see what they feature, or you can do a Google search for the specific item in question.  I wanted to know the specific information on the Mickey Ice Cream Sandwich, so I Googled it using the images option and found a photograph of the back of the wrapper, which states that the Mickey Ice Cream Sandwich has 280 calories, 12 grams of fat and 39 grams of carbs.  I did the same for the Premium Mickey Bar and found that it has 330 calories, 22 grams of fat and 31 grams of carbs.  Armed with this information I can now guide my choices at the Ice Cream cart.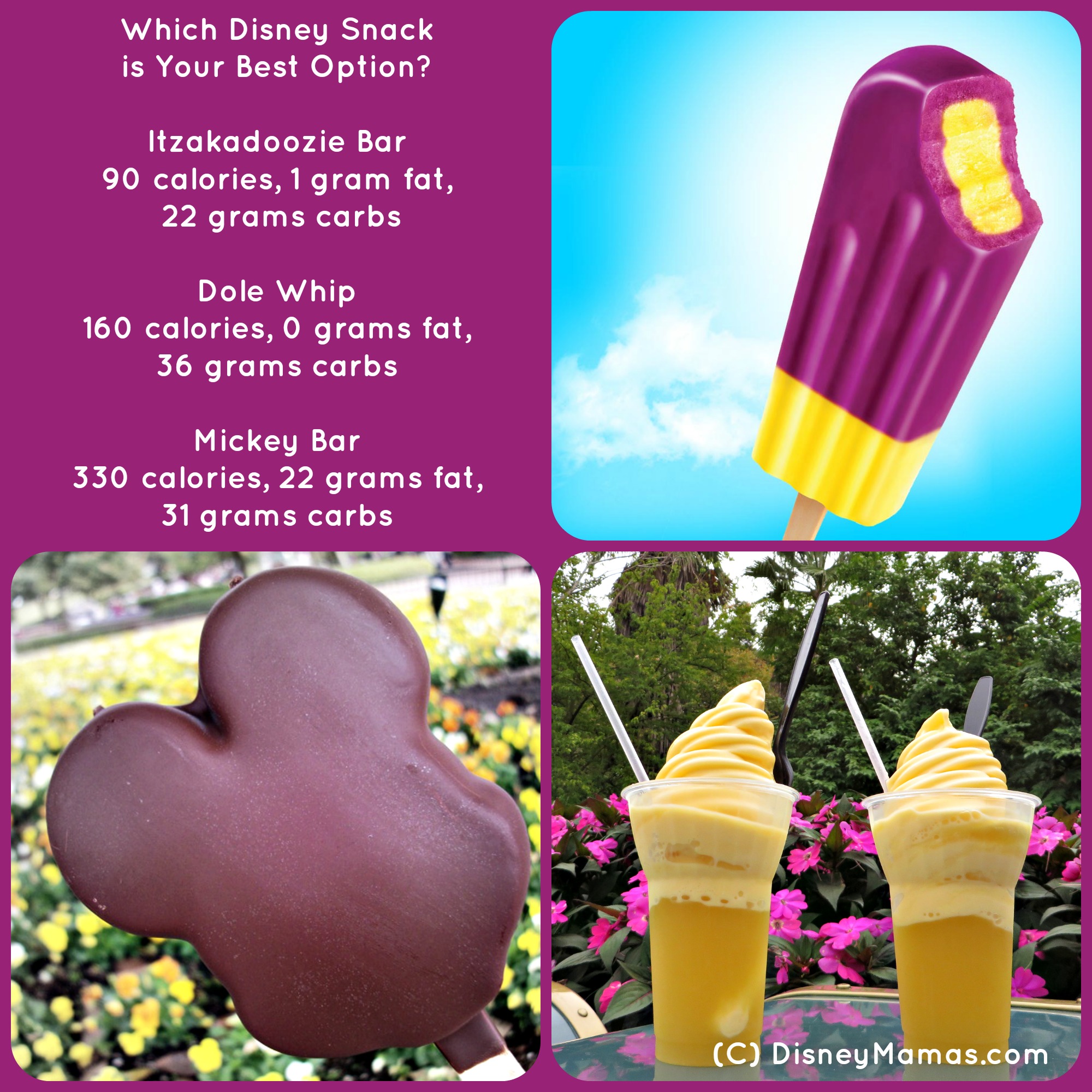 I can follow the same procedure for any Disney snack, bakery treat or beverage.  Siimply put the item in question into a search engine or calorie tracking website and see what comes up.  You can easily find nutritional information for cinnamon rolls, caramel apples, popcorn, cookies and more through a simple search.  And when you can't find the specific item in question, for instance a caramel apple at the Main Street Confectionary, the nutritional information for a generic caramel apple is still going to be relatively accurate, and better than not looking at all.  Plus, you may be surprised to find that some of your favorite Disney treats aren't so bad for you after all!  In fact, a half cup of Dole Whip has only 80 calories, 0 grams of fat and 18 grams of carbs.  So get a small one, split it with a friend or family member and snack guilt free!
Further, each Disney Theme Park has at least one snack location featuring fresh fruit, veggies, hummus cups and other healthier snack alternatives.  (When I was little my favorite Disney snack was a Golden Delicious Apple.  Strange, I know, but there was something about getting to pick out my own large, shiny apple that made it more appealing than something out of a cart).  At Magic Kingdom you will find these treats at Prince Eric's Village Market in New Fantasyland and The Liberty Square Market in Liberty Square.  At Epcot your largest selection of healthy options is at Sunshine Seasons in The Land Pavilion, while Hollywood Studios features Anaheim Produce on Sunset Boulevard.  Animal Kingdom has the Harambe Fruit Market in Africa, and the allergy friendly Garden Kiosk on Discovery Island.
Sharing is Caring
Let's not forget that eating our way through Walt Disney World is part of the fun.  However, we still need to keep it in check.  Please feel free to splurge on some choices, while making healthier decisions at other times.  And consider sharing with another member of your party.  A giant ice cream sandwich from the Ice Cream Parlor on Main Street is more than enough for one person.  Likewise, any of Disney's Ginormous cupcakes should be split!  Those things are massive, with a pile of frosting that could send anyone into a sugar shock.  Sharing treats like this will easily allow you to satisfy that Disney Sweets craving!  And, bonus, you may even get to sample more treats than normal.
Not keen on sharing?  Then ask for your treat to go and keep half of it for another day, or throw a portion out.  While it may seem awful to toss half of a cupcake in the trash there is nothing wrong with doing so.  I know I would rather throw part of it away than suffer a stomach ache later from gorging on that much sugar in one sitting.  Not to mention the energy crash…
Set Limits and Take the Time to Enjoy Your Treat
This is something that I struggle with all the time. but setting snacking limits can really help you maintain better habits on vacation and at home.  Allow yourself to only consume a certain number of snacks each day, including beverages that are high in calories, fat and/or sugar.  And keep to it.  Don't deprive yourself of a treat now and then, but don't stop at each food cart or counter either.  Perhaps set a time when you can snack, and take a 15 minute break to enjoy a Dole Whip or a Lefou's Brew rather than powering through and eating at the same time.  Take the time to enjoy your two or three snacks during the day and don't snack right before or after a meal.  It goes without saying that even healthy snacking options can be bad for you if you eat too many of them.
Carry Some Healthy Snacks with You
Carrying a few healthy snack options in your bag or stroller is another simple way to stay energized without overdoing it.  This is especially true if you are traveling with young children.  Small bags of pretzels, apple slices, and grapes are perfect for keeping little ones occupied in long lines. These snacks can also help keep your budget in check and help set snacking limits throughout the day.
Do you have any additional tips or tricks for healthy snacks at Walt Disney World?
Thank you for joining Magical Blogorail Blue this month. We will be back on April 17th with an all new theme. Keep checking in with our blogs in between loops to keep up to date with our Disney news, photos and stories. If you are looking for more Disney magic, you can make your way over to The Magical Blogorail website to see all our members and their blogs, as well as all our previous loops.
1st Stop ~ Disney Babies Blog
2nd Stop ~ Disney on Wheels
3rd Stop ~ My Dreams of Disney
4th Stop ~ Home is Where the Mouse Is
Final Stop ~ Disney Mamas