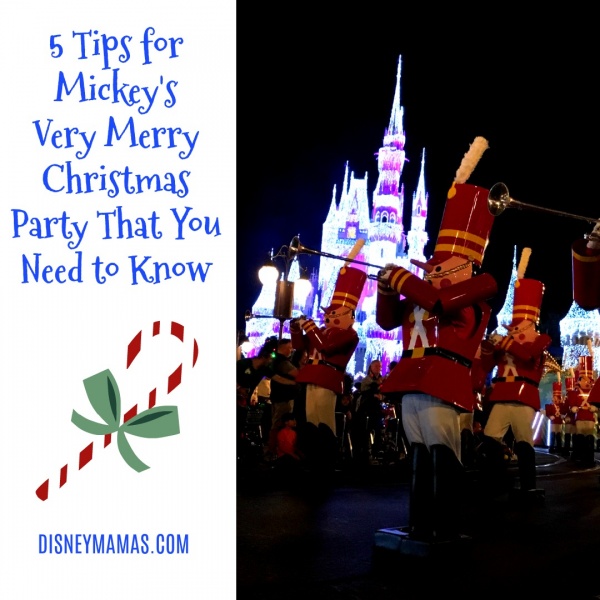 Of all the holiday experiences offered at the Walt Disney World Resort, Mickey's Very Merry Christmas Party is arguably the premiere event of the season. Held on select nights in November and December the Christmas Party is your key to experiencing the holiday season with the best Disney has to offer. This special ticketed event features special stage performances, unique character experiences, complimentary snacks and drinks, and both Mickey's Once Upon a Christmastime parade and Holiday Wishes Firework Spectacular. But, fitting in everything that the party offers in the few hours it runs can be a massive and often overwhelming and deciding how to prioritize your time depends greatly on your expectations and travel party. Here are 5 tips for Mickey's Very Merry Christmas Party that you need to know to insure your family feels the holiday magic.
1. Purchase Tickets Early and Note the Party Entrance Time
Tickets to Mickey's Very Merry Christmas Party become available in the summer, and some dates will sell out, especially right around Thanksgiving and Christmas. As soon as the dates are available decide which day of your trip is right for your party, and purchase tickets when they come out to avoid disappointment closer to the date. The party officially begins at 7:00 but you can get into Magic Kingdom with your party ticket as early as 4:00, so this is a great day to enjoy Disney Springs or resort hopping while saving an admission day on your standard ticket. If you have young children try to get them to nap or rest at some point since you won't want to have to cut the party early because they are tired and cranky (take it from someone who knows…in 2011 we spent a whopping 30 minutes at the party before calling it a fail and returning to our resort with a very cranky toddler).
Additionally, know the entrance procedures. If you arrive after 6:00 you will show your party ticket or scan your MagicBand, but if you are already IN the park you will need to locate a wristband station to have your ticket/MagicBand scanned and receive your wristband and party map. Stations will start to open around 4:00 and the earlier you secure your band the shorter the lines will be. If you try to get on an attraction or meet a character after 6:00 without a wristband you will be turned away.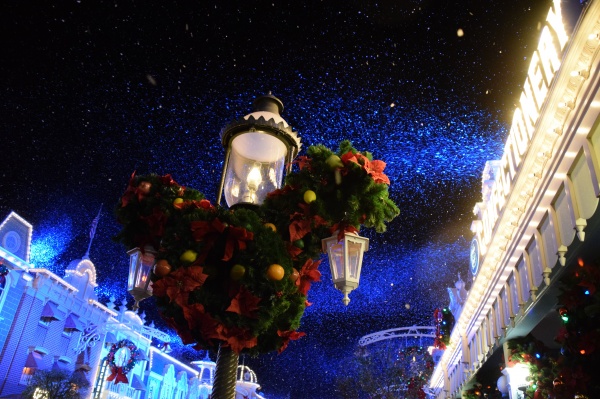 2. Don't Try to Do It All
Mickey's Very Merry Christmas Party runs from 7:00-Midnight, and there is no way to fit everything into your evening. Therefore, it is necessary to prioritize what is best for your party. My best piece of advice when talking to others about planning their party evening is to know what's important to you and start there, anything extra is just extra marshmallows in your (complimentary) cocoa. I've broken down each party offering with a quick tip for you.
Character Meet & Greets
If meeting unique characters like Jack & Sally from Nightmare Before Christmas, Jack Sparrow or Snow White with all the Dwarfs, or traditional Disney characters like Mickey and Minnie in their holiday finest is important you will want to do that first thing. Character lines get insanely long and if you aren't careful you will wind up waiting in lines your entire party. Rule of thumb: the more unique the character the longer the line becomes. If you don't want to spend the entire evening on characters pick one or two and do just those before moving on to something else.
Holiday Shows
Mickey's Very Merry Christmas Party offers up a host of entertainment not offered outside of the party. These include: Mickey's Once Upon a Christmastime Parade, A Totally Tomorrowland Christmas Show, Mickey's Most Merriest Celebration, Character Dance Parties, VoicePlay and Holiday Wishes. In my opinion, everyone should watch Mickey's Once Upon a Christmastime Parade and Holiday Wishes! For any performance of a stage show or the parade, the later the showing the less crowded it will be so keep that in mind when planning. For the parade, try to grab a seat on Main Street but there is also great viewing from Liberty Square. Kids love the character dance parties where Disney characters (usually The Incredibles, Buzz Lightyear, Stitch and other Tomorrowland characters) join them on the dance floor while a DJ plays some great holiday tunes. Again, pick the ones that are most important and plan to skip others or stop and watch if you happen upon them.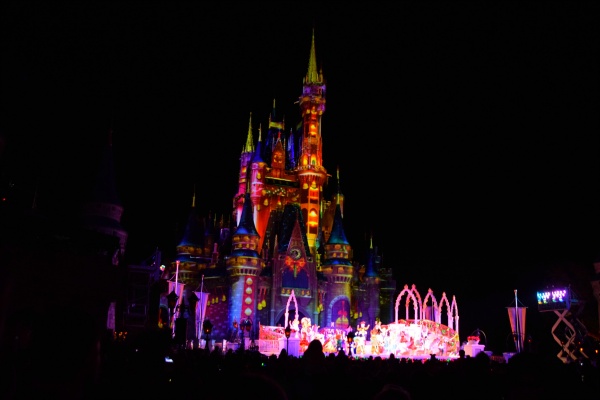 Holiday Snack Stations
Disney provides complimentary snacks throughout the parties. In years past these were limited to just cookies and cocoa but in the past few years they have expanded to include apple slices and apple cider at each station, as well as snowcones in Fantasyland. While each station features a different cookie don't stress out over eating them all or you'll miss a lot of valuable party time and wind up with a stomach ache. Check the Party Map to see what cookie flavors are being offered where and stop at the stations that appeal to you as you get to them.
Short Lines for Magic Kingdom Attractions
Since Mickey's Very Merry Christmas Party features a limited number of tickets for each night the lines for attractions are typically shorter than they would be during a standard visit. If shorter attraction lines is the reason you are attending the party then take advantage of them but if it isn't your focus either skip attractions altogether or hit only those that typically have long standard wait times like Seven Dwarfs Mine Train, Peter Pan, and Space Mountain. DO take a ride on the Jungle Cruise, excuse me JINGLE Cruise, for some holiday fun.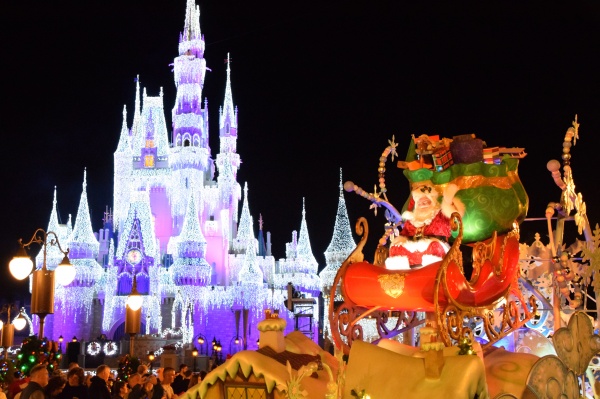 3. Include the Whole Family in the Decision Process
In order to keep peace in the family discuss all the above party options with the whole family. This ensure that everyone has a say in what your do during the party, and it allows you to prioritize and plan out your particular "Must Dos". For example, if one child really wants to meet Jack Sparrow and Jack Skellington and another child just wants to ride Space Mountain put all three on the list. If Mom has her heart set on seeing Holiday Wishes and the parade and Dad wants nothing more than to eat his weight in cookies, put them on the list. Make a loose outline of what you will do when and helps you eliminate the extras that no one is particularly interested in experiencing. If it's easier, have everyone make a list of their top three party choices and plan from that list. Party maps from past parties are readily available through a quick Google search, and as soon as the current year's parties begin those maps will pop up as well allowing you to see the entertainment schedule and the flow of the park easily. Bottom line, don't plan everything without consulting the rest of your party.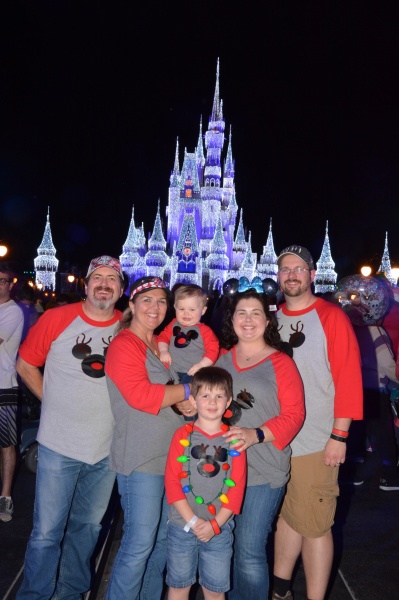 4. Eat Dinner Before the Party

Dining options during Mickey's Very Merry Christmas Party are quite limited, and many of the usual quick-service locations become snack stations. Further, even if a party night is the only night you can secure a coveted reservation at Be Our Guest, you will wind up spending a good portion of your time dining leaving you with much less time to take advantage of what the Christmas Party has to offer. So, dine before the party! Since you can enter Magic Kingdom at 4:00 you can still eat at a Magic Kingdom restaurant then, or dine in another park, your resort or at one of the resorts on the Monorail loop.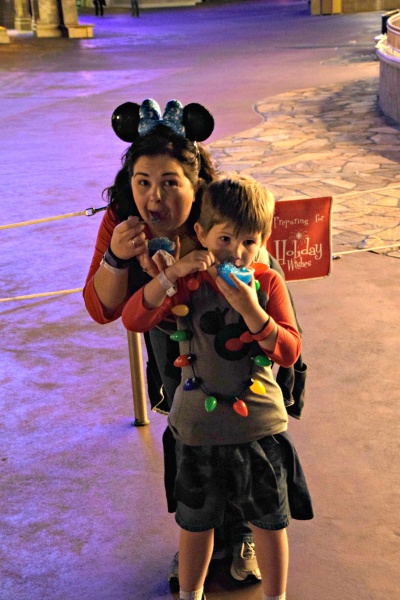 5. Watch the Parade and the Fireworks

I know I mentioned the parade and fireworks before, but really, you shouldn't miss them. They are beautiful and heartwarming and just full of holiday spirit. That's all.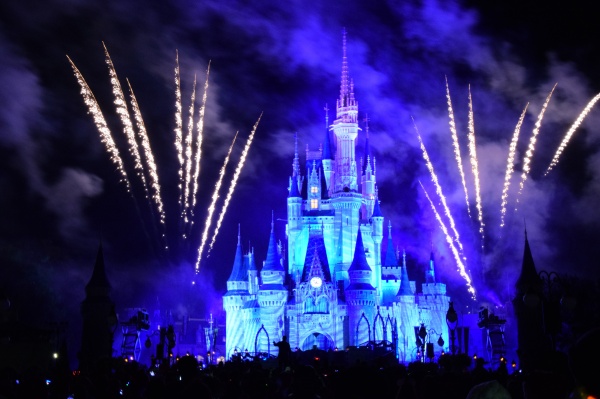 There are certainly more than 5 tips for Mickey's Very Merry Christmas Party, but these to me are the basics for ensuring that your family has a magical experience. If you have additional tips I'd love to see them in the comments section here or over on our
Facebook page
!
---
For more Disney Holiday fun,
check out the other great posts from the Blogorail!
---