Welcome to this month's Blogorail Black Loop. Today we are sharing some ideas to get you started on your holiday shopping.
---
As I'm sure you can imagine Disney is a big part of our holiday celebrations, and Disney gifts are sure to find their way into our stockings and under our tree. This year our youngest will be 16 months old and he'll be able to enjoy participating in the festivities. In preparation, and at the request of family, I've been working on his Christmas list and wanted to share some of my finds and past favorites with all of you in my guide to Disney gifts for babies and young toddlers!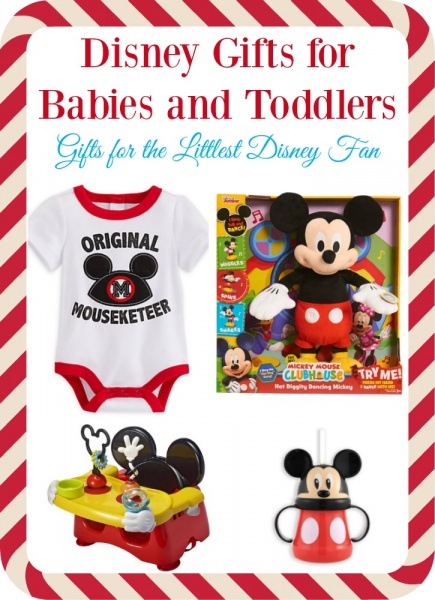 Stocking Stuffers
Our family loves stockings. Santa fills them up with all sorts of small toys and necessities. From cups and socks to bath-time fun, here are my five favorite Disney stocking gifts for babies and young toddlers.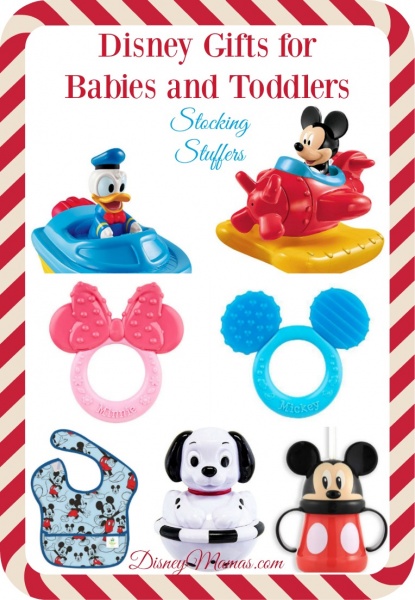 Disney Gifts for Babies and Young Toddlers
Some of these will find their way under our Christmas Tree this year, and others were under the tree last year. I hope they spark your imagination! For ease of shopping I've divided these ideas into categories based on the "Four Gift Rule" – Want, Need, Wear, and Read.
"Something They Want"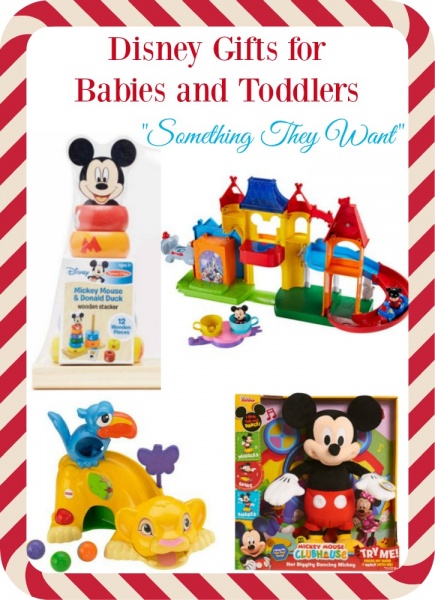 Something They Need
Let's be honest here…babies and young toddlers don't really need anything when it comes to gifts. Therefore, some of these are items that help make parent's lives easier.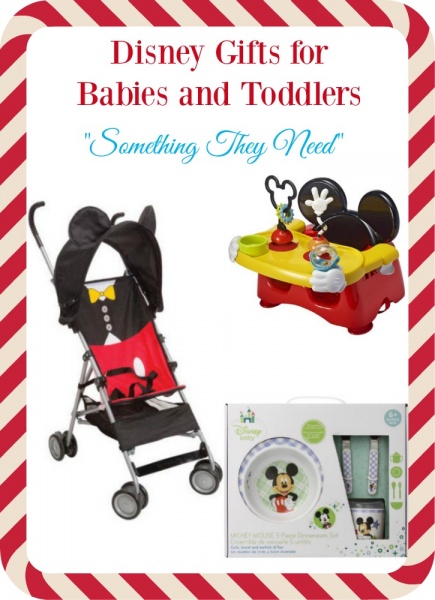 Mickey Mouse Melamine Feeding Set
If your little one is moving on to table foods this set is great.
Mickey Mouse Helping Hands Feeding & Activity Seat
Ready to transition baby from a traditional high chair to something a bit more convenient? This feeding & activity seat by The First Years is a great choice! Also available in Minnie Mouse.
Mickey Mouse Dress Up Comfort Height Umbrella Stroller
You know what I love about this umbrella stroller? It has a basket underneath! Sold. This stroller is perfect for transitioning from a larger infant stroller, or as a secondary stroller to keep in the car.
Something to Wear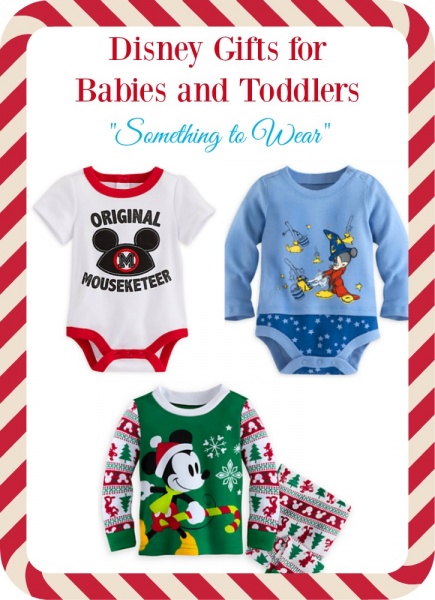 Sorcerer Mickey Mouse Disney Cuddly Bodysuit
So, I'm a little obsessed with this bodysuit from Disney Store. I love Sorcerer Mickey, and this is perfect for our upcoming Disney trip. I think I'll order a couple…no judging!
Mickey Mouse Christmas Pajamas
Disney Store is our annual stop for holiday pajamas. They have Christmas pajamas for bodysuit and top/bottom set versions available. I love the Christmas sweater style sleeves and pants this year!
Original Mouseketeer Bodysuit
We had Logan's 1st Birthday pictures taken in this bodysuit. I simply love it.
Something to Read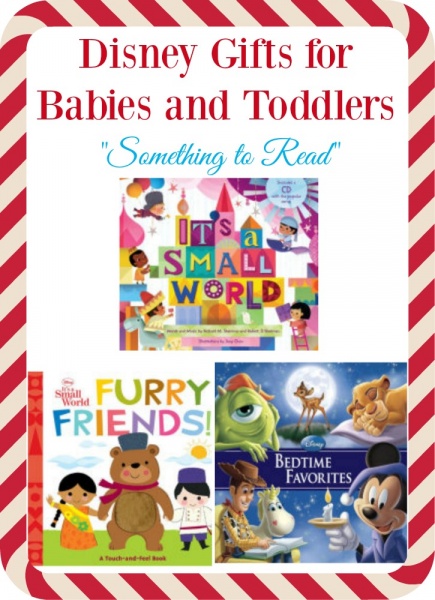 Disney it's a small world Furry Friends Book
Lately Logan loves any "touch & feel" book. This board book features animals and children from around the world.
Disney it's a small world Book and CD
This adorable Disney book illustrates the timeless classic, it's a small world, with gorgeous illustrations based on the the designs of Disney animator and Imagineer Mary Blair. It comes with a CD featuring a recording of the song (you can choose to play it or not).
Disney Bedtime Favorites 
We have several of these story anthologies and this one is one of our favorites.
I hope this guide gives you some great ideas for the littlest Disney lovers in your life!
For more Holiday Gift Guides,
check out the other great posts from the Blogorail!

---

Here is the map of our Magical Blogorail Black | Holiday Gift Guides Loop: