Welcome to the first stop aboard Magical Blogorail Orange. Enjoy the ride as we share information and reviews on Disney Parks Specialty Tours!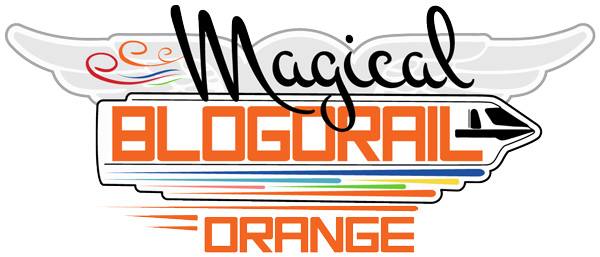 I thought I'd bring a little Christmas in July to my post this month, and talk about Walt Disney World's Yuletide Fantasy Tour and Holiday D'Lights Tour.  I had the opportunity to experience the Yuletide Fantasy Tour a few years back and absolutely loved it, and the new Holiday D'Lights Tour sounds incredible!  Either of these tours make the PERFECT add-on to your Christmastime Walt Disney World Vacation, and (hint, hint) would be a fantastic holiday gift!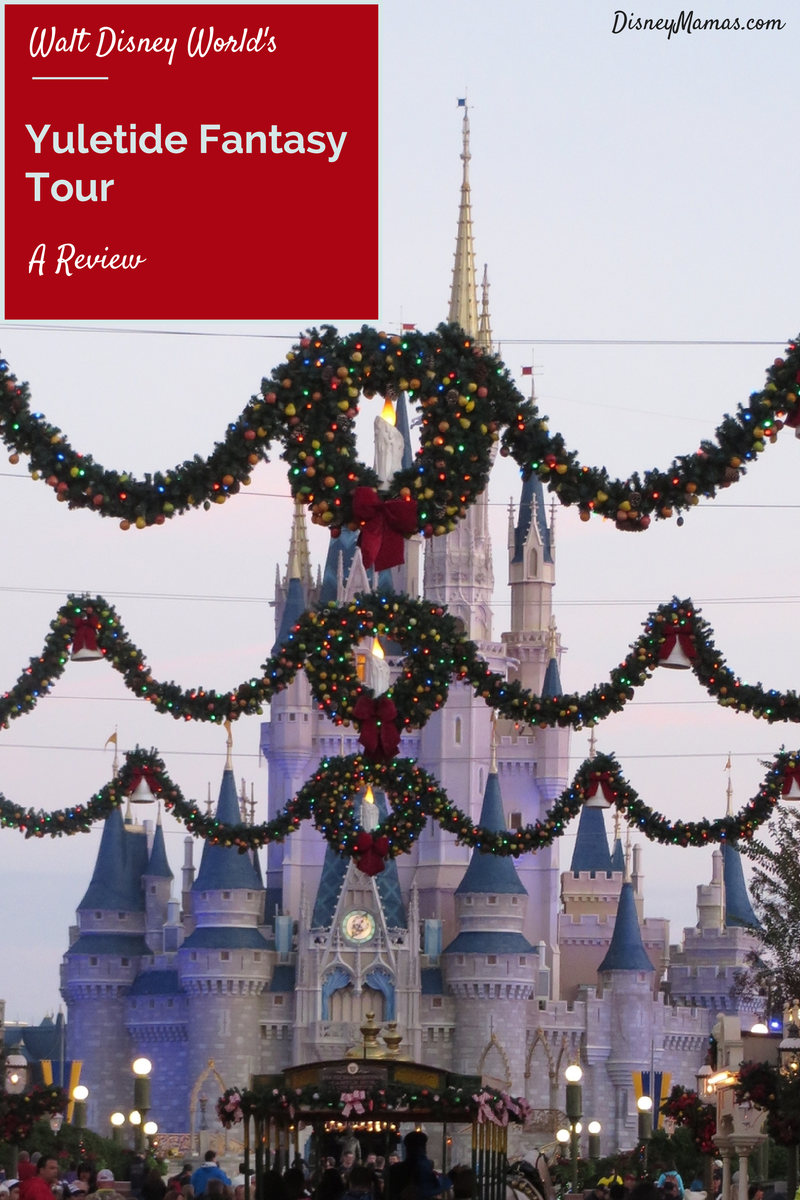 Disney's Yuletide Fantasy Tour
Experience the holidays like never before in a dazzling winter wonderland filled with traditions from home and abroad.
With it's focus on how Disney gets ready for the holidays this tour is a must for fans of Disney's Christmas and Holiday displays!  We were able to take this tour back in 2007 and loved every minute of it!  We had two fantastic guides were able to visit the Holiday Warehouse, go backstage at Magic Kingdom, Epcot and Hollywood Studios and took a tour of the Grand Floridian complete with a Gingerbread sample.  It was a memory that I still treasure!
Our tour started in Epcot where we met our guides and were escorted backstage to World Showcase.  We were then taken to Italy, Germany, The American Adventure and Japan where we learned about their holiday traditions including the origins of the Christmas Tree and the Japanese Monkey King.  Seeing the decorations without the crowds, and hearing about the design elements in the decorations was fascinating.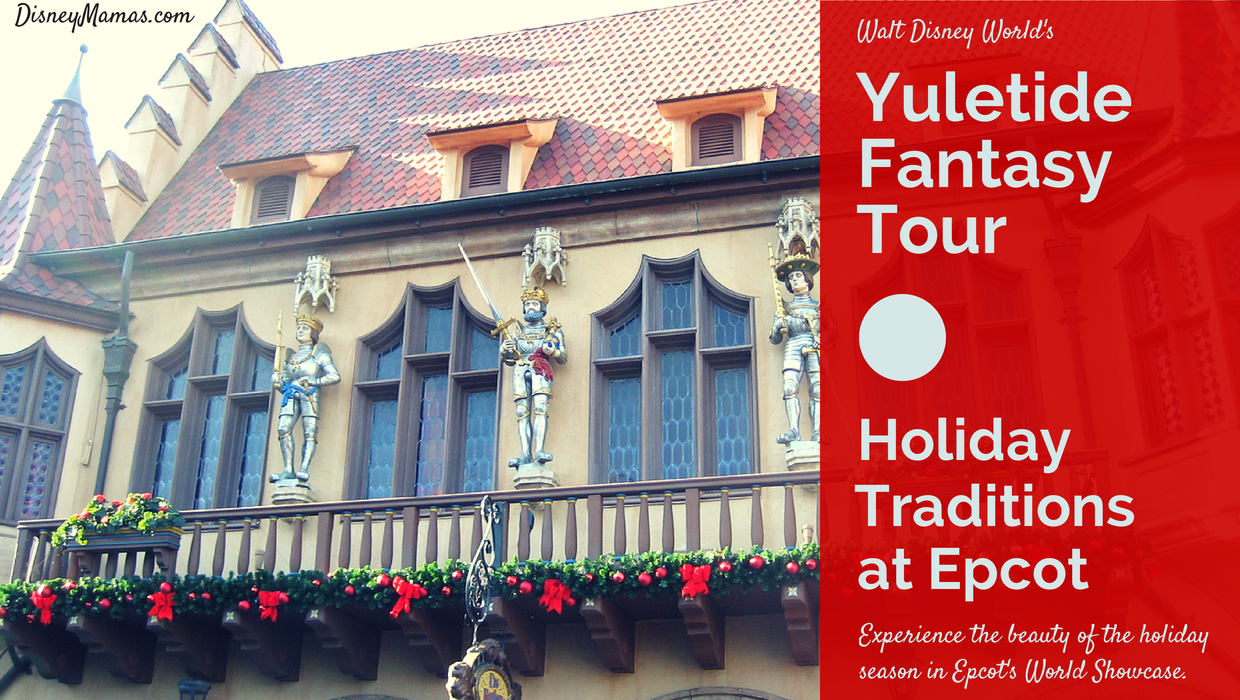 From Epcot we headed to Hollywood Studios and heard a little more about how the Osborn Lights came to be at Walt Disney World, as well as details on how the lights are put up on the Streets of America.  Did you know, they start hanging them as early as the end of July!?  It was really interesting to hear how they go about planning where each element will be placed, where they purchase the strands of lights and other bits of information.
Now it was time to visit the Holiday Services warehouse.  This.Was.Awesome.  Since it was December I imagined this giant warehouse to be relatively empty, but nope!  The shelves were filled with different holiday decorations for Walt Disney World, the Walt Disney World Resorts and Disney Cruise Line.  Each location had it's own section, and in them they kept extra pieces just in case a replacement was needed quickly, as well as pieces that were not in the rotation for the current year.  And some of them were gigantic.  For example, there was a spare lion's head for the Animal Kingdom Christmas Tree, and it was easily 3 feet tall.  There were huge ball ornaments, spare holly swags for the Magic Kingdom gas lights, and so much more.  There were also several cast members at work painting and creating pieces that were being repaired or were being prepped.  Truly this was the highlight of the tour for me.  🙂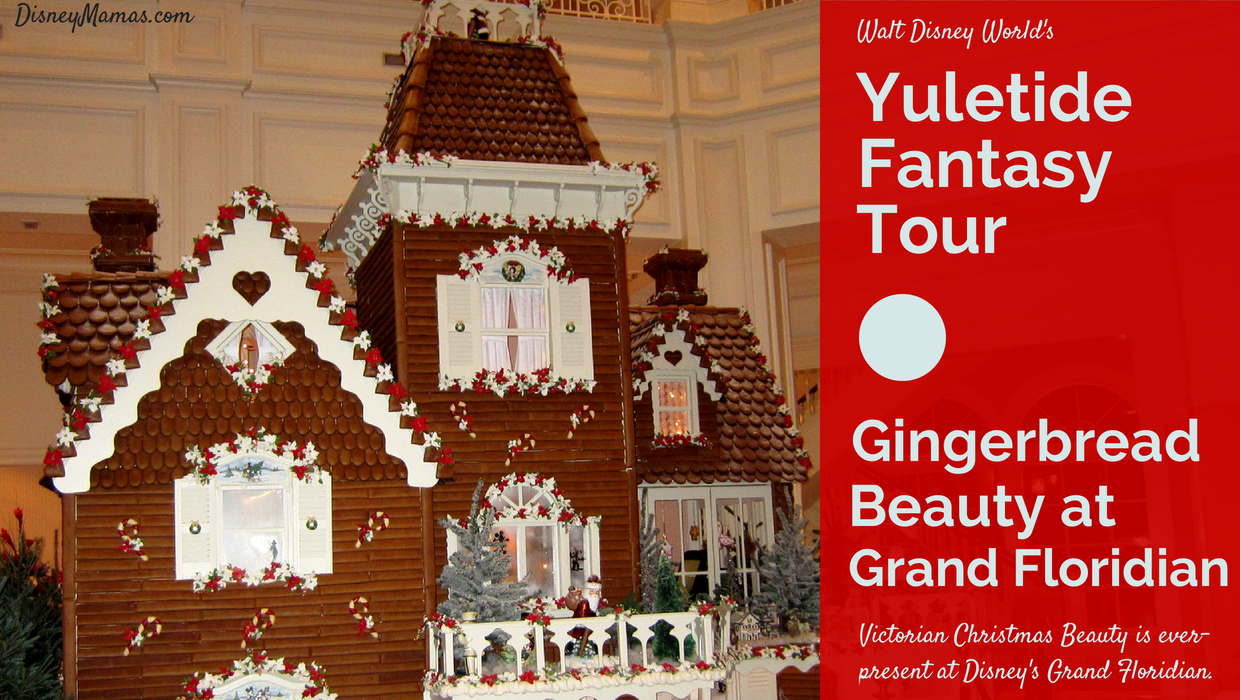 Our next stop was the Grand Floridian where our guides shared some personal stories about their families holiday traditions and how they incorporate Disney into their holiday.  We were also given a brief tour of the gingerbread house with a focus on the painted details and placement of Hidden Mickey's, and took a walk through the resort lobby to discuss the Victorian Christmas elements and how they were incorporated into the design of the resort.  Once back on the bus we were each given a small sample of gingerbread.
Our final stop  was Magic Kingdom.  Here we spent time on Main Street talking about the decor, the plant choice, and how it reflected Walt's original ideas of Main Street USA.  The Imagineers really wanted Main Street to look like a holiday postcard from the turn of the 20th century, and each element of the design was carefully chosen.  There is a reason why the greenery is dripping with citrus!  We also had a mini tour of the windows on Main Street, which was a bit of a bonus.
Once we were back on our bus for the return to Epcot we were each given a Yuletide Fantasy Tour commemorative pin, and our guides read 'Twas the Night Before Christmas to the group and then discussed how the American appearance of Santa Claus was very much created by the Coca-Cola Company.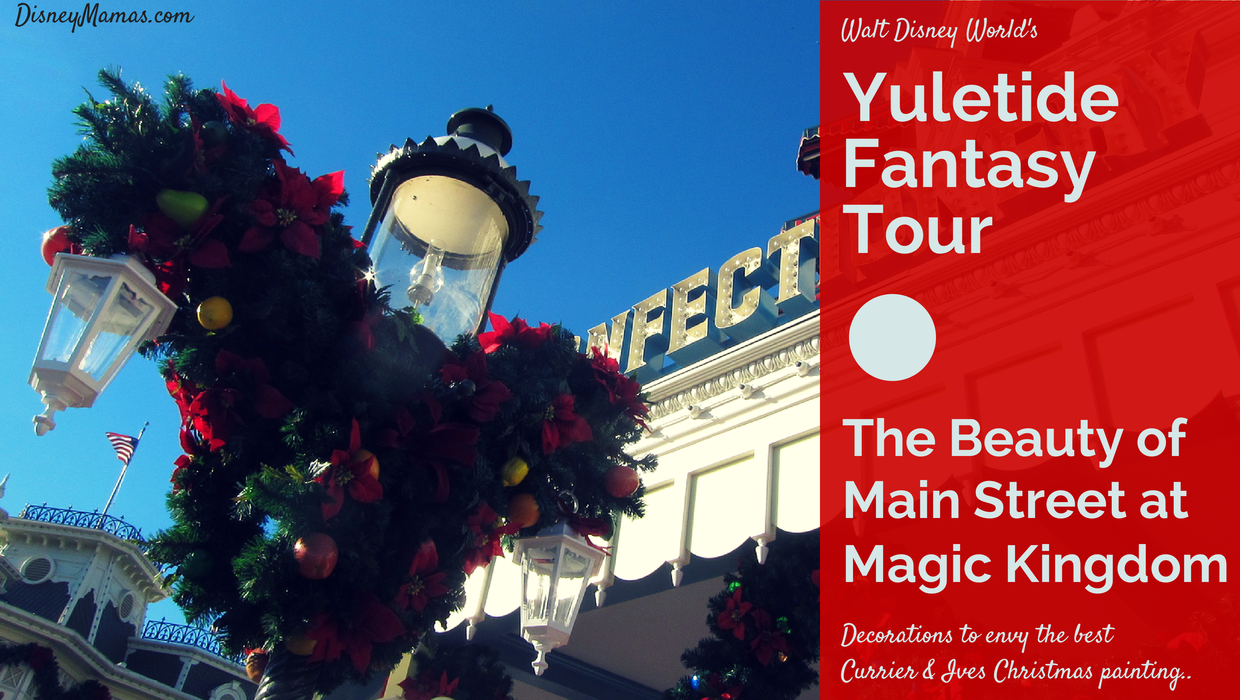 The current per person price for this 3-hour tour is $89.00, and you must be 16 years old to participate.  Be sure to inquire about discounts for Disney Visa cardholders, Annual Passholders and DVC Members. On a side note, based on the information on waltdisneyworld.com this tour no longer visits Disney's Hollywood Studios.
Disney's Holiday D-Lights
Come celebrate the magic of the holidays like only Disney can with the festive sights and sounds of the season. As night falls, your "holiday host" will unwrap some of the secrets behind our most cherished traditions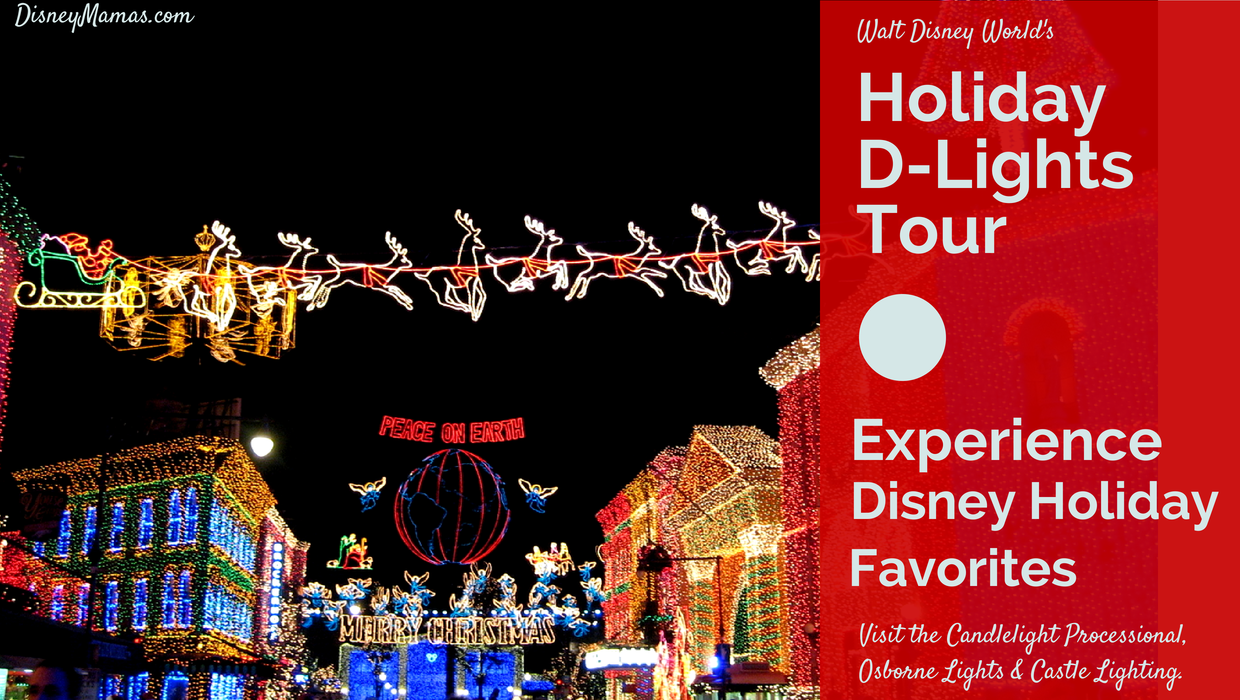 While I have not had the privilege of taking this tour, it is on my Disney Bucket List!  A relatively new tour, Disney's Holiday D-Lights tour takes you to Walt Disney World's most cherished holiday events.  Included in the tour is seating for Epcot's Candlelight Processional, a visit to the Osborne Family Spectacle of Dancing Lights, viewing of Cinderella's Castle being transformed with ice, and a light holiday themed buffet.
Coming in at $206.00 per person, this tour is on the steep side.  But for 5-hours, dinner and three events it seems worth it to me!  Guests must be 16 years old to participate.  Be sure to inquire about discounts for Disney Visa cardholders, Annual Passholders and DVC Members.
For more information, or to book one of these tours, please visit their official websites:
Disney's Yuletide Fantasy Tour
Disney's Holiday D'Lights Tour
Thank you for joining me today. Your next stop on the Magical Blogorail Loop is Capturing Magical Memories!   Mary will be sharing her experience with the Sunrise Safari at Disney's Animal Kingdom Lodge.
Here is the map of our Magical Blogorail should you happen to have to make a stop along the way and want to reboard:
1st Stop ~ Disney Mamas – Disney's Yuletide Fantasy Tour (You are Here)
2nd Stop ~ Capturing Magical Memories – Disney's Animal Kingdom Lodge Sunrise Safari
3rd Stop ~ I Am a Mommy Nerd – Disney's Happiest Haunts Tour
4th Stop ~ Disney with Babies, Toddlers, and Preschoolers – Exotic Driving Experience
Final Stop ~ Ashley Aspires – Walt Disney World Keys to the Kingdom Tour