Disney Dining is always a big part of our Disney vacations.  So, as I continue planning for our first family trip to Disneyland I've been having a lot of fun exploring the different dining offerings the Disneyland Resort has to offer.  And I have come to conclusion that dining at Disneyland is a bit different than it is at Walt Disney World!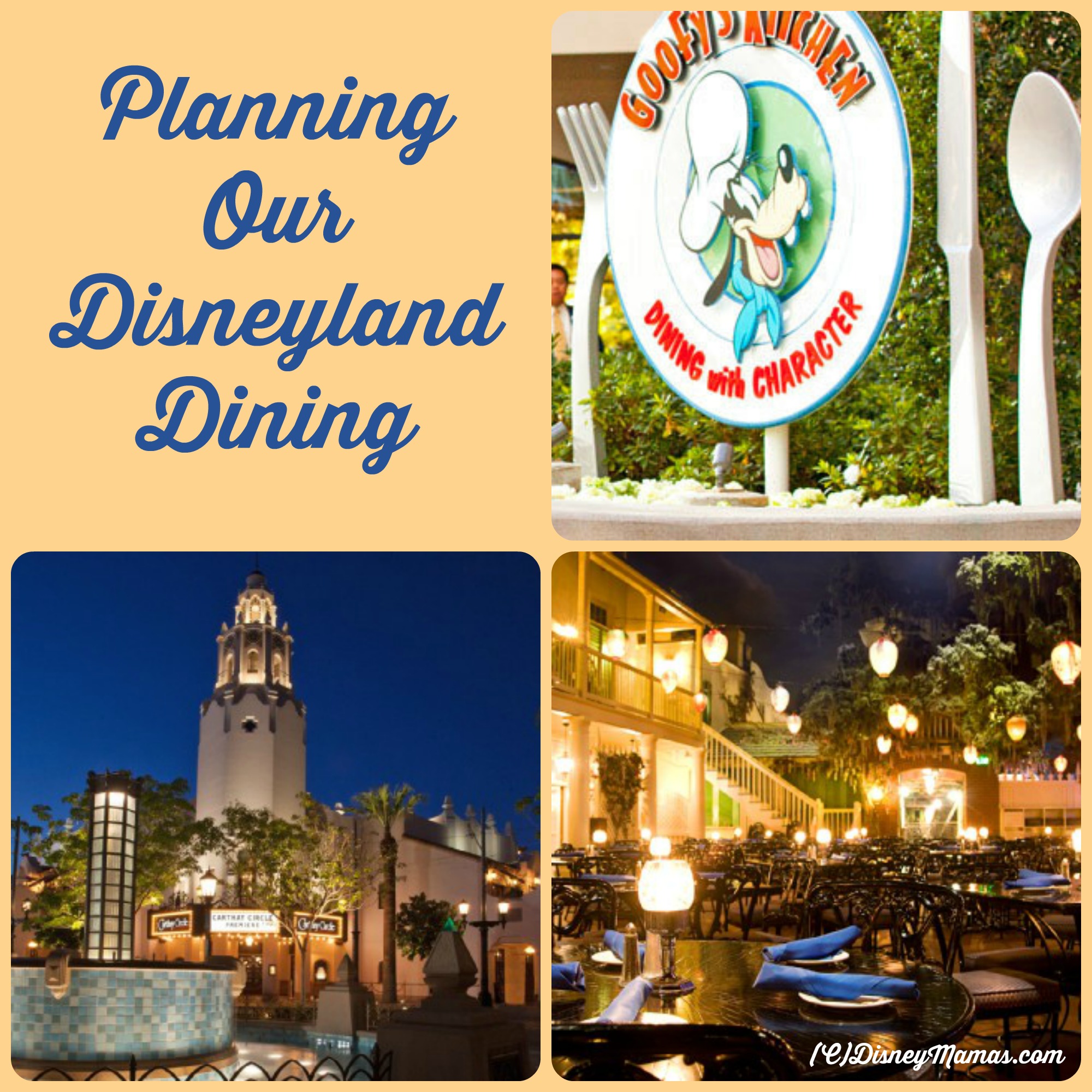 One of the biggest differences between dining at Disneyland and dining at Walt Disney World is the availability of the Disney Dining Plan.  For those of you unfamiliar with the Disney Dining Plan, it is a pre-paid meal plan option available at Walt Disney World.  At Walt Disney World the most common plan includes one table-service meal, one quick-service meal and one snack per traveller, per night of stay.  For us, this has almost always been a pretty good deal.  While we don't necessarily save a lot on our dining, the convenience of having the majority of it already paid for in advance of our trip is a huge benefit.  Unfortunately for us, Disneyland does not have this program.  They do feature a character meal dining plan, but you pay in advance for each meal of a tiered system, and it does not include restaurants and/or meals that are not character meals. I've heard that you can do a voucher exchange for non-character dining, but that seems like a bit of a headache to me, and I think I'd rather not have to mess with it.  With this plan you are provided a dining voucher for each meal that you purchase for your party, which you present at the restaurant.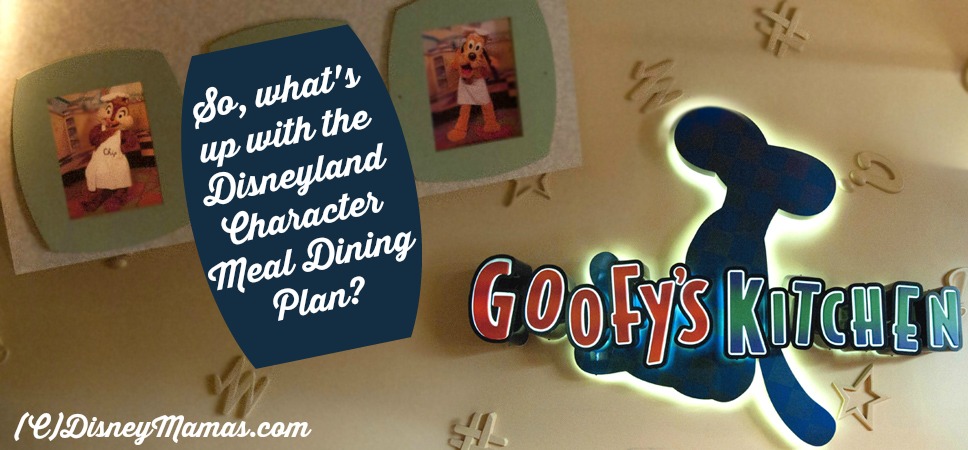 There are two pre-purchase options for Disney Dining available at the Disneyland Resort: Character Dining and Premium Character Dining.  Certain restaurants fall into each catagory, based on the meal price.
Character Dining prices are $33 per adult and $17 per child (3-9) per meal.  Restaurant options are:
Premium Character Dining prices are $45 per adult and $22 per child (3-9) per meal.  Restaurant options are:
We decided to only do one character meal, and settled on Goofy's Kitchen since it is located in our resort.  However, I have been reading reports about Peter Pan appearing at the Minnie and Friends Breakfast lately so I am thinking of either adding an additional meal or switching our reservation.  Choices, choices.  Which would you do?
Beyond character meals, we have decided on dining at Carthay Circle and Blue Bayou.
Blue Bayou is set for an early lunch one day.  I have heard so many things about this restaurant over the years, and I know Connor will get a kick out of dining inside Pirates of the Caribbean.  I am really excited for this meal!  I have never in my life had a Monte Cristo sandwich, and I'm thinking this might be the perfect time to branch out…although I love pan-seared salmon…  Luckily I don't have to choose right now.  🙂
Personally though, I am most excited to try is Carthay Circle at Disney California Adventure.   I have always been a fan of Vintage Disney, and this gorgeous restaurant is full of them.  Not only is it full of history, the restaurant itself is designed as a detailed replica of Hollywood's Carthay Circle Theatre.  The Carthay Circle Theatre, which sadly no longer stands in Hollywood, was the very theatre where Walt Disney's Snow White and the Seven Dwarfs premiered back in 1937, as well as the premier of Fantasia in 1941.
Right now we have booked the World of Color Dinner Package at Carthay Circle, but I'm thinking hard about this choice.  The World of Color Dining Package is a prix fixe menu, and there is really conflicting information on what is offered out there.  Disneyland.com says one thing, TouringPlans.com says another and AllEars.net says yet another.  I believe TouringPlans.com has the accurate menu, as it is listed as having been verified in early April, and if that is the case the options we have for our money are a single appetizer, a choice of five entrees and two dessert.  For the price of the package ($59 per adult and $39 per child) it is bordering on ridiculous.  I considered switching to the lunch package, but that one has a choice of three entrees and isn't all that much less expensive.  I plan on eating here either way, but am leaning towards canceling the World of Color package in favor of a regular ADR without the fixed menu.  If you have dined at Carthay Circle I would love to hear your thoughts on the subject!
We are considering booking the Premium Viewing w/ Dessert Sampler package for Fantasmic!, as I understand that viewing Fanstasmic! at Disneyland is quite a different story than at Walt Disney World.  I do remember clearly sitting on the grass way off to one side when I saw it back in 2001, and I'm not keen to repeat that with a 4-year old.  Plus, the offerings in the dessert sampler look amazing.  Booking this package will probably force my decision for World of Color, so I'm weighing my options here.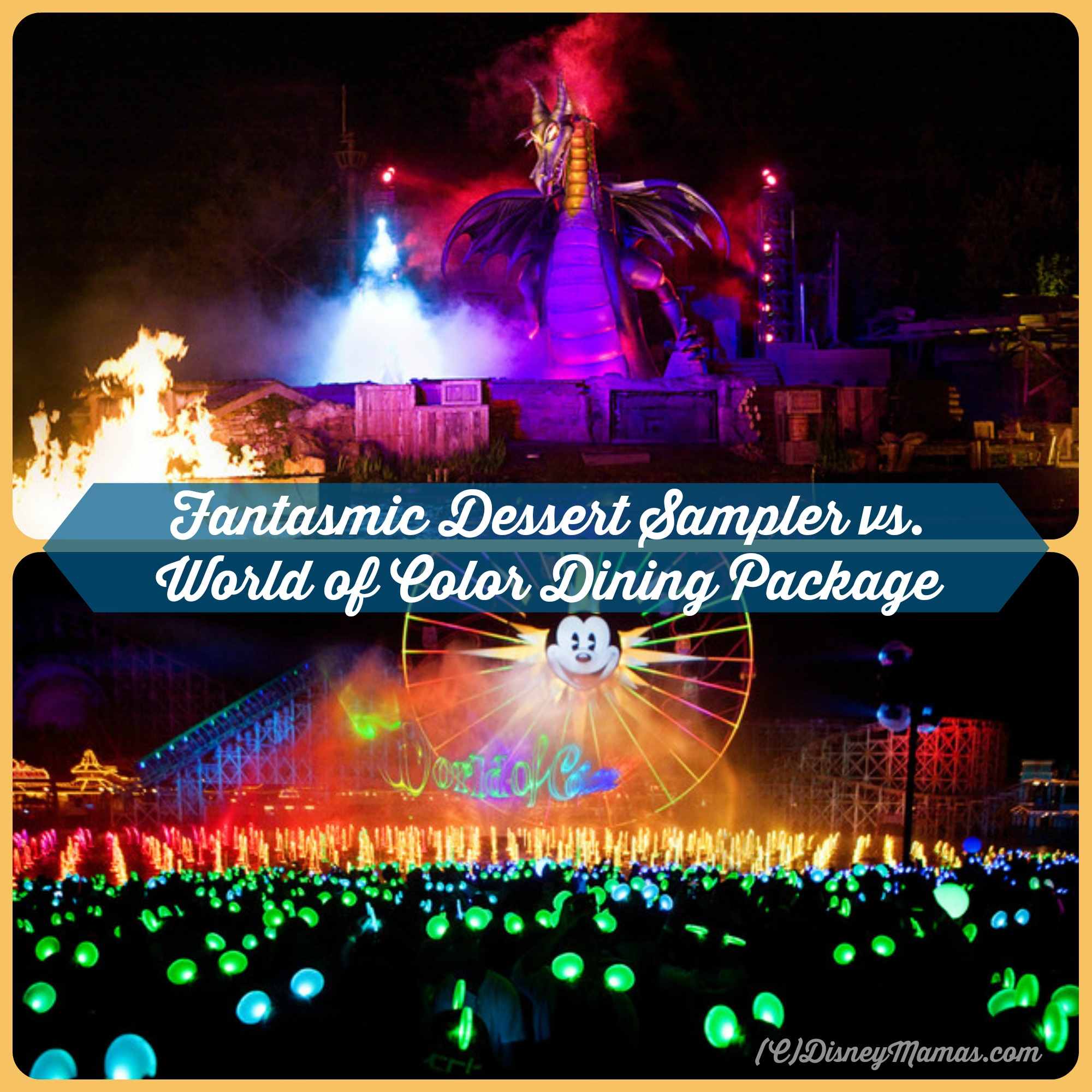 Since we are staying at The Disneyland Hotel I also want to make sure we visit Trader Sam's.  There are some appetizers that look really, really yummy that sound like the perfect choice for lunch one day.  I'm thinking this might be a good place to try on arrival day or for a snack during some pool time.  Plus, the Mosquito Mojito sounds divine.
And that's it!  Apparently making reservations in advance is not necessarily needed as it is in WDW, but the planner in me feels the need to have them anyway, particularly since we are travelling in the summer, and during Grad Nights.  But, it feels weird to me that we will be there for six nights but only have dining booked for three of our days.  I guess that's the planner in me!  Am I missing anything?  I would LOVE and welcome your tips and suggestions!
I haven't even begun looking at my counter service options yet!  Eek!