Welcome to this month's Blogorail Blue Loop. Today we are reviewing the official Disneyland hotels and some of Disneyland's Good Neighbor hotels.
---
When looking for a place to stay for a Disneyland vacation there are a lot of options. For us, the Disneyland Hotel is our go-to for a Disneyland vacation for several reasons. The rooms are gorgeous, there are several dining options, the pool is fantastic, the location is very convenient and the fabulous Disney history throughout the resort make this nostalgic hotel perfect for families and couples alike.
We first stayed at the Disneyland Hotel in 2014 on our first family trip to Disneyland. We had a really hard time deciding between Disneyland Hotel and Grand Californian, but ultimately went with the Disneyland Hotel because my husband and I knew that our then 4-year old would have an amazing time playing on the Monorail Pool Slides and dining at Goofy's Kitchen. Plus, Chris and I could grab a drink at Trader Sam's to enjoy while Connor splashed away on the slides. It's the little things guys. As soon as we arrived at the hotel we knew we had made the right decision for our first trip.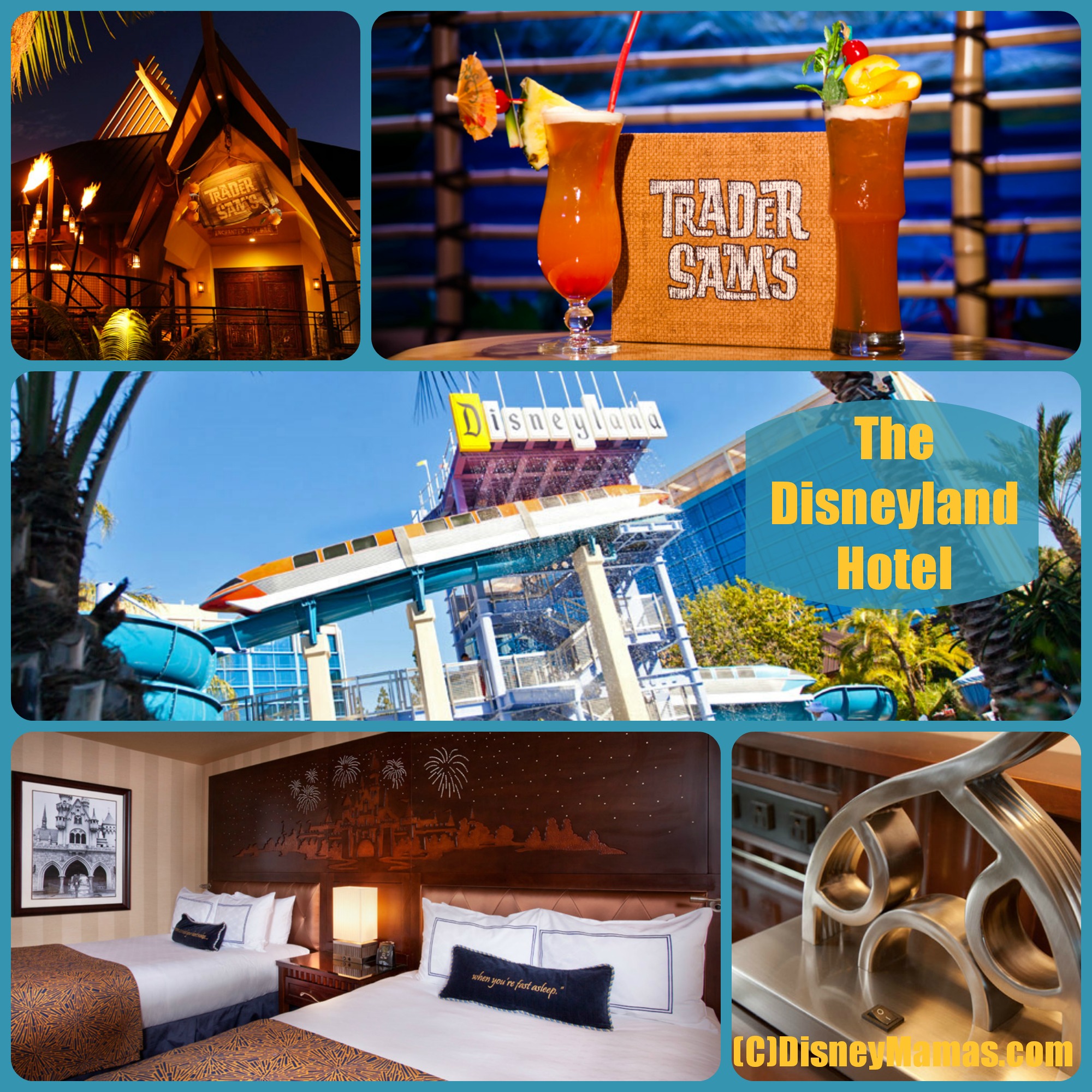 THe lobby of the Disneyland Hotel is airy and inviting, but the initial feature that took my breath away was the large wall map of Disneyland Resort, as it appeared around the time of the parks opening. The map sparkled with Pixie Dust, different areas would light up, and so much more. It was breathtaking. I quite honestly stood there and stared at it, pointing things out to Connor, while my husband checked us in to the hotel. I stopped by that map almost daily, just looking at the details and wishing I had been around to see Disneyland in it's early days. Sadly, on my trip this past fall, the map was covered up by the holiday gingerbread display for the season. The gingerbread display was gorgeous though! Looking beyond the map the lobby is full of other fun features. Chairs designed to look like the Mad Hatter's Hat, a fantastic souviner shop, televisions showing Disney cartoons and more abound, and you never know who you'll encounter at check-in! Connor was thrilled to see Pluto in the lobby greeting kids as soon as we walked in.
Disneyland Hotel features three different guest towers: Fantasy Tower, Frontier Tower, and Adventure Tower. The towers feature models and memorabilia from that particular land at Disneyland and are all situated surrounding the pool area. For both of my stays I have been located in Frontier Tower, and the lobby is home to a very large scale model of Big Thunder Mountain Railroad, and the walls adorned with concept renderings from throughout the land. Likewise, Adventure Tower and Fantasy Tower feature artwork, character maquettes and models from Adventureland and Fantasyland. As for tower location, Adventure Tower faces directly towards the theme parks, and is a slighty shorter walk to Downtown Disney if you leave via the back entrance. Frontier Tower faces towards Paradise Pier Hotel and Fantasy Tower faces towards the major roads. The backside of each tower faces the pool area. Frontier Tower is the farthest walk to the parks, but literally by only a minute or two.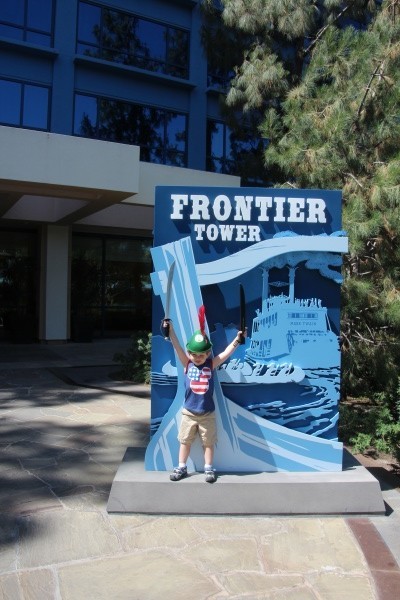 We were in a Deluxe Pool View Room for both of our stays and were on fairly high floors. At night we even had a view of the Disneyland Fireworks, albeit at a slightly funky angle, but it was still very cool. And can I just say that if I could take one of the beds from Disneyland Hotel home with me I would? They are seriously the most comfortable beds I've slept on in a hotel. The lines are soft and crisp white, and the bolster pillows feature the lyrics to When You Wish Upon a Star. But the most magical thing about the rooms are the headboards, which light up with fireworks and play music at the touch of a button. Connor would go to sleep each night watching the fireworks go off from his bed. Another nice feature of the hotel is that they have rooms that feature a convertible sofa into a twin bed, and they are fairly comfortable. This makes it a great option for larger families. Overall the rooms are larger than what you would be used to at a Walt Disney World Resort Hotel, so you won't feel crowded when you are taking advantage of the twin bed feature. Not all rooms feature this bed, so be sure to speak with your Authorized Disney Vacation Planner if you desire this particular room catagory. Rooms also feature a full bathroom, desk and chair and large dresser with flat-screen television. The artwork in the rooms features images of Walt Disney and shots of the Disneyland Resort Parks.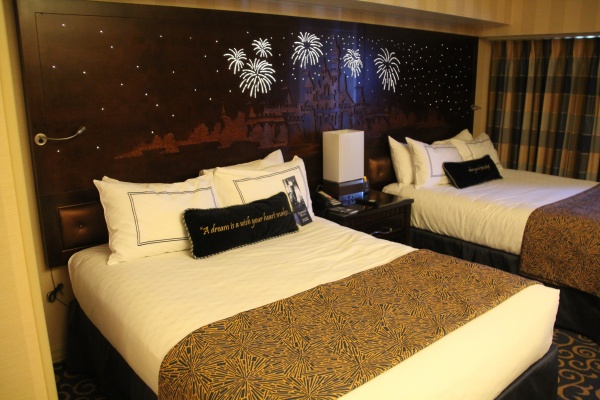 There are several dining options at Disneyland Hotel. Tangaroa Terrace is a quick-service location located between the pool and Adventure Tower and adjacent to Trader Sam's Tiki Bar. It serves breakfast, lunch and dinner and has some really nice options. I love their Apple-Cinnamon Spiced Steel-Cut Oatmeal for breakfast, and the Angus Hawaiian Cheeseburger is delicious. Goofy's Kitchen features character dining with Goofy and an assortment of his Disney pals. We enjoyed breakfast at Goofy's Kitchen, but found it to be much, much slower for characters to get around to tables than it is at character dining restaurants in Walt Disney World. Characters are also from a mixture of Disney francises so you never know who will show up. In addition to Tangaroa Terrace and Goofy's Kitchen there is also Steakhouse 55, which is a signature restaurant. Trader Sam's Tiki Bar, The Coffee Bar and the Lounge at Steakhouse 55 round out the dining options at Disneyland Hotel. Trader Sam's Tiki Bar has some great drinks for those inclined!
The pools at Disneyland Hotel are great, and very kid friendly. In addition to a standard pool there is a hot tub (designed to look like Minnie Mouse) and the Monorail Slides. We spent a great deal of time at the slides, and they are very, very kid friendly. They empty into a splash-down pool rather than a regular pool so they are not deep and don't dump children in to the water. The Monorail Slides and pool area are our family favorite for a Disney resort pool area overall.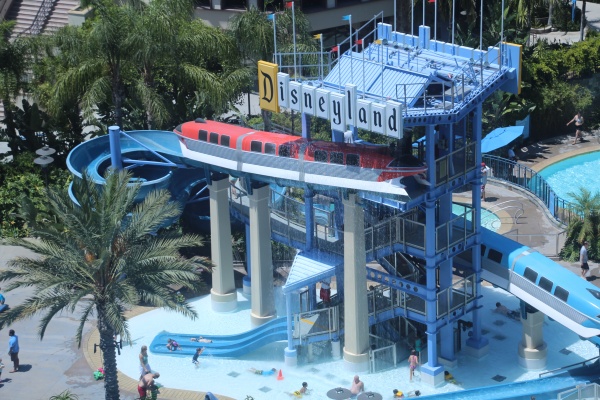 We love the Disneyland Hotel for so many reasons. The Disney history is enchanting and the proximity to the parks is wonderful. If you have stayed there before, or are considering a stay please leave us a comment with any questions or thoughts you may have!
For more Disneyland hotel reviews,
check out the other great posts from the Blogorail!
---
Here is the map of our Magical Blogorail Blue | Disneyland & Good Neighbor Hotel Reviews Loop: