I have a confession to make.  I'm a Walt Disney World Junkie, and sort of a Walt Disney World snob.  I've only spent 3 days at Disneyland, and they have been spread out over almost 15 years!  One day during my high school marching band trip (we got to march in the New Year's Eve parade) in 1997, one day during a theatre conference in 2001 and a couple of hours last year during the D23 Expo.  Lame, right!?  Well, it is time to change all of that!  So, this Walt Disney World Junkie is Finally Planning a Trip to Disneyland!  And I'm so excited!
You see, my four-year old, Connor, has been dying to visit Cars Land since the very first commercials starting showing on television.  But, until recently he was too short to ride Radiator Springs Racers, and I wasn't going to take him out there only to have him be disappointed that he couldn't ride the attraction he was most excited about.  So, my husband, Chris, and I talked it over last year, and decided that this summer we would finally take a family trip to California to visit the Disneyland Resort!  Connor is ecstatic, and spends a lot of time looking at the pictures I took last year on my 2-hour trek through California Adventure.  I'm busy trying to figure out what I need to do differently when touring these two parks, and am scouring websites and Pinterest, and hitting up my Disneyland friends for tips and advice.  Chris is trying to figure out the best way to get there (we drive), and still see the Grand Canyon one way and Glendale on the other.  And there is where to stay…and this was our biggest issue.
Disneyland Hotel or Grand Californian?!
This decision was literally making me insane.  We had finally decide not to stay at a Good Neighbor Hotel, mainly because Connor is a little fish and we much prefer the pools at the Disney Hotels, but we were stumped!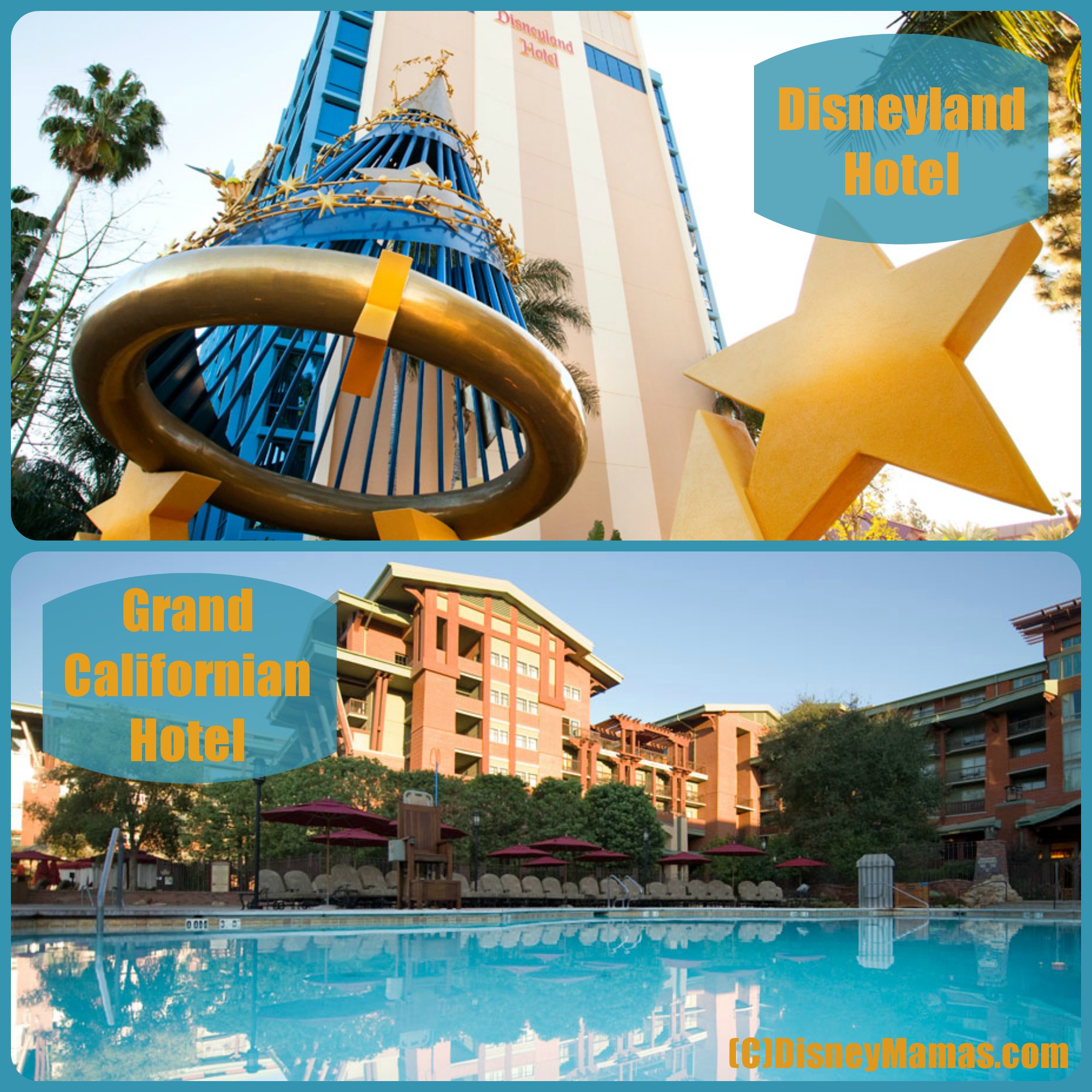 It took us a couple of weeks of back and forth discussions, but we finally settled on the Disneyland Hotel!  Yay!  I've shown Connor the pictures of the Monorail Pool, and he asks me every day how many more days until we leave.  I'm fairly certain he is excited about two things: the Monorail Pool and Radiator Springs Racers.  Crazy kid!
Aside from Connor's love of the Monorail, and thus the pool, there are several other reasons why we ultimately went with Disneyland Hotel over Grand Californian.  The Disneyland Hotel underwent an extensive remodel between 2010 and 2012, and I have heard nothing but good things about the renovations.  The three resort room towers were renovated and rethemed to reflect three of the lands at Disneyland: Fantasyland, Frontierland and Adventureland, and feature attraction models, art work and more from the respective land in the lobby and throughout the tower.  Guest rooms were updated and feature a gorgeous panaramic headboard with Sleeping Beauty Castle carved into the wood, complete with fireworks and music at the flip of the switch.  The grounds and pool areas have also been updated to include water features and additional landscaping, truly creating a lush setting for this iconic hotel.  Plus, I've always wanted to visit Trader Sam's.  🙂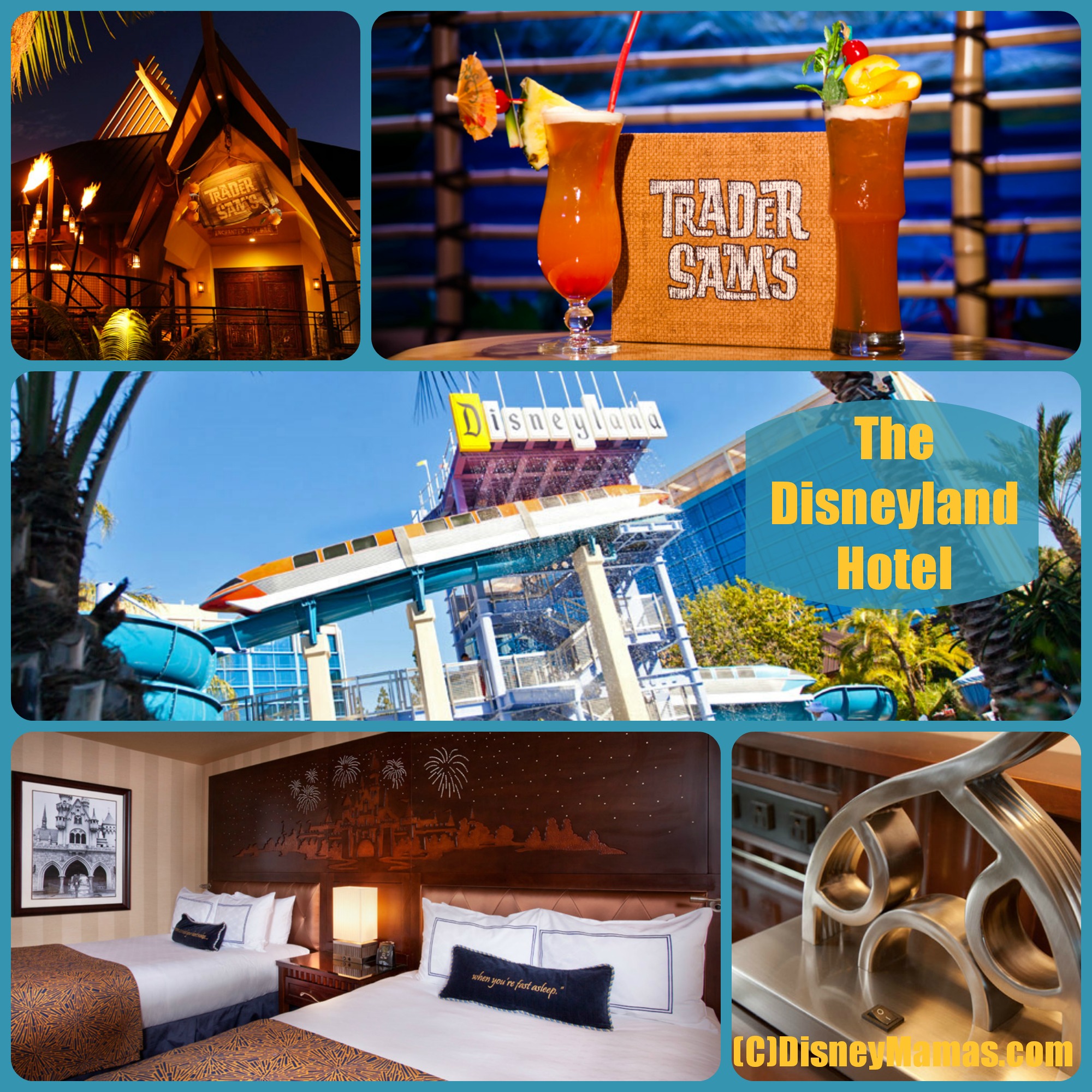 So, now I'm deep into planning and researching how to spend our days.  We are, unfortunately, there while Grad Nights are taking place at California Adventure, so that threw a small wrench into my planning, but I'm determined to persevere!  My plan right now is to hit California Adventure on our first full day, then two days of Disneyland back to back to avoid Grad Night, and then back to California Adventure.  That may change, but I'm good with it for now.  We have 5-day tickets so we will either go to Disneyland on our first night or before we leave on the last day.
Which brings me to my very exciting news.  When we were planning our trip we were originally going to drive home on Friday, but then D23 released some of their summer events and had a Mickey's of Glendale shopping day planned for the Saturday after we were leaving.  I'm sort of (okay completely) an Imagineering FanGirl, so I started looking at moving our travel dates forward a day in order to hit up Glendale on our last day, but my mostawesomehusbandinthewholeworld just suggested we simply extend our trip and stay an extra night.  So, I'm even more excited about our trip now!  Is that sad?  I'm almost more excited to get to see WDI than I am to actually visit the parks… I'm crazy, I know.  And I plan on spending all of my souvenir money at Mickey's of Glendale.  Maybe if I wear enough WDI merchandise eventually they will just cave and offer me a job…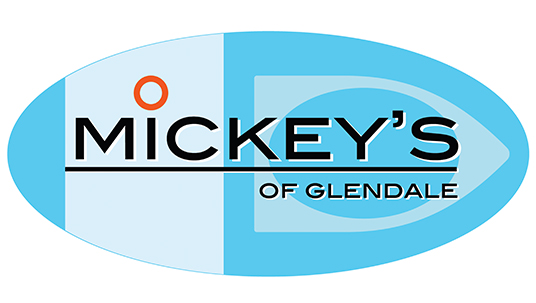 So, what do you think of our plans so far?  Any advice for a Walt Disney World Junkie and her family on making the switch over to Disneyland?