This past Friday marked the launch of the latest piece of the MyMagic+ initiative, the Memory Maker photography package.  By integrating the Memory Maker with MyMagic+ through MyDisneyExperience, guests will be provided an enhanced way to collect, view, download and share all of their Walt Disney World vacation photos. Guests will see photos that they've associated with their MagicBands, PhotoPass card or Memory Maker cards in their My Disney Experience accounts.  The new PhotoPass Memory Maker is replacing the short-lived PhotoPass+ product.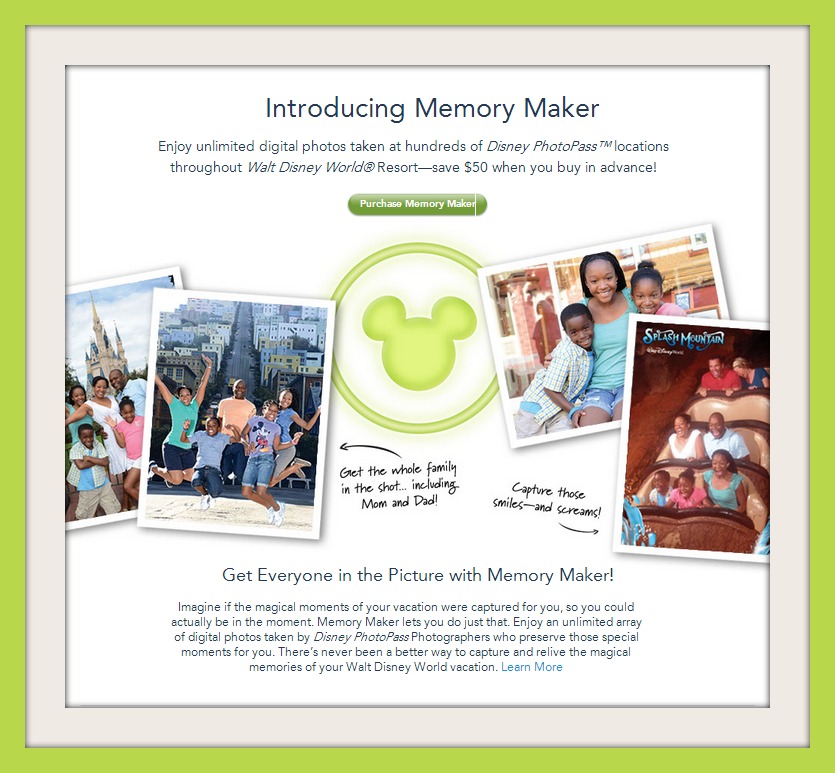 While Memory Maker is similar to Disney PhotoPass+, Memory Maker is 100% digital allows unlimited downloads during the Memory Maker window (a period of 30 days from the date the first  photo is downloaded, or when Memory Maker is redeemed (whichever comes first)).
With the launch of Memory Maker the PhotoPass+ product is no longer available, however, if you have already purchased PhotoPass+ for your upcoming vacation (like me) your PhotoPass+ package will be fulfilled as normal.
With Memory Maker you can collect, view, download and share all of the Walt Disney World vacation photos linked to your My Disney Experience accounts.  Here's how it works:
When taking photos with a Disney PhotoPass Photographer, Guests will associate their photos by touching a MagicBand or Memory Maker card to a device that the photographer uses.
For attraction photos, Cast Members will assist guests in linking their photos at the photo counter.
The Memory Maker Guest can also download photos from Family & Friend connections in My Disney Experience who choose to share photos with the Guest.
For each Memory Maker purchase, Guests can collect photos during a 30-day window that begins the date of the first photo download or the date Memory Maker is otherwise redeemed (whichever comes first).
The pre-purchase price for Memory Maker is $149.  Unlike PhotoPass+, which had to be pre-purchased a minimum of 14 days in advance of your arrival Memory Maker can be purchased within three days.  However, photos taken within three days of the date of purchase will not be included in your package and must be purchased separately.  The regular purchase price is $199.
Memory Maker can be purchased in several ways.  It can be purchased separately or added to your Magic Your Way room and ticket package through your travel agent or online at www.disneyworld.com, as well as through the Walt Disney World Resort call center prior to arriving at Walt Disney World.  It can also be purchased through the MyDisneyExperience website, or the Disney PhotoPass website.  Additionally it can be purchased at the $199 price only at select Theme Park, Resort hotel and Downtown Disney area merchandise locations.
We have already purchased our PhotoPass+ package for our upcoming vacation, but are debating on upgrading to the Memory Maker package.  Decisions.
Do you plan to purchase Memory Maker for your next Walt Disney World Vacation?