Tucked back behind the Chinese Theatre at Disney's Hollywood Studios you will find what I consider to be the heart and soul of The Walt Disney Company: One Man's Dream. This walk-through exhibit of Disney history is easily passed by, but if you find yourself stepping inside you'll discover a treasure-trove of memorabilia from Walt Disney's life as well as the creation of the company and theme parks we all know and love.
Welcome to this month's Blogorail Red Loop. Today we are exploring experiences that people tend to overlook at Disney.

---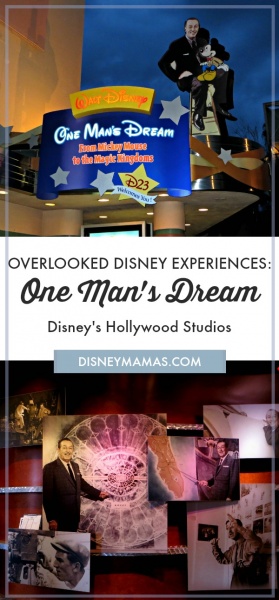 Situated between Pixar Place and Voyage of the Little Mermaid, One Man's Dream doesn't look extraordinary from the outside. A simple theatre marquee marks its name topped with a light-up Walt Disney with Mickey Mouse sign. Busy park-goers often breeze right past on their way to Toy Story Midway Mania, many glance and hurry past, perhaps planning to return later in the day once their "must-do" list has been exhausted. However, those that step inside are immediately greeted by Walt Disney's voice welcoming "All who come to this happy place". Cue tears.
The exhibit has a museum quality about it. It is generally quiet as guests read information placards and take photos. It is laid out in chronological order after the initial lobby. You will find one of Walt's elementary school desks behind glass, his voice playing on a loop as he recalls his childhood. Walk a bit farther and discover some vintage Mickey and Minnie Mouse toys, a mock-up of the Multi-Plane Camera, Buddy Ebsen's "Dancing Man" prototype, and more, all leading up to the creation of Snow White and the Seven Dwarfs.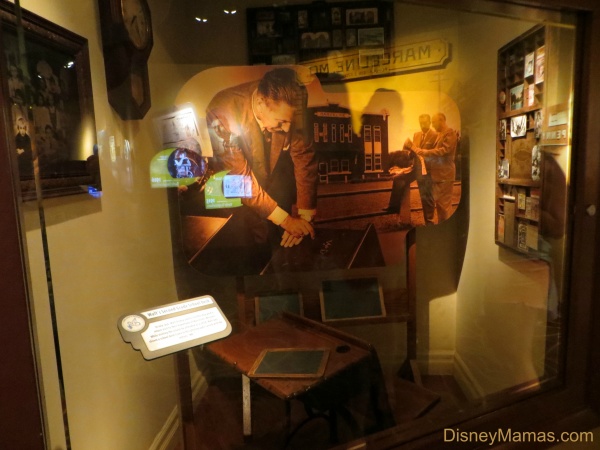 From there venture forward to the original concepts for Disneyland and The Mickey Mouse Club. A replica model of Sleeping Beauty Castle is the centerpiece of the room, surrounded by other models of Disneyland's attractions and memorabilia. A personal favorite of mine is the complete model of Peter Pan's Flight in orthographic view, allowing you to look down into the attraction model from above.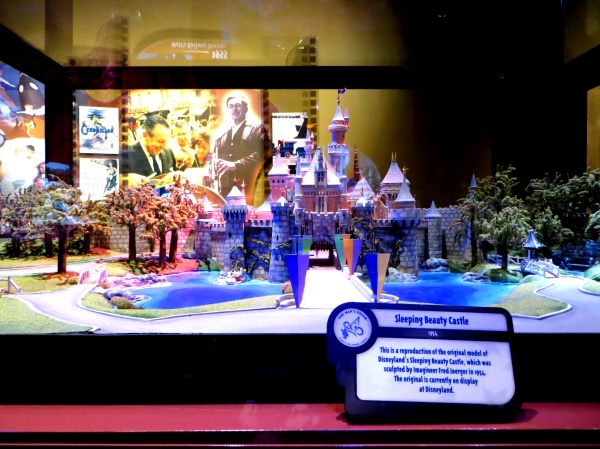 Just beyond the Disneyland exhibits are showpieces featuring costumes and props from Disney's live action films through the ages, and then you step into "The Florida Project". This section of One Man's Dream is dedicated to the creation of Walt Disney World and features a recreation of the television studio where Walt filmed his "Florida Project" specials for The Wonderful World of Disney. A large map of Walt's beloved idea of EPCOT adorns the wall, a large cutout of Walt points to it and a television monitor replays his public address.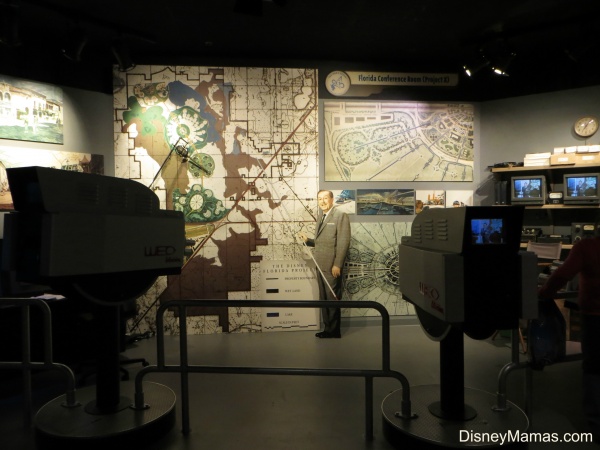 Just across from the studios is an Imagineer's desk featuring work from Rolly Crump and Mary Blair. Models and art tools scatter the surface. The next room is filled with models of Walt Disney World attractions, Disneyland attractions, and various other parks and resorts models. These change from time to time.
The next room currently houses memorabilia from Disney's live action production of Beauty & the Beast, including Belle's yellow ball gown. It is likely that Disney will begin utilizing this room to showcase current film hits, as the theatre that once played a film about Walt and the creation of Disneyland has been showing an extended preview of Beauty & the Beast recently. And the final room has been re-purposed as a character meet & greet location; soon to be for Guardians of the Galaxy. I find myself wishing these rooms had been left as a true portion of One Man's Dream and am hopeful that they do not foretell of a complete renovation of this beloved, and much overlooked, attraction at Disney's Hollywood Studios.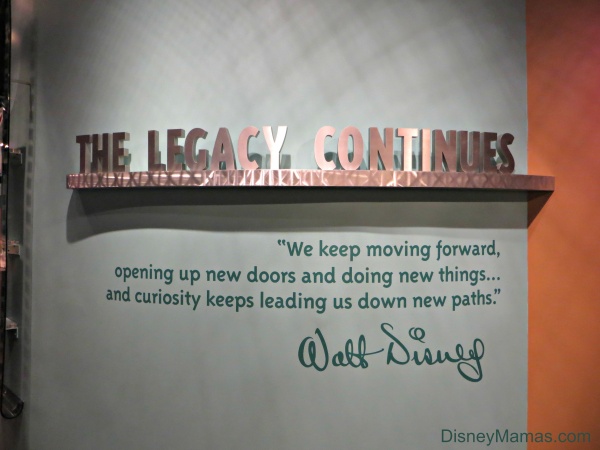 For more overlooked Disney experiences,
check out the other great posts from the Blogorail!
---
Here is the map of our
Blogorail Red | Overlooked Experiences at Disney