Welcome to this month's Blogorail Teal loop. Today we are sharing the best frozen treats you can find at Disney.
---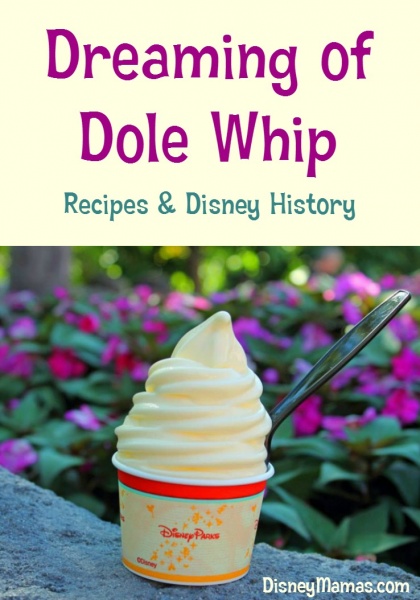 The infamous Dole Whip is without a doubt my favorite Disney snack at Walt Disney World and Disneyland. It's pineapply, creamy, frozen goodness and I could eat my weight in it daily if I had the opportunity. There are several recipes available online, and you can order the actual mix if you really want to shell out about $30, so satisfy your Dole Whip craving. I'm including my favorite Dole Whip recipe here, plus a popsicle and cake variation, and a bit of history surrounding this much-loved Disney treat.
Dole and Disney
Disney Mama Andrea wrote a neat little piece on the history of the partnership between Disney and Dole Plantations last summer. In it she shared that the partnership began back in 1976 when Dole began sponsorship of the Enchanted Tiki Room. On average, 1.3 million Dole Whips are purchased per year at Disney Parks and Resorts.
Originally Dole Whip could only be found in Adventureland at Magic Kingdom and Disneyland. Over the past 40 years it has become so popular that it's presence now extends to other Disney locations. Newer locations include Animal Kingdom, Disney's Polynesian Village Resort, and Epcot during the International Flower & Garden Festival. It has also far outgrown the small Aloha Isle location at Magic Kingdom and last year flipped locations with Sunshine Terrace.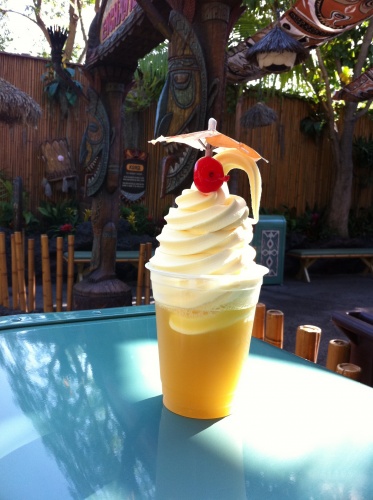 For the Love of Dole Whip
Dole Whip has a well-established cult following, inspiring jewelry, clothing, artwork, tattoos, and websites. Seriously, hop over to Etsy or Google and type in Dole Whip; you will be stunned at what pops up! Dole even sells the official Dole Whip mix by the case all over the web, and Dole has instructions for proper blending on their website. It can even be found locally throughout the states, and one of my friends recently stumbled on a local ice cream shop that carries my beloved Dole Whip!
Dole Whip 3 Ways – Recipes for Dole Whip, Dole Whip Popsicles and Dole Whip Cake
Can you ever really get enough Dole Whip in your life? This post was originally only going to have the recipe for Dole Whip in it, but then, well, things changed! I guess Connor and I are just a little excited for our Disneyland trip next week!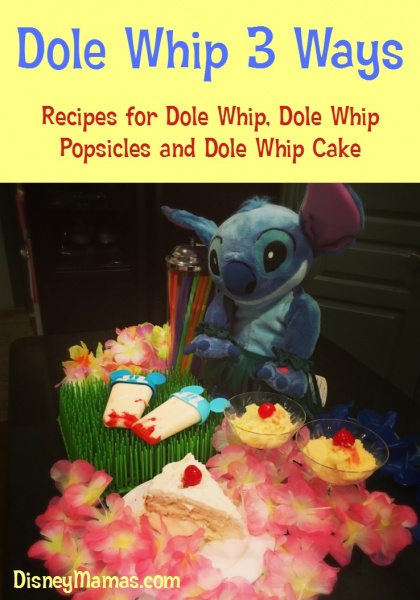 Dole Whip Recipe
There are several recipe variations online for Dole Whip. I received one from Disney a couple of years ago when I hosted a Disney Side at Home Celebration. I've tried a few others, but always return to this one. It is incredibly simple, and your kids can help out with no problem.
2 Cups Dole Frozen Pineapple Chunks
1/4 Cup Dairy (I use whipping cream, but you could also use coconut milk, regular milk, anything really)
2 Tablespoons of Sugar
Pinch of Salt
2 Teaspoons of Lemon Juice (I've also used Key Lime Juice with no problem).
Blend all the ingredients together until smooth, adding additional dairy (or pineapple juice) as necessary. You can serve it directly from this stage, or you can put it in a frozen yogurt, soft serve or ice cream machine for a bit longer to achieve the desired consistency. I have an ice cream maker, and I find that if I transfer it to the machine it looses a lot of the "soft serve" texture and become more like a sorbet. Still tastes great though!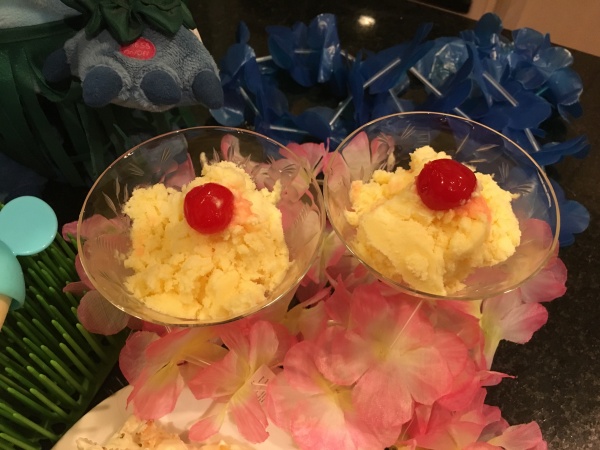 Dole Whip Popsicles Recipe
My 6 year old, Connor, loves Dole Whip and he loves popsicles, so when I started working on the prep for this post he asked me if I would make some popsicles too. Sounded fun, so I obliged, as long as he agreed to help. We scoured the internet but I couldn't find one that was exactly what I was looking for, so we improvised and created one of our own.
1  20 oz can of Dole Crushed Pineapple
2 Tablespoons Whipping Cream
1 container Whipped Topping (thawed)
2 Tablespoons Lime Juice
2 Tablespoons Sugar
Maraschino Cherries
Blend the can of pineapple, whipping cream, and lime juice and sugar together until smooth. Fold in the whipped topping until well incorporated. Cut cherries in half, placing 4-5 half pieces in each popsicle mold. Poor popsicle mixture into molds until 2/3 of the way full. Freeze overnight. If you have more mixture than popsicle molds (like we did) use small disposable cups, popsicle sticks and tin foil for the remaining mixture. Pour the mixture into the cups and cover with tin foil, sealing carefully. Cut a slice in the center of the tin foil and insert popsicle stick. The slice in the foil holds the stick vertical for easy freezing.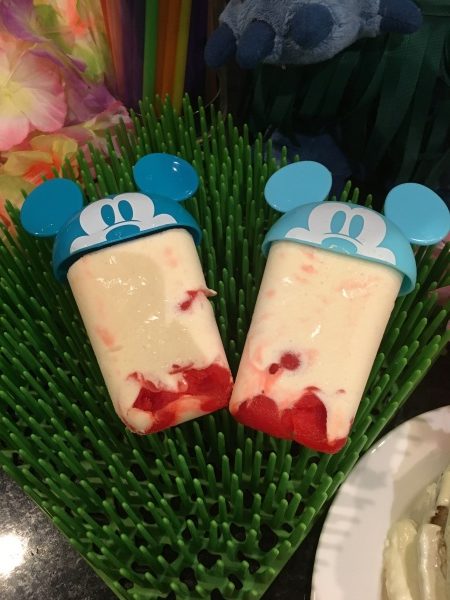 I am personally not a fan of whipped topping, so I was not thrilled with how these turned out. However, the rest of my family thought they were great. Next go-around I may use more whipping cream and less whipped topping.
Dole Whip Cake Recipe Link and Pineapple Buttercream Recipe
About a week ago Dole Plantation posted the recipe for a Dole Whip Cake on their Facebook page and it was reposted in a zillion of my groups. Obviously I had to give it a try. (I'm not going to repost the recipe, because it.is.loooong. but you can access it from that link.)
This is one of the most labor intensive cakes I have ever made. And I've baked wedding cakes. Let's just say that when they say total time is 5 hours they aren't kidding. Sheesh.
The cake itself isn't particularly difficult to create. It starts with a white cake mix, adding sugar, flour, salt, pineapple, pineapple juice, yogurt, oil, egg whites, and vanilla as you go before baking. And it bakes up beautifully, and is incredibly moist. Note: I used coconut oil in lieu of vegetable oil and had no issues. 
The filling consists of pineapple jello, pineapple juice, water, yogurt and whipped topping. It takes quite a while, even though it's very easy. And it makes a TON. Way more than you need for the cake. It basically creates a sort of jello-pudding combination that my Dad couldn't get enough of. It wasn't as sweet as I had expected, which I attribute to the tang in the yogurt. This created a nice balance between the sweetness of the cake and frosting and the tartness of the filling.
By the time I got to the frosting I was a bit done with it all. And the frosting recipe seemed overly confusing for what it was, so I opted out and went with my a pineapple variation of my classic buttercream.
Pineapple Buttercream
1 cup unsalted butter
Pinch of salt
8 oz can Dole Crushed Pineapple, with juice
2-3 Tablespoons Whipping Cream
4-5 cups Powdered Sugar
Mix butter, salt and 3-4 Tablespoons of pineapple juice together until smooth. Add in whipping cream, then crushed pineapple, mixing well. Slowly add in powdered sugar by the half cup until desired consistency is reached. If your buttercream gets too thick you can add a bit more whipping cream or pineapple juice.
This buttercream worked out perfectly for the cake and is much less labor intensive than the recipe that accompanies the cake. Honestly, Pineapple Buttercream might be a new favorite thing…which is dangerous for me…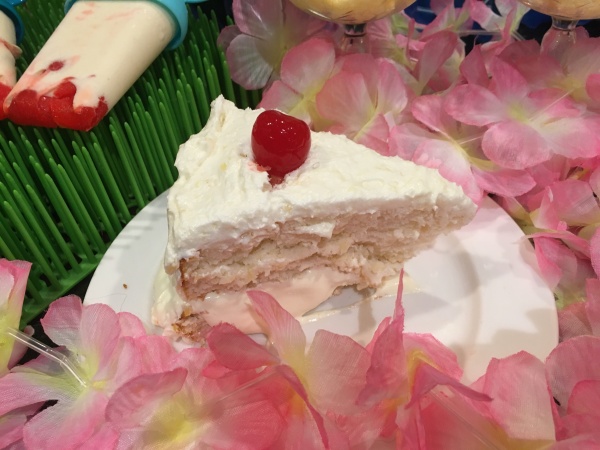 And this rounds out my Dole Whip inspired weekend! Of course, the Dole Plantation HAD to
post this recipe of deliciousness
on their page today, so I guess I have another round coming up soon!
I'd love to hear your feedback on any of these recipes, so please drop me a comment or stop by the Facebook page and let me know what you thought! Aloha!
---
Here is the map of Magical Blogorail Teal | Best Frozen Treats at Disney Loop: