Welcome to this month's Blogorail Yellow Loop. Today we are sharing Disney inspired Halloween costumes.
---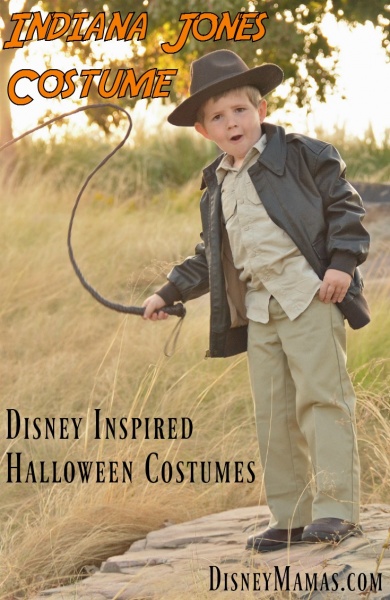 The adventures of Indiana Jones are a huge deal in our family. As soon as Connor (6) was old enough we started watching the movies and television series during family nights, and the kids hasn't looked at an action hero the same way since. Last year, Connor decided he wanted to have an Indiana Jones birthday party and be Indy for Halloween I naturally obliged and set out on a search for the perfect costume pieces. Initially worried about finding pieces that looked authentic, I discovered that creating an Indiana Jones costume for Halloween or Cosplay isn't as difficult as it may seem, and was thrilled to discover just how easy they were to come by, and at affordable prices.
Indiana Jones' outfit is pretty basic when you think about it: brown fedora, tan shirt, khakis, brown bomber jacket and boots; add in a bullwhip and a pistol and you are pretty good to go. But, the cut of the pieces is distinctively World War II era, making it difficult to just grab them at Children's Place or Target. I also really am NOT a fan of the prefabricated costumes you can order online, as I find the materials to be cheap and the cut not to work on many bodies so I knew I wanted to create the costume as closely as possible to the film (using Raiders of the Lost Ark as inspiration). I did some research online and found a fantastic Indiana Jones Cosplay website that provided me with both information about the costume and direction about acquiring the pieces. IndyGear.com is seriously impressive, with information regarding individual prop and costume pieces, by movie when applicable, and Indiana Jones news in general.  Since creating his costume Connor has worn it for his birthday party, Halloween, a community harvest festival, and hero day at school, plus just wore it again for our community Mother/Son dance where the theme was "It's a Jungle Out There".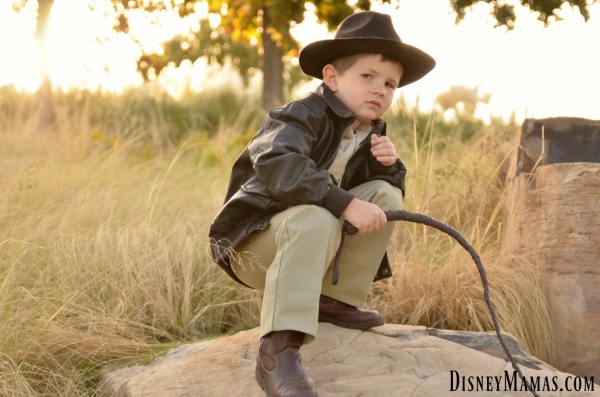 Costume Breakdown from Head to Toe
Indiana Jones's Hat
Indy's brown fedora is probably the most recognizable bit of gear that Indiana Jones wears in any film. The brown fedora was crafted specifically for Harrison Ford in Raiders of the Lost Ark and was designed to emphasize the face and eliminate shadows. It is also a period piece, and quite different than a fedora you would purchase today where the bill is much smaller and the crown a bit taller. Connor actually already had his Indy hat, as my parents had purchased it for him at Walt Disney World a couple of years prior. It is one of only three pieces that were "official" for this costume,  having been created for Rubie's Costumes. You can purchase it from Amazon for between $10 and $15 dollars and it does come in various sizes (we are actually on our second one now, having outgrown the first). Be careful when ordering the hat, as Rubie's sells a really cheap version in addition to the poly-cotton version that we used.
Indiana Jones' Jacket
Next to the hat, the Jacket is the next piece in recognizing Indy for the adventure hero he is. Indy's jacket is a modified World War II A2 Bomber jacket in a deep brown. The original jacket was created using the look of an A2 Bomber but used James Dean's leather jacket from Rebel Without a Cause to make it more functional for use in the film. You can order authentic replicas from Wested Leather Company in London in sizes for children and adults, but I opted for a much more affordable option available from Amazon. Connor's coat is a faux leather A-2 flight jacket, and was a bit heavy for the Texas heat, but it looked great and served as a winter coat for the rest of the season. The biggest difference between Connor's and the original is the flexible fabric waistband as opposed to a traditional leather waistband.
Indiana Jones' Shirt
Indy's shirt is basically a camp shirt in an off-white or light khaki color. It features front breast pockets and epaulets, cuffs and buttons down the front. The shirt changes very little throughout the film franchise, but varies a little in color. I purchased a Columbia Sportswear Shirt, as I had a difficult time finding a camp shirt in the right color that had long sleeves.  The pockets on this one have little black tabs, which you could cut off if you really wanted to, or just ignore like I did. Connor has continued to wear this shirt for over a year now, as he loves that it is lightweight and breathable. We ordered it a little big so that we could easily roll the sleeves to combat the heat, or wear long in cooler weather, and somehow it still fits.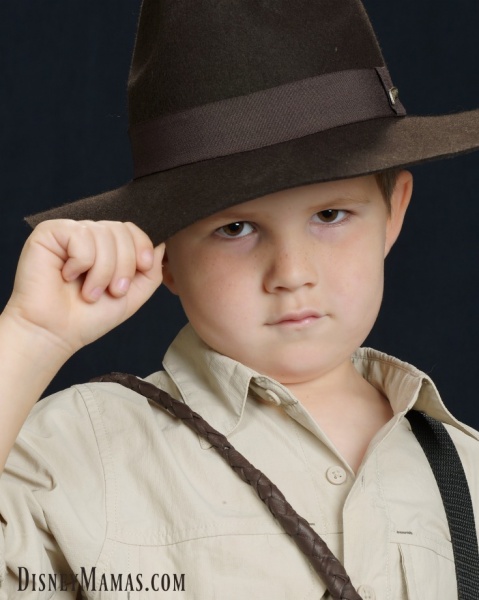 Indiana Jones' Pants
The pants Indy wears are, like the jacket, based on military design. Specifically Indy's pants are reminiscent of World War II Army Air Corps officer trousers in dark khaki or reddish-brown and feature a military hem of 4″-5″. I really struggled with color here, and ultimately settled on a khaki shade that was distinctively darker than the khaki of the shirt. If I had been putting together a men's costume the color would have been easier to come by, but in boys sizes I was limited and could find khaki, dark khaki, navy, olive and black. I settled on these
Dickies Boys Flexwaist pants
because they were wrinkle-resistant, affordable and had an adjustable waist. I ordered them a size too large as well, and was able to hem them to replicate the military hem. This year we just let them out to a new length and were good to go.
Indiana Jones' Boots, Belt, Bag and Bullwhip
To finish out Indy's costume we needed accessories. I cheated on the boots and grabbed some brown cowboy boots at WalMart for under $10 as opposed to the lace-up, military version that Indy wears in the films, and grabbed a cheap brown belt at WalMart as well. I had given Connor a costume version of Indy's shoulder bag a few years ago and it worked perfectly with his costume, and doubled as his candy bag (but needed some heavy duty safety pins, as the strap Velcros on one side). Indy's bullwhip was ordered from Amazon through Rubie's costumes and can be ordered in various lengths. Word to the wise though: if the bullwhip gets wet and you try to crack it brown paint will splatter off…ugh. Connor already had a pistol and holster, but Rubie's sells a super cheap version to go with the Indiana Jones costume, or you can forgo the gun altogether.
Indiana Jones Props
Since we were throwing an Indiana Jones party we added some props to our costume for authenticity and fun. I purchased a copy of The Lost Journal of Indiana Jones from Amazon, and Connor carried it with him on Halloween. I also grabbed some plastic snakes and rats from Dollar Store, purchased a wooden cross, gold paint and stick-on jewels at Hobby Lobby to create a version of The Cross of Coronado, painted a wooden chest light brown (watered down brown acrylic makes an excellent substitution for stain), and had fun creating a Holy Grail at Color Me Mine.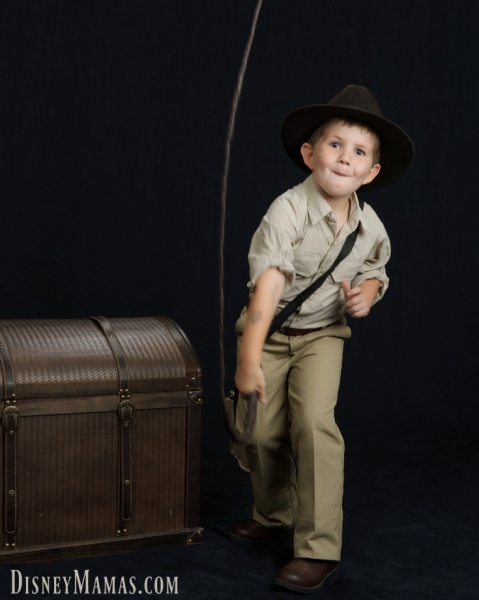 The total cost of the costume was just over $100 for everything but the journal; half the cost is the faux-leather jacket. Ditch the jacket or grab one at Good Will and you are talking a fantastic costume at around $50, and made up of pieces that can be utilized individually throughout the year.
My amazing friend Ariana is a photographer so we she set up a pretty epic photo shoot for Connor and he had a great time cracking his whip and mugging it up for the camera. We also had some interior shots done at our local Target, and Connor won Best Boys Costume at the 2015 Frisco Rough Riders Costume Contest. Not to mention, he was the envy of every dad at his birthday party and when trick-or-treating. Connor had a great time portraying his favorite hero!
For more Disney inspired Halloween costumes,
check out the other great posts from the Blogorail!
---
Here is the map of our Magical Blogorail Yellow | Disney Inspired Halloween Costumes Loop: