Welcome to this month's Magical Blogorail Green loop. Today we are discussing the best Disney resort pools.
---
Admittedly, I am NOT a pool person. Maybe it's my Southern Minnesota roots, but I've just never been a fan of pools or swimming. So, when we travel we tend to spend very little time at the resort pools. I mean, there is just so much to do at Disney Parks that setting aside pool time always seemed like a waste to me. That is, until last year when we spent our first family vacation at Disneyland, and we choose our resort primarily because Connor (5) saw pictures of the Monorail Pool at Disneyland Hotel and absolutely feel in love. I'm fairly certain he was more excited about the pool than the parks, and we spent time at the pool every day of our trip. And even I enjoyed it!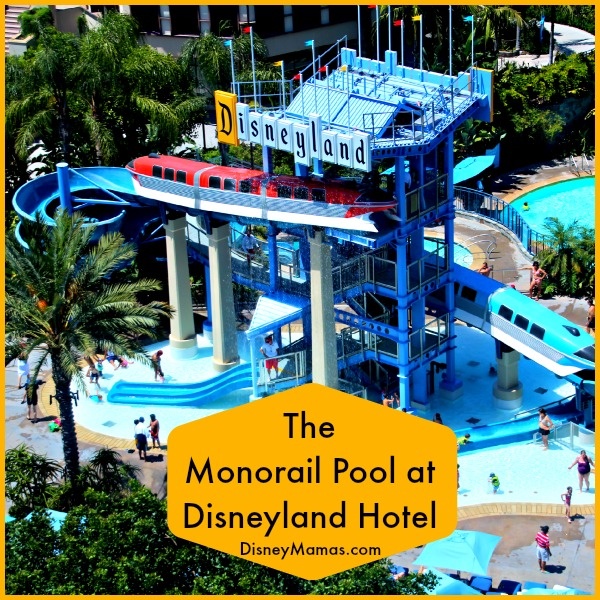 The Monorail Pool at Disneyland Hotel features two themed slides. The Red Monorail slide is the larger of the two at 25-feet high and 180-feet long, while the Blue Monorail slide is only 13-feet tall and 80-feet long, though both are suitable for children. Connor was four at the time and enjoyed both, and he is hardly a daredevil. He would literally go up down one slide then walk right to the steps to go down the next slide, alternating them in turn. My husband Chris enjoyed them as well, and I enjoyed watching them from a comfortable chair with a drink from Trader Sam's in my hand. One interesting this to note – the Monorail Pool at Disneyland Hotel isn't actually the pool. Unlike most Disney resorts the Monorail slides at Disneyland Hotel don't empty into the main pool, but rather empty into a dedicated area with a small pool of water surrounding them. As a mom this was a really nice experience, as I didn't have to worry about the slide dumping Connor out into deeper water and then him either having to swim to the edge or me or my husband having to be close enough to swim out and grab him. Connor enjoyed the independence as well and would wave joyfully as he darted from slide to slide. Behind the two main slides are two smaller toddler slides, splash jets, fountains and a waterfall for little ones to enjoy. The "real" pools are located just behind the Monorail pool. The E-Ticket Pool is the main pool of the resort, while the D-Ticket Pool is a smaller, narrower pool that is perfect for lap swimming. There are also two whirlpools designed to resemble Mickey and Minnie Mouse.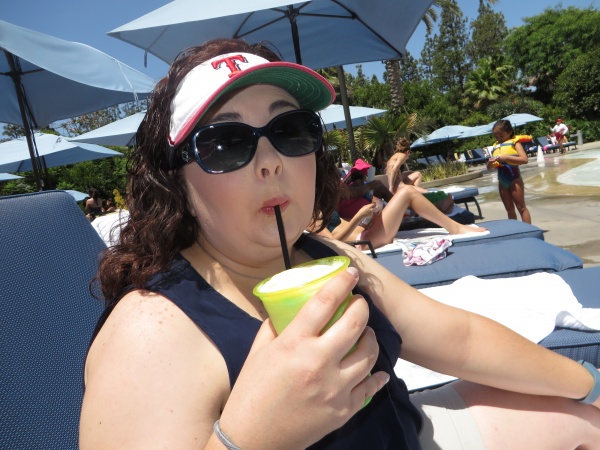 The slides and pool area are also conveniently located adjacent to Tangaroa Terrace, a quick-service restaurant, and the famed Trader Sam's bar, and you can either go inside to order a drink or food, or order from one of the many Cast Members making their way through the area specifically to take orders. And let me tell you, Trader Sam's has some YUMMY drinks! You would be hard pressed not to find something to suit your tastes, be it alcoholic or not!
In addition to the numerous (but of course not plentiful enough) chairs and loungers located around the slides you can also rent private cabanas from Guest Services. We didn't, but they were lovely and we saw many families enjoying them throughout our stay. Your reservation includes the covered cabana, two very nice chaise lounges, love seat, coffee table, television, overhead fan, safe, refrigerator with 6 water bottles, complimentary fruit platter, and full towel service.  Renting one of these gorgeous cabanas is definitely on my bucketlist! For pricing information call 714-635-2300 and choose option 5 when prompted. Pricing varies by season.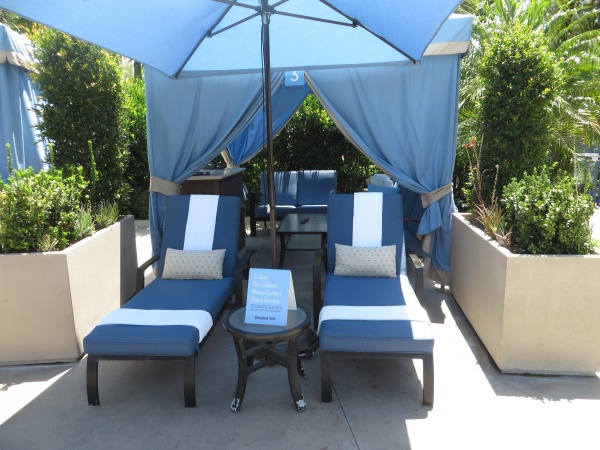 The design of the pool area is part of the reason I found it so appealing, and was so much more willing to sit and relax here than at most Disney Resort pools. The nostalgia of the Disneyland Hotel, coupled with the vintage-style Disneyland sign and Mark I Monorail design just made me happy. Much of the signage is designed to resemble the old Disneyland tickets, only adding to the charm of the area. There is just something about it that made me smile and WANT to be there! Even if it meant sacrificing some of my precious park time.
---
Here is the map of our
Magical Blogorail Green | Best Disney Resort Pools
Loop: