It happens every year around this time. Somewhere in Disney-blogdom someone starts posting rumors of Disney's Free Dining promotion, generally citing some "inside connection" as the source of their information. More and more blogs, forums and other Disney fan sites start to copy the posts, putting their own spin and "insider information" on it, and thus lighting an intensive blaze under the behinds of Disney fans everywhere. But this promotion just isn't all that and a Mickey Bar.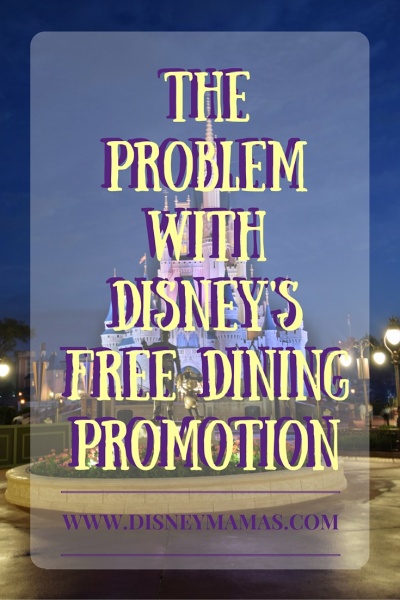 This year in particular the rumors are flying. However, at Disney Mamas we do not believe in spreading rumors, and choose instead to abide by a timeline that is set forth by Walt Disney World Resort. In our opinion, reputable travel agencies, blogs and fan sites respect the company enough to also respect when they choose to release information or launch promotions. Still others decided to take a rumor and spread it through the internet, a slow burn alike to the plastic cheese at Casey's Corner, slowly dripping into all websites, forums, Facebook pages, Twitter and instagram feeds, etc.
Here's the thing. If Walt Disney World Resort wanted that information out there it would be. Officially.
At this point the dates and exclusions could so easily change that why get all up in arms changing and making plans on what is essentially a giant rumor?  And you may not even save much money, or any at that!
Some food for thought in regards to Free Dining. 
The number of rooms that are allocated at included resorts are very limited. When creating a promotion Disney, much like other hotels and airlines, allocates a percentage of rooms at each resort to be eligible for that promotion.  When the number of rooms available drops below that percentage, the offer is sold out.  As rooms are cancelled that doesn't necessarily mean that it would open up another room for the promotion.
Not all resorts or room categories are included in the promotion. Every Disney promotion includes resort exclusions, and while you can generally guess what they will be there is generally a surprise or two thrown in to the mix. Little Mermaid Standard Rooms at Art of Animation, Port Orleans French Quarter, one All-Star Property and several Villa properties are almost always excluded.
You might save money with a different package at a different time of the year. It's true. We had to cancel a Free Dining trip a couple of years ago and move it to June. Believe it or not my June package, with a resort only discount, was LESS than what I would have paid with the Free Dining promotion in the fall. It is a marketing tactic and no guarantee of actual savings. The whole promotion was developed to fill the parks in the slower fall months.
Fall is no longer a slow time at Walt Disney World. People anticipate this promotion and book for fall months in advance with the hope that they will move their package to the Free Dining offer when/if it becomes available. This is a double-edged sword. The parks are now almost as crowded in the fall as they are in the summer, and the dates for Free Dining are shrinking due to already high occupancy levels.
Dining reservations for fall are already extremely limited. The same people who book a fall trip in hopes of the Free Dining promotion absolutely go ahead and book their dining too. As of now, reservations for August, September and the first half of October are very, very limited. That's just how it is.
If you were already thinking of traveling, or have a trip booked near the rumored dates, I highly suggest you contact your travel agent now to discuss options and availability. Any Disney promotion can be applied to an existing, qualified booking pending availability. And if your booking doesn't qualify or can't be adjusted due to availability please, please don't take it out on your travel agent. They truly do their very best to get the best possible rate for you, and will be up at the earliest moment with phone in hand and computer powered up trying to do what they can for your reservation.
Either way, the best time to visit Walt Disey World is when it fits into your family's budget and schedule, not because a promotion is rumored to be going around.