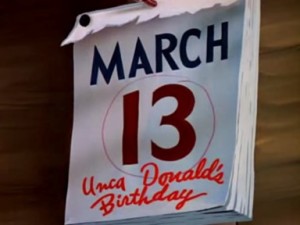 Who gets stuck with all the bad luck?
Well, if your birthday is on Friday the 13th, that could be part of the problem. It's not every year that Donald's birthday falls on the proper date, so I thought this was a great chance to point it out. I know, Donald's real birthday is June 9, 1943; but in the short "Donald's Happy Birthday" it's on March 13th.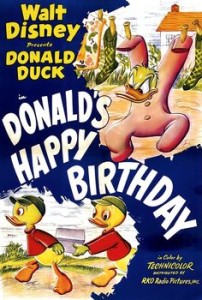 In the film, Donald's nephews earn money to buy him a present. But, Donald takes the money in order to "save for a rainy day." After Huey, Dewey, and Louie steal the money back and purchase a gift, Donald discovers it and thinks the boys are up to no good. He ruins the surprise and discovers he has grossly misunderstood their intentions causing himself to feel quite ashamed. If you haven't seen this classic, you might want to check it out.
(By the way, my Aunt Joy's real birthday is March 13th!)