The incomparable Donald Duck turns 80 years old today! In honor of his birthday a group of us got together to throw our favorite duck a virtual party! Cakes are my things, so I've whipped up a fairly simple Donald Duck cake that is perfect for any birthday! It may look complicated, but it really wasn't!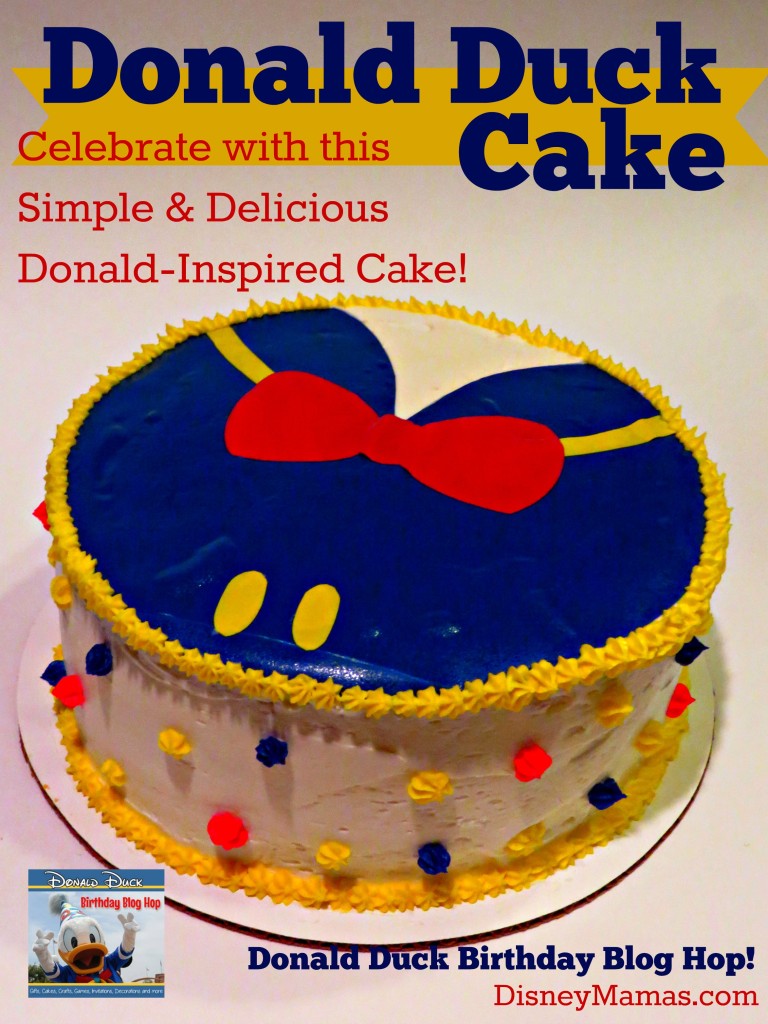 The Cake
The only requirement for the cake layers are that you use a white cake. You can make the cake from scratch or use a mix, the choice is completely yours. I chose to make mine from scratch and I used a lovely Amaretto Cake recipe that I found on Bake at 350. It was simple to make and it tasted delicious. You mix up your cake batter as per your recipe instructions, and then divide the batter evenly into 3 bowls. Tint one bowl blue and one bowl yellow, leaving the third bowl plain, (or you can buy a white tint if you want the layer to be really, really white). I tinted my batter using AmeriColor Soft Gel Paste Food Color, which I purchased at Hobby Lobby. Start with a little bit of food dye and gradually add more after stirring each time until you reach the desired color.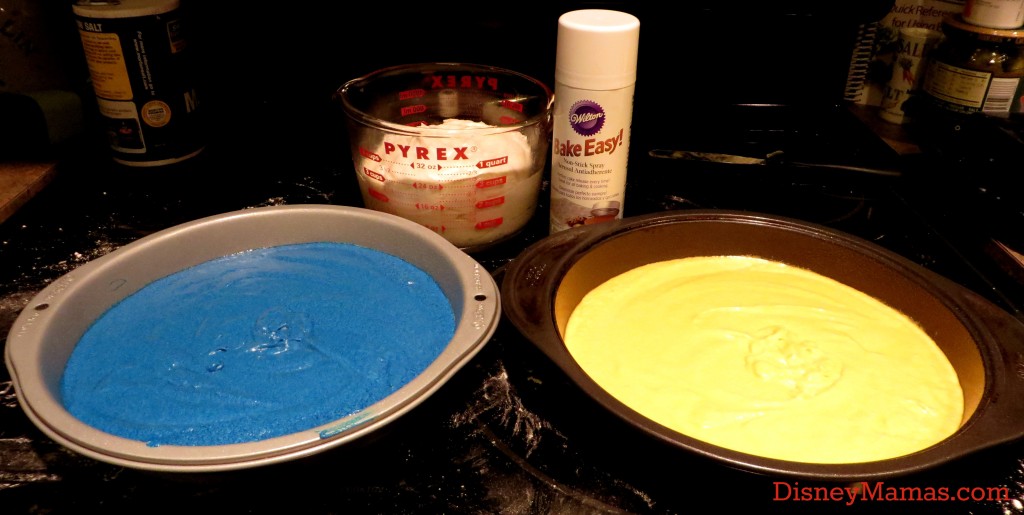 Bake your cakes as directed in your recipe instructions, checking at the earliest time to avoid over cooking. Once they have finished baking and have cooled completely wrap them in a couple layers of aluminum foil and place them in your freezer (this makes them easier to ice, and easier to level). Use a cake leveler to level each layer once you are ready to frost them.
The Filling
You just made a three layer cake, so you are clearly going to need some sort of filling. I used the world's most amazing Amaretto Filling from Spicy Southern Kitchen for my cake, but you could just as easily use buttercream frosting, jam, cool whip, or anything else that suits your fancy. I chose this filling because I used it on a wedding cake a few months ago and have been looking for an excuse to make it again. Spread the filling evenly between your cake layers. There is really no need to spread it out with a spatula, as the weight of the layer above will spread the filling out on the layer, but I like to spread it out a bit anyway. Once you are finished pop your cake in the fridge while you make your frosting.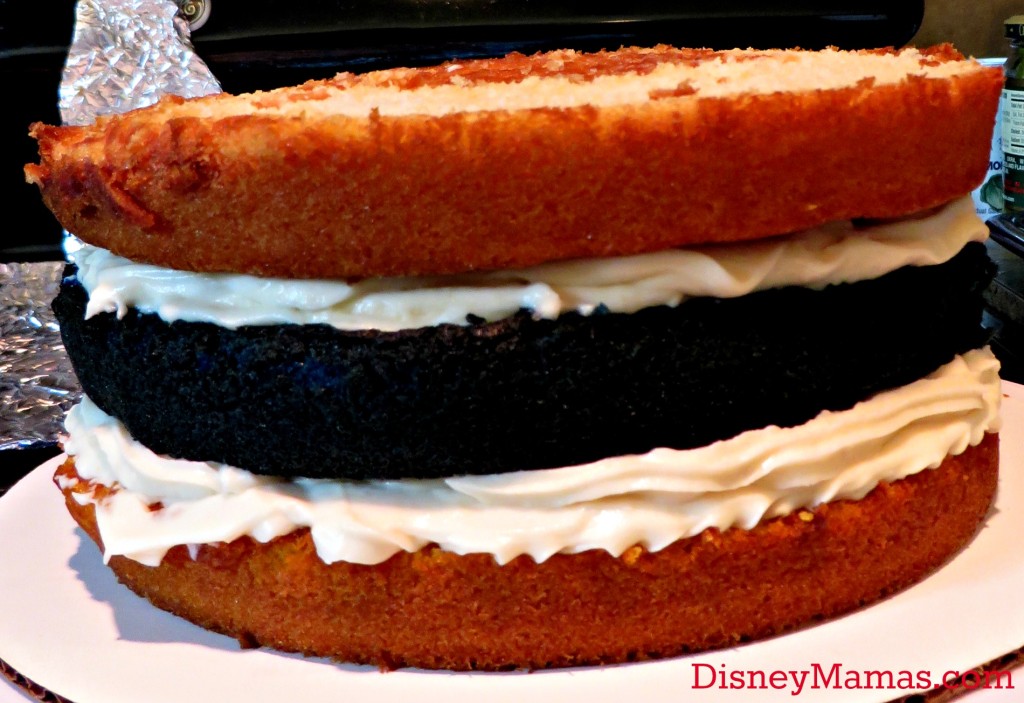 Confession: I fully intended to tint my filling red, but completely forgot to do so. That being said you can tint the filling or leave it as is!
The Frosting
I recommend frosting your cake with buttercream or sour cream frosting. You will need the stickiness of the frosting to help with the decoration of the cake. Your frosting can be either homemade or store-bought, and I used a recipe for Almond Amaretto Buttercream featured in the same recipe from Spicy Southern Kitchen. Its amazing, by the way. Frost your cake evenly on the top and sides. Use generous amounts of frosting on the top and sides, and spread it out with an icing knife, keeping the knife moving constantly to avoid crumbs.
The Decoration
Now the fun part! Creating your Donald Duck! I wanted a simple design and decided to go with his shirt. It's iconic and clean, and I thought it was a bit different than anything else I had seen. I looked online for a reference picture, and then decided on the technique. My cake was created using Wilton Sugar Sheets from Hobby Lobby, and they were a HUGE time saver! I had originally planned to pipe the design using an icing tip, but on my trip to Hobby Lobby for icing dye I happened upon the sugar sheets and decided to give them a try! I bought a package that included a blue, red and yellow sheet, and then drew my design on to the acetate covering that was on the sugar sheets, cut them out with scissors and applied them to the cake! The blue layer is stuck directly into the frosting, and the red bow tie, yellow stripes and yellow buttons were brushed with a bit of leftover frosting and then pressed on to the blue layer. It was so simple, and it created a really cute cake! The sugar sheets are edible, and they taste a bit like bland sugar. Think of very thin fondant.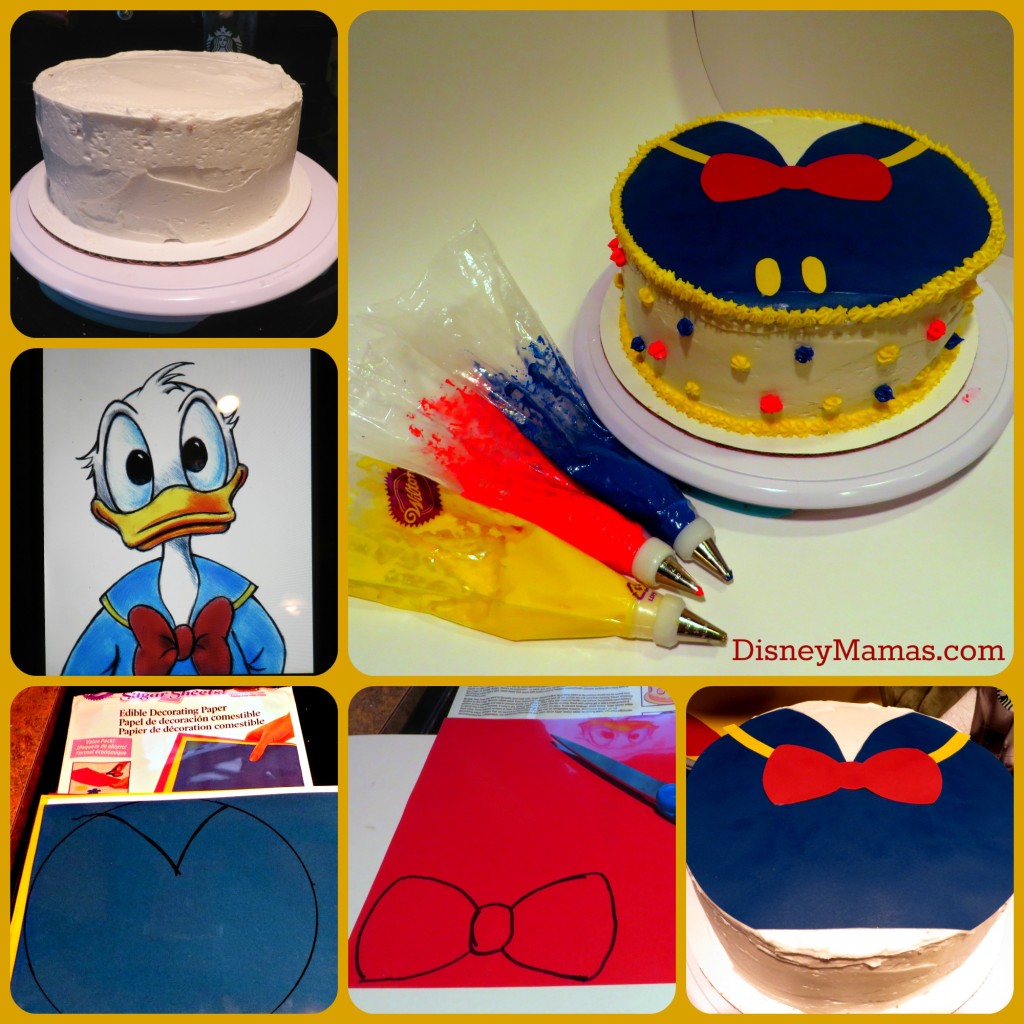 The sugar sheets were really easy to work with, and I will definitely be using them again in the future!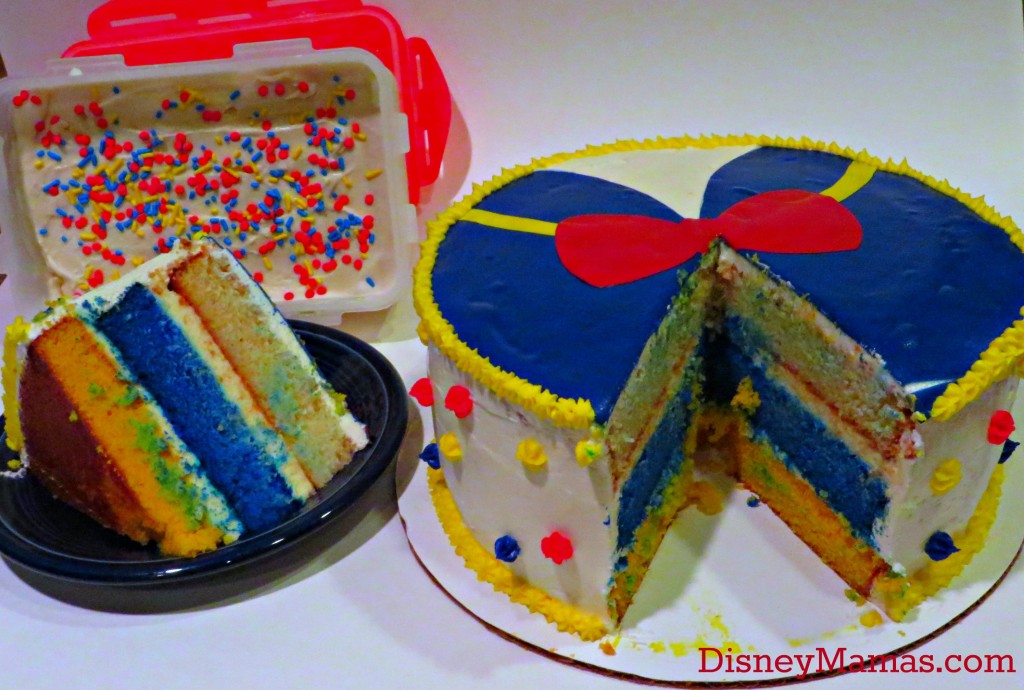 Now it's time to Hop on over to another post in our Donald Duck Birthday Hop! TTFN!