The lazy days of summer are drawing to a close. School is back in session, or for some, will be soon. Homework, practices, sports games have all begun, leaving only a night to two available for family time and by then, everyone is too exhausted to go anywhere. So what do you do? In our home, we have Family Movie Night. Once a week, we pick a movie that everyone can enjoy, turn down the lights and escape into the world of make believe for a little while. To make Family Movie Night something everyone looks forward to I like to pick a theme based on the movie and plan a light dinner, drinks and/or snacks accordingly. I also head to my local dollar store and stock up on movie size candies and, if I'm lucky, I can find the red and white paper popcorn bags for individual servings and I arrange them all on the "concession stand" – a table in the living room.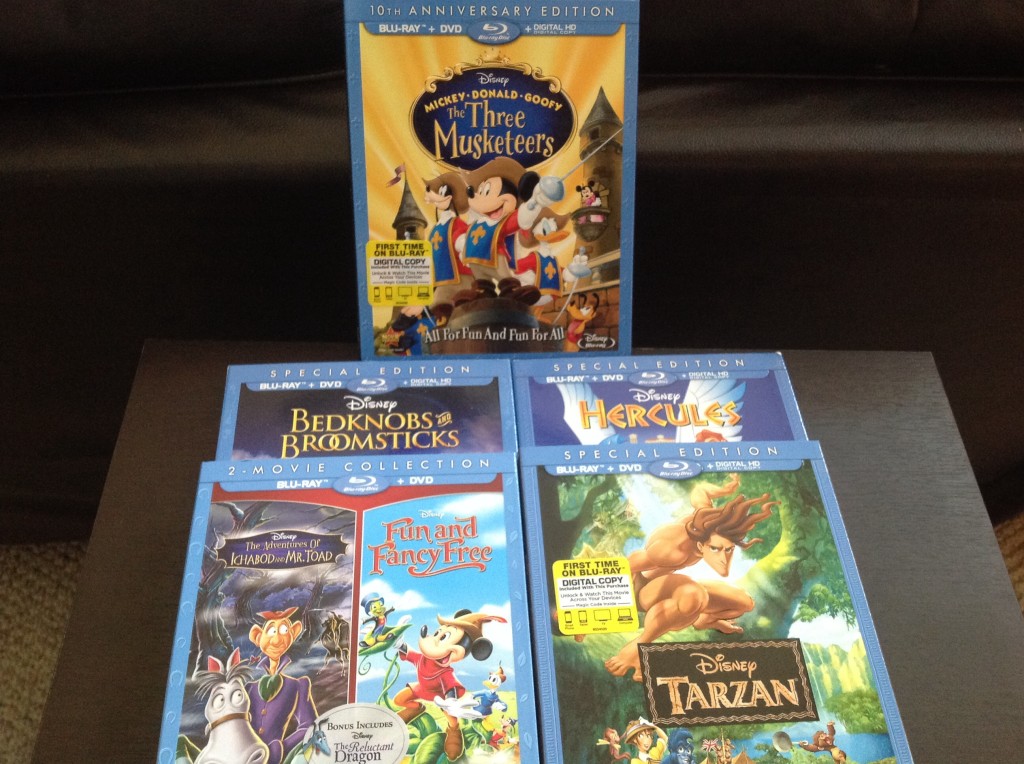 This fall we will I am so excited because Disney just released five Classic films for the first time ever on Blu-Ray. Hercules, Tarzan, Bedknobs and Broomsticks, The Three Musketeers and finally, The Adventures of Ichabod Crane and Mr. Toad. My daughter used to love for us to read her the Hercules story before bed (she loves Meg, I am partial to Pain and Panic) and Bedknobs and Broomsticks was a movie from my childhood that I can now share with my kids. And of course who can forget Mickey, Donald and Goofy and their quest to save Princess Minnie, the beautiful soundtrack of Tarzan, the traveling adventures of Mr. Toad and the spooky tale of the Headless Horseman. To celebrate their release and the re-introduction of our own Family Movie Nights, I have already put together my event themes!
Tarzan – Jungle theme decor. "Gorillas Nest" pasta salad with English biscuits and Terk's chocolate covered bananas for dessert.
Hercules – Greek theme decor. Gyros and Greek salad for dinner, lightening bolt shaped cookies.
Bedknobs and Broomsticks – Magic/witch them decor. Meatloaf "bedknobs" with witches broomstick breadsticks, Comic Creepers Oreo Cookies.
The Three Musketeers – Everything in three theme. Tri-colored pasta salad with chicken, steamed carrots, pea and green beans, and triple berry pie.
The Adventures of Ichabod Crane and Mr. Toad – Thanksgiving themed. Roast turkey breast sliders with cranberry spread, mashed potato balls and pumpkin pie brownies.
Disney Mamas has three sets of these five classic films to give away. Details for entry are below. Do you have any ideas for family movie night? Share them with us in the comments section. We can't wait to read them!
You can enter up to two times per person via different entry methods mentioned above. This giveaway will end August 21, 2014 at 12:00 AM PST.
The giveaway is open to residents of the Continental United States only, ages 18 years old and up.
Once all entries are verified to be in compliance with the terms of the giveaway, the winner will be drawn by Rafflecopter.  The lucky winner will be notified by email, and announced right here on Disney Mamas, so be sure to check back to see if you have won!  Make sure that you provide a valid email address that you check regularly.  The winner will have 48 hours to claim their prize via email.
Disclosure: Disney Mamas was provided with sets of these Blu-rays to review and to giveaway. Even though this product was provided at no cost the opinions expressed below are always our own.