Welcome to this month's Blogorail Orange Loop. Today we are sharing ways to splurge on your next Disney trip that won't break the bank.
---
Back in November of 2014 my husband and I renewed our vows at Walt Disney World with my family in attendance. We had always wanted a Disney wedding, and our vow renewal ceremony provided us with the perfect combination of Disney fun and Disney wedding magic. My husband, Chris, being the romantic that he is surprised me and my family with a special Wishes Fireworks Cruise the evening of our ceremony. It was the perfect nightcap to our magical day, and something that we will all remember for years to come.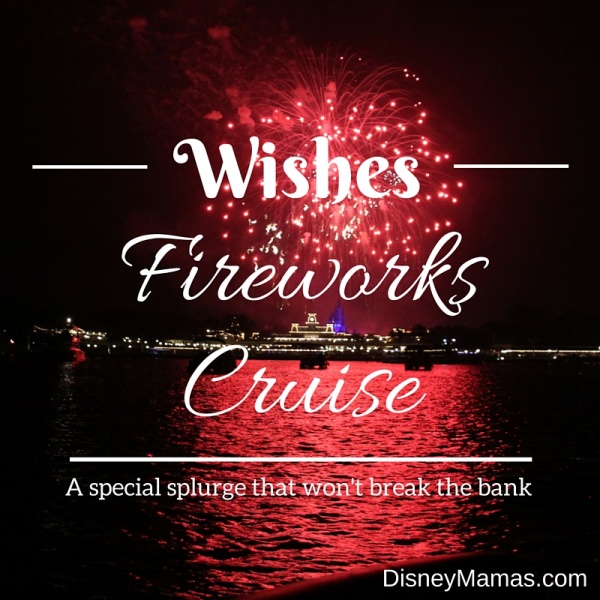 Over our many trips to Walt Disney World we had both seen the cruises out on the water during Illuminations and Wishes, but neither of us had ever really dreamed we could afford to actually take part in one. I mean, I had read on message boards about how people would basically put out wanted ads for other families to split the cost, but I always felt that sharing such a special luxury with strangers would lessen somehow diminish the experience so we had never talked about it. But, it was always one of those "Disney Bucket List" items for both of us, and we loved being able to share the experience with our son and my family.
Chris had booked the Premium Wishes Fireworks Cruise, which can accommodate up to ten guests, plus the provided boat captain, and has the music for Wishes piped in to the pontoon's on board sound system. If you book the basic package the pontoon can hold eight guests and does not include the Wishes soundtrack. Regardless of your Wishes Fireworks Cruise booking the boat is stocked with chips, soda and water bottles for you to enjoy throughout the experience.
Our Wishes Fireworks Cruise took place on November 28th, and it was C-O-L-D that day! Luckily for us, the boat was well stocked with warm blankets to snuggle up in, and they did a great job of keeping the chill of the air and water off throughout the experience, which was roughly 90 minutes long. Our captain was very pleasant, and great at answering all the questions our son, Connor (5), threw at her about the boat and the lagoon.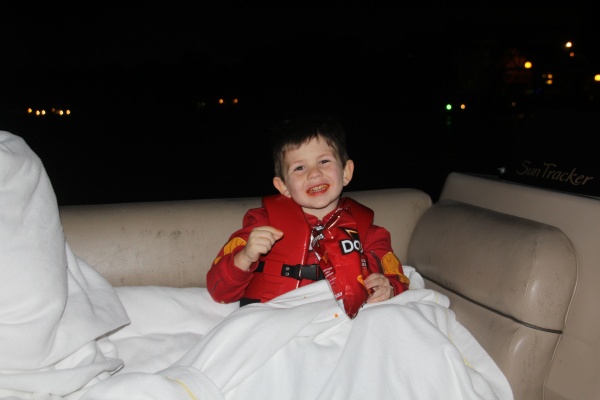 In addition to viewing the fireworks from Seven Seas Lagoon your pontoon also takes you on a tour Bay Lake and Seven Seas Lagoon, with a stunning view of the Electrical Water Pageant and a trip around the resorts of the Magic Kingdom. We parked near Wilderness Lodge to view the Water Pageant and then continued to the center of Seven Seas Lagoon, parking just in time to see the Celebrate the Magic castle projection show (you couldn't make out too much of the detail, but it was neat all the same), and then view Wishes. When the fireworks ended we witnessed the mass exodus from the Magic Kingdom from afar as we returned to The Grand Floridian where our captain insisted that we take the remaining chips and soda back to our resort with us, which was a nice gesture.
This was truly a unique and special experience for my entire family. It's actually a little tough now to watch the fireworks from the Magic Kingdom hub area, even though the grass is quite nice! Connor keeps asking when we will ride the boat again, and while we would love to we will definitely wait for a return trip with my extended family in order to keep the experience significant.

There are various pick-up locations for the Wishes Fireworks Cruise, and you will be informed of your pick-up location when you confirm your reservation. You could be picked up at Disney's Grand Floridian Resort & Spa, Wilderness Lodge, Polynesian Village Resort or Contemporary Resort, and will return to the same location at the conclusion of your experience.
The total for our Wishes Fireworks Cruise was $371.69, which included tax and gratuity, for our party of eight. This was quite reasonable, especially considering that in the months prior we had been planning on a Pirates and Pals Voyage, which would have run us close to $500 for our group!
For an additional fee you can add balloons and streamers and/or private dining to your Fireworks Cruises to turn them in to more of a celebration event. For us, however, the chips, sodas and music were enough to make us all feel special. You can learn a little more about the options available by visiting the Walt Disney World Specialty Cruises webpage, but be aware that you need to call in to obtain pricing and availability. Specialty Fireworks Cruises can be booked up to 180 days in advance.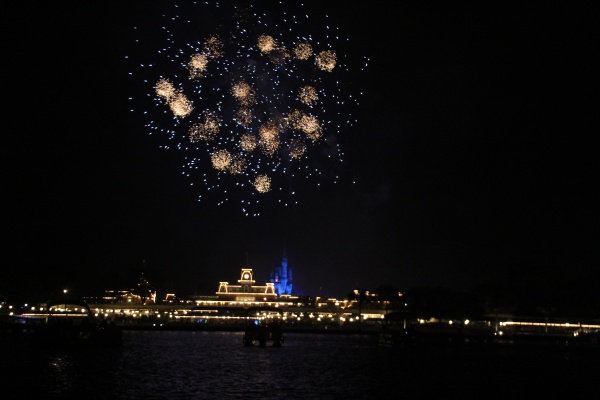 For more reasonable splurges at the Disney Parks,
check out the other great posts from the Blogorail!
---
Here is the map of our Magical Blogorail Orange | Reasonable Disney Trip Splurges Loop: