For years, I had known about the ticket booklets that were sold and used for the attractions at Disneyland and Walt Disney World. You know, the reason great roller coasters are called "E Ticket Rides." But, until our first trip to Disneyland in 1998, I had never given much though to how the tickets were purchased or redeemed. It was on that trip we decided to take one of the guided tours – "A Walk in Walt's Footsteps" – to learn more about the park…
Along with the main gate, each land had a central ticket exchange for purchasing the booklets.
When you visited most attractions, there was a little window where your ticket would be redeemed. Cute, huh?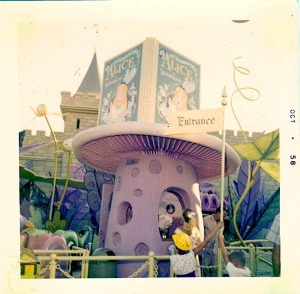 But what happened to those cute little buildings? Well, our tour guide discussed how the Imagineers almost never throw anything away. They simply repurpose items or store them for possible future use. A great example of this philosophy is the reuse of the old ticketing windows used throughout the park. I'll start the scavenger hunt in Fantasyland – the land with the most booths remaining.
So, next time you're in Disneyland see how many you can spy.
(Thanks to other Disney fans for sharing your photos online!!!)