We're just a few days away from Disneyland's 60th anniversary – so it's time to wrap up the series on the lands and tie a big shiny bow on top to present – Fantasyland…
"Here is the world of imagination, hopes and dreams. In this timeless land of enchantment, the age of chivalry, magic and make-believe are reborn – and fairy tales come true. Fantasyland is dedicated to the young-in-heart – to those who believe that when you wish upon a star, your dreams come true."
Much of Fantasyland exists today as it did in 1955. The Imagineers moved, added and enhanced the land in 1983 and replaced the old tournament façades with Medieval architecture. We'll walk through Sleeping Beauty's Castle and begin our tour counter-clock wise…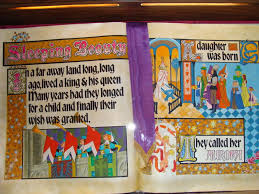 Sleeping Beauty Castle: after much debate, it was decided the castle was prettier backward – so the back door faces Main Street. Inside the castle you will find: Sleeping Beauty Castle Walk Through which has gone through three eras itself: (2008-Present) combines the legendary art of Eyvind Earle with current technology, (1977-2001) "Emporium Style" dioramas, and (1957-1977) Eyvind Earle dioramas.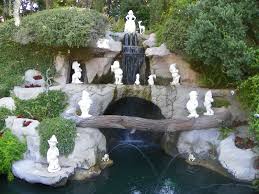 Snow White's Grotto (1961-Present) was created from an anonymous gift sent to Disney from an Italian fan.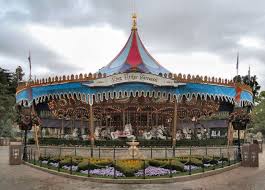 King Arthur Carrousel (1955-Present) the original paint on the horses was multi-color – they are all white now.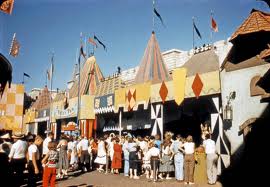 Peter Pan's Flight (1955-Present) recently received enhancements for the 60th anniversary.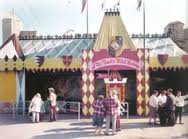 Mr. Toad's Wild Ride (1955-Present) notice that Toad visits Hell, which is not in the film.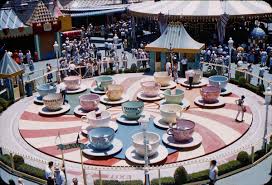 Mad Tea Party (1955-Present) the original location was where King Arthur Carousel sits today. The attraction has been stylistically enhanced over the years.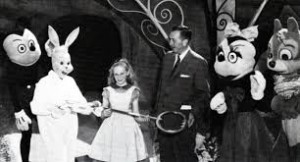 Alice In Wonderland (1958-Present) the 1983 enhancements included a new narration track by Kathryn Beaumont, the original voice of Alice.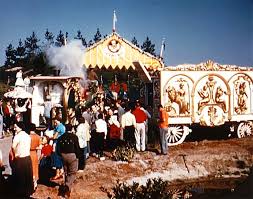 Matterhorn (1959-Present), Mickey Mouse Club Circus (1955-1956)
Designated smoking area (2008-Present), Fantasia Gardens (1993-2008) a covered dining area in the original queue platform. Motor Boat Cruise to Gummi Glen (1991-1993)as part of the Disney Afternoon Avenue, Motor Boat Cruise (1957-1991)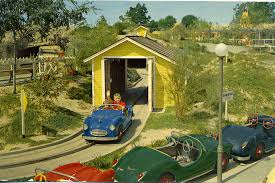 it's a small world (1966-Pesent), Midget Autopia (1957-1966) was donated to Marceline, MO, while one of the cars is on display in the current Autopia.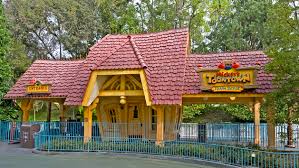 Mickey's Toontown Train Depot (1983-Present), Videopolis Station (1985-1983) slightly different location on the train line due to it's a small world, Fantasyland Depot (1956-1966)
Fantasyland Theatre (2013-Present) currently showing Mickey and the Magic Map, Fantasyland Theater (2009-2013), Videopolis (1985-2009)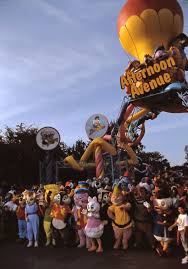 Disney Afternoon Avenue (1991) along the walkway from the Storybook Land Canal Boats to Toontown.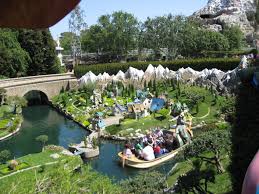 Storybook Land Canal Boats (1956-Present), Canal Boats of the World (1955)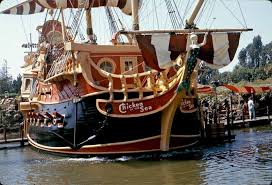 Dumbo Flying Elephants (1955-Present) originally with 10 elephants, now it has 16. Current location was the former home of Skull Rock Lagoon (1960-1982), Captain Hook's Galley (1969-1982), Chicken of the Sea Pirate Ship and Restaurant (1955-1969)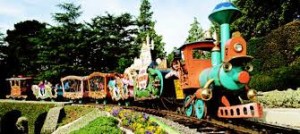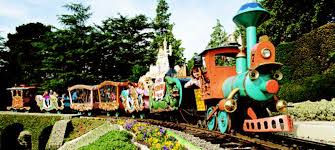 Casey Jr. Circus Train (1955-Present)
Skyway to Tomorrowland (1956-1994)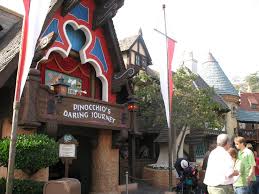 Pinocchio's Daring Journey (1983-Present), Fantasyland Theater (1964-1982), Mickey Mouse Club Theater (1955-1964)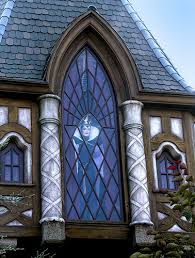 Snow White's Scary Adventures (1983-Present) how can you not love the Queen throwing open the curtain and assessing the crowds, Snow White's Adventures (1955-1983)