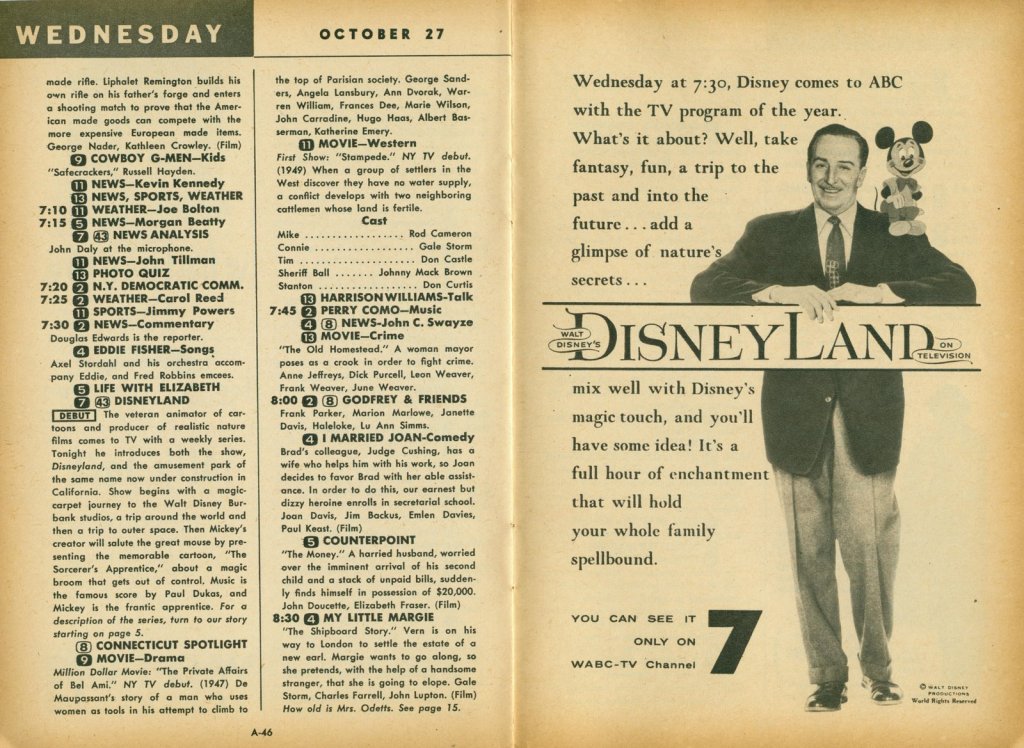 October 27th marks the first night of the weekly television broadcast of Disneyland. Walt believed the show would not only entertain people but would also be a great promotional tool for the studio. After selling the idea to ABC, he sold it to the studio:
"The format of the show is America. We can mingle fantasy, we can dream and be fantastic. There is no one over here telling us we cannot – I think this is part of America. We can show Frontierland and Main Street as part of that heritage.
We may present something special for Thanksgiving, Christmas or Easter. We could have a guest day for everyone who has worked for us. Perhaps they could bring their children. One example, Benny Goodman and his child."
The first episode granted viewers a quick tour of the Walt Disney Studios and then introduced them to a new theme park called Disneyland. The original Disneyland series ran from 1954 until 1958. During its first season, the show won an Emmy for "Best Variety Series". Walt Disney received "Best Producer" for the series in 1955. The series changed names over the years and moved from Wednesday to Sunday* to Saturday to Tuesday nights, and aired on all three major networks – and still lasted for over 40 years.
Which opening sequence do you remember?

or
Walt Disney (1981-1983) [sorry no photo found] on CBS?
I remember the Wonderful World of Disney through Walt Disney versions from my childhood. And I was disappointed to see the series cancelled not long after The Disney Channel premiered – we didn't have cable until my college years when my sister and I begged to have the premium channel added.
*The broadcasts on Sunday nights brought a new gadget into our home – the VCR. I didn't realize how much that thing cost until recently (about $500 in the mid 1980s). This allowed us to attend Sunday night church events and still watch Disney.
For more information on Disney and TV check out the book "The Wonderful World of Disney Television: A Complete History" by Bill Cotter. (c) 1997 Disney Enterprises, Inc.