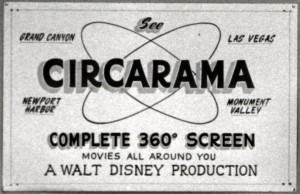 Circle-Vision was introduced at Disneyland in 1955 – on opening day to be exact. The concept started when Walt saw a Cinerama film that was presented on three screens. He returned to the studio and asked Roger Broggie – why not have the screens go all the way around the room? So, using eleven 15mm, CineSpecial cameras mounted on a stand, the film was shot; and the first Circarama film, Tour of the West, sponsored by American Motors, awed Disneyland guests.
The name was changed from Circarama to Circle-Vision in 1967 due to  Cinerama's threat of copyright infringement. The technology changed in '67 as well. Ub Iwerks was back at Disney Studio to share his technical know-how and assisted Broggie in modifying the filming apparatus to reduce the number of cameras to nine and change them to Arriflex 16mm models.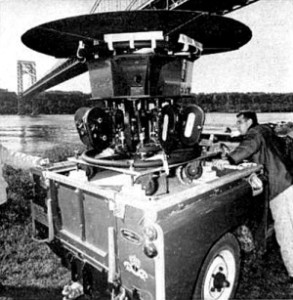 In total sixteen films have been created in the Circle-Vision format:
1. Circarama U.S.A. (A Tour of the West), Disneyland, 1955-1959.  (11 cameras, 16mm)
2. America the Beautiful, Brussels Worlds Fair, 1958.  (Opened at Disneyland in 1960)
3. Italia '61, Turin, Italy (for Fiat), 1961.  (9 cameras, 16mm, blown up to 35mm)
4. Magic of the Rails, Lucerne, Switzerland (for Swiss Federal Railways), 1965.  (Named changed to Circlevision 360, 9 cameras, 35mm)
5. America the Beautiful, Disneyland, 1967.  (reshot film)
6. Canada '67, Expo '67, Montreal, Quebec, Canada, 1967.
7. Magic Carpet 'Round the World, Walt Disney World, 1974.
8. America the Beautiful, Walt Disney World, 1975.  (revised version)
9. O Canada, Epcot Center, 1982.
10. Wonders of China, Epcot Center, 1982.
11. Magic Carpet 'Round the World, Tokyo Disneyland, 1983.  (revised version)
12. American Journeys, Disneyland, 1984.
13. Portraits of Canada, Expo 86, Vancouver, British Columbia, Canada (for Telecom Canada), 1986.
14. From Time to Time, Disneyland Paris, 1992, presented by Renault. (The Timekeeper in Walt Disney World 1994)
15. Reflections of China, Epcot, 2003.
16. O Canada, Epcot, 2007 (new film)
In order to produce the films for the Canadian and Chinese pavilions in Epcot, Theme Park Productions, Inc. (a sister group to Imagineering), accomplished some amazing filming feats. For O Canada, the cameras had to be mounted under a helicopter and a B-25 bomber, on a toboggan, a dogsled, a racing chuck-wagon, flatbed trucks, dollies, and ships and boats (including the Bluenose II). They also had to endure temperatures as cold as 24 degrees below zero with wind chills in the negative fifties that required heating the cameras in order to melt the ice that formed on them. Wonders of China was the first time sites like the Forbidden City, the Summer Palace, and the Leshan Buddha had been seen on film by western audiences.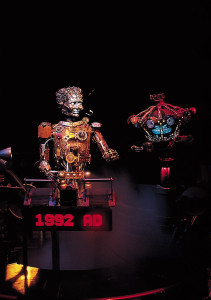 In 1992, From Time to Time, opened with Disneyland Paris at the Visionarium. This was the first time a Circle-Vision film included Audio-Animatronics characters, 9-Eye and Timekeeper, who interacted with the film. The film took viewers on a time travel journey through Europe and included scenes of eight countries. The character Nine-Eye was a model of the camera system used in filming the movies and she educated guests how the process worked.
Credits:
D23.com – list of Circle-Vision films
Walt Disney's Imagineering Legends by Jeff Kurtti, © 2008 Disney Editions, pgs. 97 & 123.
The Imagineering Field Guide to Epcot at Walt Disney World by The Imagineers, ©2006 Disney Editions, pgs. 88 & 122.
My vast knowledge of all things Disney trivial 😉