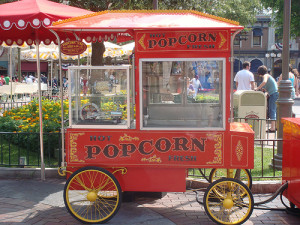 How about a scavenger hunt at Disneyland? Let's go looking for a snack. A salty snack found in a cart. OK, we're not actually looking for popcorn, but the little guys in the popcorn cart. They are lovingly called popcorn people! And these little people have been roasting popcorn at Disneyland since 1955.
The carts were created by Charles Cretors in the 19th century.  Cretors added the little figures – Toasty Rosty Men – to amuse customers, thus becoming a big hit at the 1893 Colombian Exposition in Chicago. (Walt's father was a construction worker at the fair grounds.)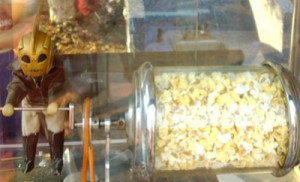 The seven carts containing "Roastie-Toasties" are spread throughout the park. Over the years, the characters have become themed to the lands and attractions near where they sit.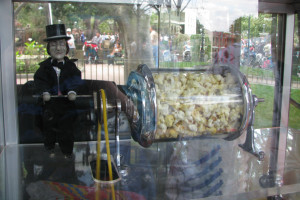 Keep an eye out for these characters – note that some appear seasonally:
Oogie Boogie – New Orleans Square
Rocketeer – Tomorrowland
Davy Crockett – Frontierland
Conductor – Mickey's Toontown
Undertaker – New Orleans Square
Dapper Dan (red) – Castle Hub
Dapper Dan (blue) – Frontierland
Abominable Snowman – Fantasyland
Santa – Castle Hub
Clown – Fantasyland, "it's a small world"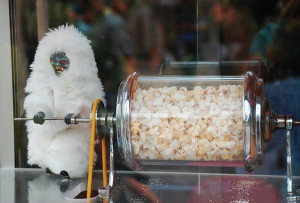 Disney Parks shared this video on their YouTube site: