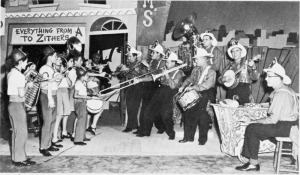 Animators. What do they do for hobbies? Their career would be considered a hobby by most of the world, right? Well, starting in the 40s, a group of Disney animators participated in a Dixieland jazz band – in their spare time. The group was call The Firehouse Five Plus Two. Firehouse Five, but they aren't firemen? How did they come up with the name? Well, Ward Kimball explains that to Groucho Marx on "You Bet Your Life" like this:
"I'm the leader and first trombonist of the Firehouse Five Plus Two." Ward Kimball
"That's a very famous musical outfit isn't it? Why do you call it the Firehouse Five Plus Two?" Groucho Marx
"'Cause there's seven of us." Ward Kimball
The original seven members included Ward Kimball on trombone, Clarke Mallery on clarinet, Frank Thomas on piano, Ed Penner on bass sax, Jim McDonald on drums, Johnny Lucas on trumpet, and Harper Goff on banjo.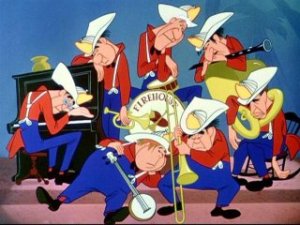 Firehouse Five Plus Two made TV appearances, including Disney's first TV special, One Hour In Wonderland. They were also featured on the Mickey Mouse Club, The Ed Wynn Show, The Ed Sullivan Show, and Disney's World of Color. The band played themselves in the film Grounds for Marriage. And they were animated for Goofy's How To Dance short film and in the "Gift of the Magi" segment for Mickey's Once Upon a Christmas.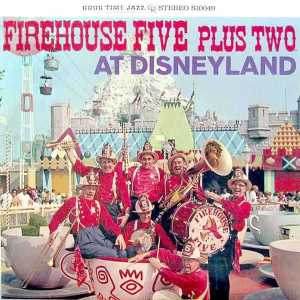 From 1949 to 1970, the band released thirteen albums – which are still available today on the Good Times Jazz label. My husband's favorite album is The Firehouse Five Plus Two At Disneyland because of the song intros by Ward and the safety spiel at the end.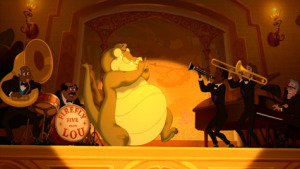 A sweet homage to the band can be found at the end of The Princess and the Frog, in which Louis the alligator is part of the group called "The Firefly Five Plus Lou".