"Nobody can be uncheered with a balloon." (1) . . . especially if it's a Mickey balloon.
As I was trying to decide what to blog about, my husband suggested Mickey Mouse balloons and I thought how fun. Boy was I wrong. There's not a lot of information available on the history of one of Disney's best selling souvenirs – nor did I know much about them myself. I finally discovered an interview of Treb Heining by Jim Korkis, which I have paraphrased.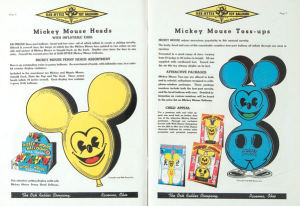 Pioneer Balloon Company began manufacturing the Mickey-eared balloons in the 1940s. These balloons could be purchased at local retailers for use as party decorations. (I personally like the full body style.)
Nat Lewis, a former circus vendor, was the person responsible for bringing the balloons to Disneyland. The addition of helium, a string, and a little circus flair provided the magical combination to make them a huge success.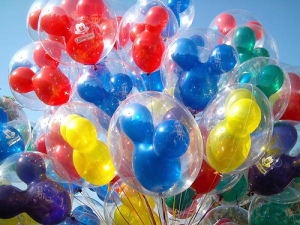 Treb Heining began his life-long career as a "balloon guy" when he first started selling the balloons for Lewis' contracted company in 1969 – he was 15. One fun story Heining shares is the use of the "spin-tie" method to close the filled balloons. In order to do this, the balloon and a piece of waxed thread are spun together in your hands, which allows a balloon to be reopened at the end of the day. Balloons that were not sold were deflated, placed into a clothes dryer to shrink, then re-inflated the next day.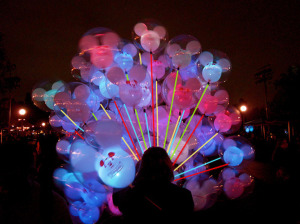 When Heining graduated, he set up his own private company, BalloonArt by Treb, Inc. He was responsible for the million-balloon launch over Disneyland for it's 30th anniversary, the invention of the "balloon archway", the creation of the glasshouse balloon, and the light up balloon. The glasshouse balloon is a recreation of a classic style in which a Mickey ear balloon is inflated inside a clear balloon. Unfortunately, the original exterior balloons would oxidize in the sun and become cloudy. Also, the balloons would only last about a day. But, with the improved design, the balloons last for weeks at a time.
Anyone else remember the Mickey balloons with the black ears? Sadly, they are no longer being manufactured. But when Disney needed some for Saving Mr. Banks, Heining was called in to recreate those iconic balloons. After researching, it was discovered that the machines used to make the balloons had all been destroyed. Thus, the balloons had to be hand-dipped for the film. (I wish they would reintroduce the marbled balloons.)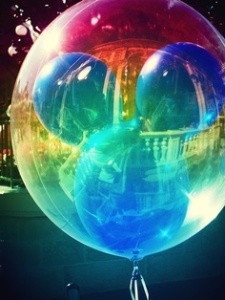 "Balloons are happy and when done in the right way, create joy for both children and adults. Most people have difficulty with inflating and tying even one balloon so when they see hundreds or thousands perfectly inflated and arranged, it creates its own magic and takes them to a place that nothing else can. That is something I learned on my first day working at Disneyland and continues to be just as true today almost 45 years later." – Treb Heining
For the full interview, follow these links:
http://www.mouseplanet.com/10554/The_Story_of_the_Mickey_Mouse_Helium_Balloons_Part_One
http://www.mouseplanet.com/10559/The_Story_of_the_Mickey_Mouse_Helium_Balloons_Part_Two
(1) Winnie the Pooh by A. A. Milne, "In Which Eeyore Has a Birthday and Gets Two Presents", (c) 1926
(2) Walt Disney's Disneyland by Martin A. Sklar, (c) 1969 Walt Disney Productions