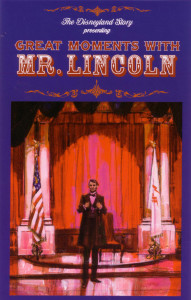 Since we celebrate the birth of two of our country's most beloved presidents, I thought it would be a good time to focus a little on Great Moments with Mr. Lincoln. The show was sponsored by the state of Illinois and created for the 1964 New York World's Fair. Great Moments with Mr. Lincoln features an Audio-Animatronic Lincoln whose face was sculpted by Blaine Gibson using a life mask made by Leonard Volk in 1860 (prior to Lincoln's swearing in as President).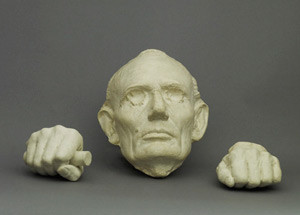 The inspiring speech was compiled from four separate addresses by the show's writer and producer, James Algar. Algar wanted the show to focus on the meaning of the United States Constitution, and is currently presented as follows: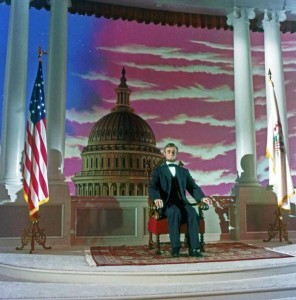 "The world has never had a good definition of the word liberty, and the American people, just now, are much in want of one. We all declare for liberty; but in using the same word we do not all mean the same thing."
Sanitary Fair Address at Baltimore, April 18, 1864
"What constitutes the bulwark of our…liberty and independence? It is not our frowning battlements, our bristling sea coasts,…These are not our reliance against…tyranny…Our reliance is in the love of liberty which God has planted in our bosoms. Our defense is in the preservation of the spirit which prizes liberty as the heritage of all men, in all lands, everywhere. Destroy this spirit, and you have planted the seeds of despotism around your own doors."
Speech at Edwardsvill, IL, September 11, 1858
 "At what point shall we expect the approach of danger? By what means shall we fortify against it? Shall we expect some trans-Atlantic military giant, to step the ocean, and crush us at a blow?"
  Never!
  All the armies of Europe, Asia and Africa combined,…could not by force, take a drink from the Ohio, or make a track on the Blue Ridge, in a trial of a thousand years.
    At what point then is the danger to be expected? I answer, if it ever reach us, it must spring up amongst us. It cannot come from abroad. If destruction be our lot, we ourselves must be its author and finisher. As a nation of free men, we must live through all times, or die by suicide."
Young Men's Lyceum Address, January 27, 1838
 "Neither let us be slandered from our duty by false accusations against us, nor frightened from it by the menaces of destruction to the Government nor of dungeons to ourselves.
 Let us have faith that right makes might, and in that faith, let us, to the end, dare to do our duty as we understand it."
Cooper Institute Address, February 27, 1860