In 1939, The Golden Gate International Exposition in San Francisco displayed the Thorne Room Miniatures by Mrs. James Ward Thorne. Creating miniature scenes became a popular hobby in the 1920s, due to a dollhouse given to Queen Mary of England in 1924,. The actress, Colleen Moore, was known for her Fairy Castle – which  several movie studios aided in the design, including the Disney Studio.
After visiting the exposition, Walt was so intrigued by the miniatures, he began collecting and creating his own vignettes. Thus sparking an idea to create a traveling show, "Disneylandia," that would feature miniature sets and teach viewers about the development of American ideas of work, comfort, domesticity, and urbanism. This started with a scale model of Granny Kincaid's cabin from "So Dear to My Heart." Walt personally crafted Granny's cabin with its hearth, rag rug, spinning wheel, and exterior views through the windows. But, even with the detail, the cabin was boring.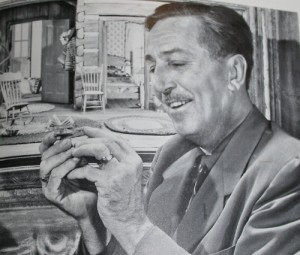 So, it was decided to create a tiny man who could dance a Vaudeville style number – thus making miniatures that moved. The movement was based upon an antique clockwork bird that Walt brought back from New Orleans. Roger Broggie and Wathel Rogers used their magical engineering abilities to bring a nine-inch figure to life on a Grand Opera style stage. To ensure the movement of the figure was accurate, Buddy Ebsen was brought into the studio to be filmed while dancing in a gridded room.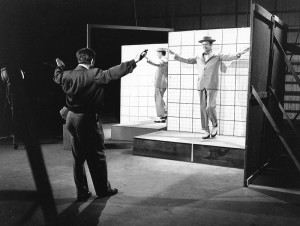 "Project Little Man" was completed and designs were started for a barber shop quartet scene. In fact, an inventory of Walt's desk discovered plans to build twenty-seven window box sets for the exhibit. But the reality of freight costs and maintenance issues of a traveling show made the idea fizzle. Disney also became tired of playing with the toys and decided, "We're going to do this thing for real!" Thus, his new dream of Disneyland began in earnest. Today we see the technology from "Project Little Man" still in use as Audio-animatronics.