Welcome to those of you joining me from Adventures in the Great Wide Somewhere, and those of you just hopping aboard. I am the final stop on our Magical Blogorail.  This week we are providing you with our Top 5 Tips to Visiting Disney During Spring Break!  I'm going to share my tips for experiencing the Epcot International Flower & Garden Festival with your family.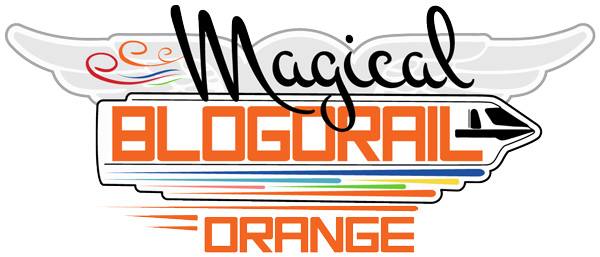 This year the Epcot International Flower & Garden Festival kicks off on March 5th, just in time for Spring Break travel, and runs through May 18th.  While many people might think the festival is geared towards adult guests, there is a TON of stuff for children of all ages to participate in throughout Epcot!  And, you don't have to be a gardener or possess a green thumb to enjoy all that it has to offer.   With gorgeous displays, interactive play areas, and delicious food, it is truly a festival that the entire family can visit together.  We were able to travel to the festival during my Spring Break last year, with our then 3-year old, Connor, in tow and had a wonderful time.  I had always figured the festival was for adults, and I was quite happy to be proven wrong!
So, let's get started!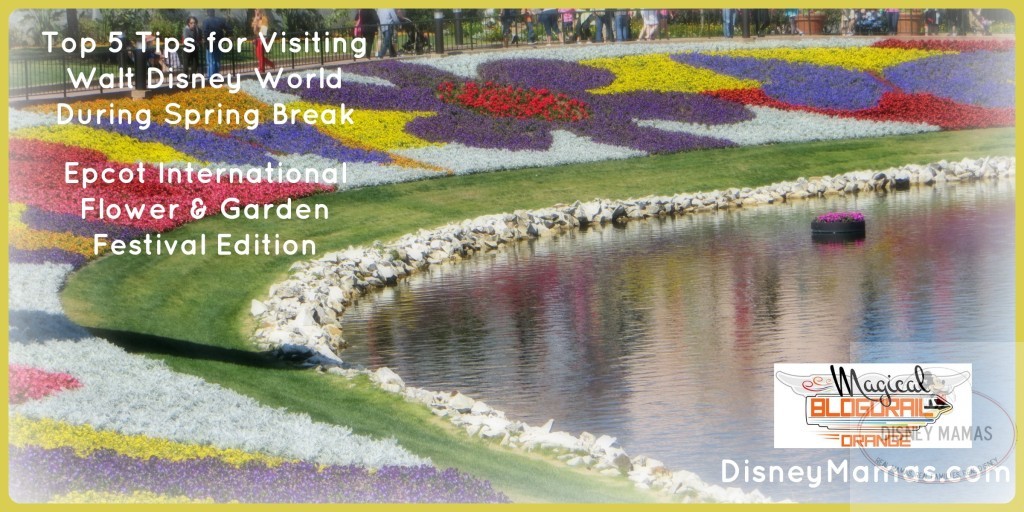 1.  Let Your Little Ones Play in the Interactive Play Areas – This year's festival features two amazing play areas for children, with plenty of seating for Mom and Dad.
Back this year is Mater's Parts, Plants & Play Garden, which features topiaries of favorite Cars characters, as well as climbing structures and games.  Mater's Parts, Plants & Play Garden is located near Test Track, and relatively close to the Festival Center.  (Hint, leave the kids with the spouse and check out the Festival Center yourself, but be aware that is closes at 5:00!)
The featured play area this year is Mike & Sully's Monstrous Garden.  Located on the walkway between the Imagination Pavillion and World Showcase this play area is centrally located and easily accessible.  If it is anything like last year's Oz the Great and Powerful play area it will be completely fantastic.  Expect some fantastic shaded lounge chairs for adults, as well as some uncovered benches and chairs, a soft AstroTurf ground, and plenty for kids of all ages to climb on and through, slide down, jump on and more.  We spend hours at the Oz play area and I can tell you it was one of the most enjoyable activities of our entire trip.  And, it is located close enough to the Canada Pavillion for you to send someone off to retrieve spiked Dole Whips (this year chose from Myer's Dark Rum or Parrot Bay), and frozen Dessert Violet Lemonade for the kids (which is absolutely delicious) from the Pineapple Promenade booth.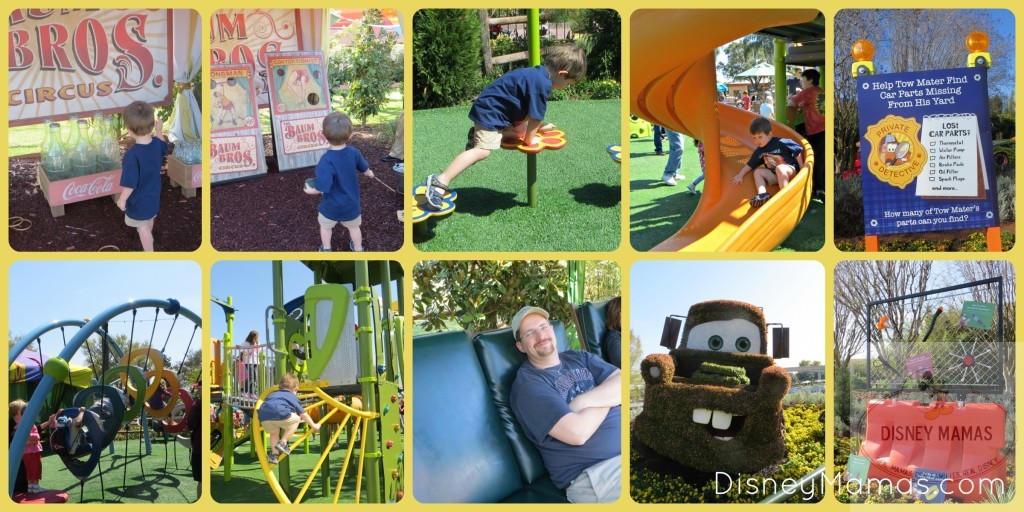 2.  Sample the Spring-Fresh Food and Beverages – Last year Epcot plussed the Flower & Garden Festival by adding Outdoor Kitchens and food kiosks throughout the park similar to those featured at the Food & Wine Festival each fall.  This year they are back, with even more to offer.
One thing I really, really appreciated with these locations was the availability of fresh, healthy foods, many of which appeal to young children.  Connor couldn't get enough of the Frushi offered at the Japan Pavillion, and his other favorites included the Baked Brie in the UK (sadly this one doesn't appear to be on the menu this year), the frozen Dessert Violet Lemonade, and the Pork Sliders in the American Adventure.   We had a lot of fun snacking our way around Epcot while looking at the topiaries and taking in the festival activity stations.
3.  Take in Some Music During the Flower Power Concert Series – During the weekends the American Garden Theatre comes alive with familiar musical acts from the 60s, 70s, or 80s.  The concerts are upbeat and dancing is definitely encouraged.  Little ones love this, as it allows them the opportunity to show off their killer dance moves, and there is nothing cuter than toddlers dancing their little hearts out.   Adults love hearing acts from their "younger days".  Concerts take place at 5:30PM, 6:45PM and 8:30PM on Friday, Saturday and Sunday evenings.
This year's concert schedule features:
The Guess Who on March 7, 8 & 9
Gary Lewis & the Playboys on March 14, 15 & 16
The Orchestra Starring Former Members of ELO on March 21, 22 & 23
The Lovin' Spoonful on March 28, 29 & 30
Paul Revere & the Raiders on April 4, 5 & 6
Village People on April 11, 12 & 13
The Grass Roots on April 18, 19 & 20
Herman's Hermits Starring Peter Noone on April 25, 26 & 27
STARSHIP Starring Mickey Thomas on May 2, 3 & 4
Chubby Checker & the Wildcats on May 9, 10 & 11
Alan Parsons Live Project on May 16, 17 & 18
4.  Spend Time Enjoying the Character & Seasonal Topiary Displays – When I was little our trips to Walt Disney World were topiary heavy.  My little sister, Megan, was completely obsessed with them.  Obsessed.  In the days of film cameras I'm fairly certain we still managed to come home with more photos of topiaries than of people.  But, her obsession was with good reason.  The topiary displays throughout Epcot during the Flower & Garden Festival are absolutely breathtaking!   Overall the Flower & Garden Festival houses over 100 topiary displays, and they feature everything from Mickey & Minnie in front of Spaceship Earth to Giant Pandas in the China Pavillion.
And, as night falls, the topiaries come alive with twinkling lights, creating a truly magical display through Epcot.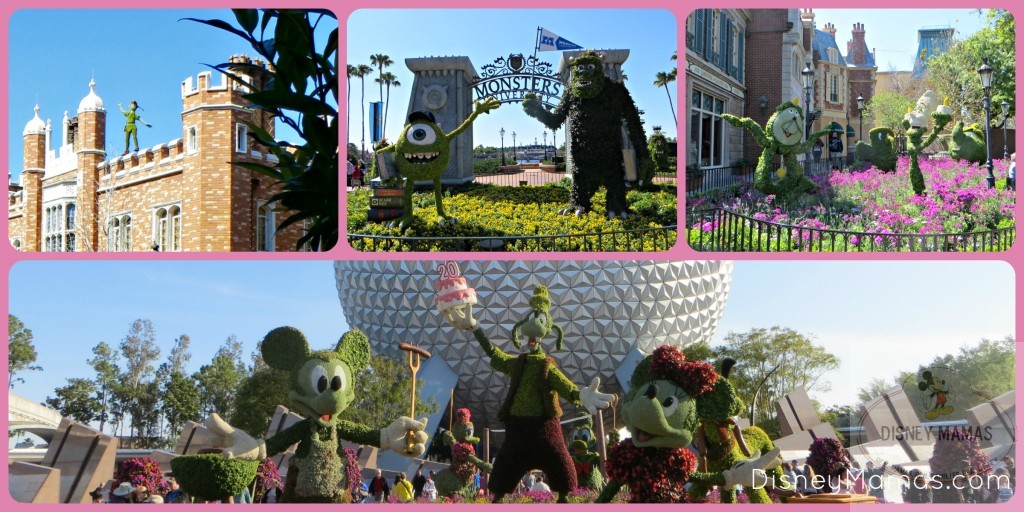 5.  Take Advantage of Kid-Centered Activities – The Epcot International Flower & Garden Festival has also gone to great lengths to create activities throughout the parks that appeal to children as well as adults, and/or created mini-play areas for children to enjoy while adults do a bit of learning or exploring.  These make visiting the festival simpler for families, and quite honestly make the Epcot experience a lot nicer for young children who may otherwise find themselves bored touring the traditional World Showcase.
Not to miss spots this year include: Tinker Bell's Butterfly House where you can experience hundreds of butterflies flitting about in carefully crafted habitats designed to attract different butterfly species, the Backyard Play Garden which features fun activities designed to get you moving and healthy, and the all new Muppet Kid Activities, which are described as a roaming entertainment throughout World Showcase (I can't wait to hear more about this).
And, there you have it!  My Top 5 Tips for a Disney Spring Break ~ Flower & Garden Festival version!  I hope these inspire you to get out and explore what the festival has to offer!  My son, Connor, had a blast at the festival last year, and in our 6-day trip requested that we spend our day at Epcot at least 3 times.  For additional information please visit the official Epcot International Flower & Garden Festival website.  Will you be visiting the Flower & Garden Festival this year?  What tips would you add?
Thank you for joining Magical Blogorail Orange this month. We will be back on March 27th with an all new theme. Keep checking in with our blogs in between loops to keep up to date with our Disney news, photos and stories. If you are looking for more Disney magic, you can make your way over to The Magical Blogorail website to see all our members and their blogs, as well as all our previous loops.
Here is the map of our Magical Blogorail should you happen to have to make a stop along the way and want to reboard:
1st Stop ~ I Am a Disney Nerd
2nd Stop ~ Disney with Babies, Toddlers, and Preschoolers
3rd Stop ~ Capturing Magical Memories
4th Stop ~ Adventure in the Great Wide Somewhere
Final Stop ~ Disney Mamas