Welcome to the next stop on Magical Blogorail Red. Today we are discussing how to manage the crowds at the Disney Parks.
---
As we sit in the middle of Spring Break season, with the summer travel season looming on the Disney horizon, I wanted to share with you my top 5 tips for managing crowds at Disney Parks. I hope you will find these tips useful, and share with me any additional tips you might have in the comments section!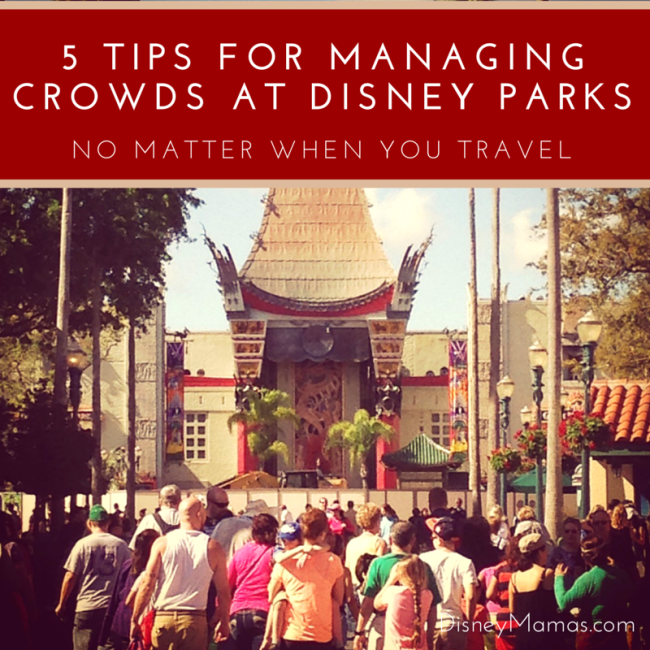 1. Use an Online Crowd Calendar When Planning Your Trip
There are a lot of online tools that can make planning your trip easier and more successful. We ALWAYS utilize an online crowd calendar during the early stages of planning our trips so that we can plan our park days according to which parks are anticipated to be the least crowded during each day of our trip. A crowd calendar is also helpful in determining whether or not you need a Park Hopper ticket. My family is partial to the crowd calendar on TouringPlans.com and find the nominal annual cost for a premium subscription to be well-worth it when planning a trip to Walt Disney World or Disneyland.  The website also allows you to customize a touring plan that highlites the attractions that you are your travel party are interested in experiencing while eliminating those that don't fit your needs, and it offers helpful suggestions based on the ages and activity level of members of your party.
2. Download the TouringPlans.com Lines App
Part of the benefit of a TouringPlans.com Premium Subscription is that each subscription (WDW or Disneyland) also comes with access to the Lines App by Touring Plans. This app is fantastic for navigating the parks while you are IN them, and allows the user to optimize their schedule to re-route them to the attractions on their "must-do" list in an order that likely result in shorter wait times. We have used both the Walt Disney World and Disneyland apps during our respective trips, and always find that we wait in line far less than anticipated, particularly considering that we tend to travel during the weeks of Thanksgiving, Christmas, or Spring Break and during the summer. We also find that the Lines app has more accurate wait times than MyDisneyExperience's mobile app and any Disneyland wait time app we have downloaded.
3. Take Advantage of Morning Extra Magic Hours
This is a tip that is probably old hat to everyone, but it really does beg repeating. You don't necessarily need to use them at each park, but figure out when and where they will benefit you and plan accordingly. We SWEAR by Morning Extra Magic Hours in our family for Magic Kingdom. Arriving ahead of park opening at Magic Kingdom has many advantages. You get to see the opening show on the train station platform which is just fun, you get to take a more leisurly stroll down Main Street U.S.A. and you can ride several attractions in a short amount of time. For example, during our recent spring break trip we were at Magic Kingdom at 6:45am for rope drop. Between the EMH between 7:00am and 8:00am we were able to ride Peter Pan's Flight twice, and  it's a small world, Ariel's Under Sea Adventure, Tomorrowland Speedway and Buzz Lightyear once. That's six attractions in an hour! Then in the next two hours between 8:00am and 10:00am we were able to ride Buzz Lightyear three more times, stop at Starbucks for a breakfast snack, ride Jungle Cruise once, participate in Pirate Training, get a Pirate's League make-over. This also afforded us the time to take a break from the parks in the afternoon and head to our resort for some swimming.
4. Schedule Your FastPass+ Reservations for Later in the Day
Another advantage of taking advantage of Morning Extra Magic hours or the first couple of hours that the park is open is that the morning crowds are significantly lighter than afternoon and early evening crowds. Because of this you really don't need to schedule your FastPass+ selections for Walt Disney World for morning hours. Instead, save them for afternoon and early evening! We try to schedule ours for between 5:00pm and 9:00pm on days we are planning to take a mid-day break, and 1:00pm and 5:00pm on days we are not planning on taking a break. It can be tempting to schedule for the morning, and rely on the FastPass+ kiosks to schedule additional options, but it has been our experience that the attractions left are attractions that don't have the popularity and therefore don't have the long lines anyway. Knowing that you can ride Peter Pan's Flight, Pirates of the Caribbean and Space Mountian in the afternoon or evening when the standby time in close to two hours is a refreshing thing!
5. Take Advantage of Shows and Slower Attactions (Hidden Gems)
In the middle of the day, when the parks are the most crowded it can start to feel incredibly claustiphobic. This is when we like to take in some of the less popular attractions and shows throughout Walt Disney World and Disneyland. And, bonus, many of them are in nice air conditioned theatres where you can get out of the heat, out of the crowds and relax. Throughout Walt Disney World there are a plethorah of options. At Magic Kingdom try Carousel of Progress, Mickey's Philharmagic, Enchanted Tiki Room, Monster's Inc. Laugh Floor and PeopleMover. For Hollywood Studios spend some time in One Man's Dream (my favorite!), Honey, I Shrunk the Kids Movie Set Adventure or Magic of Disney Animation. Enjoy The Seas with Nemo and Friends aquariums, Ellen's Energy Adventure, or any of the World Showcase Players at Epcot. And at Animal Kingdom take a train ride to Rafiki's Planet Watch, play in The Boneyard, wander the Pangani Forest Trail or the Maharajah Jungle Trek, or earn your Wilderness Explorer's badges. The Wilderness Must be Explored! At Disneyland take a trip around the park on the Disneyland Railroad, spend some time in The Disney Gallery, enjoy The Disneyland Story presenting Great Moments with Mr. Lincoln, enjoy the Sleeping Beauty Castle Walkthrough, or spend some time in any of the play areas of Toontown. OVer at Disney's California Adventure you might enjoy the Animation Academy or Sorcerer's Workshop, explore Walt Disney Imagineering Blue Sky Cellar, walk through The Bakery Tour, or play some games on the Boardwalk. You might be amazed to discover that you or a family member finds a new favorite attraction at Walt Disney World or Disneyland. Our son fell in love with Carousel of Progress this past trip!
---
Here is the map of our Magical Blogorail Red |Managing the Crowds at the Disney Parks and Beyond Loop: