Welcome to the first stop aboard Magical Blogorail Red. Enjoy the ride as we share information about the 2015 Epcot International Flower & Garden Festival! The Festival kicked off today, and I'm excited to be making a return visit next week. There are a lot of great new things, and some returning favorites, that I am looking forward to experiencing!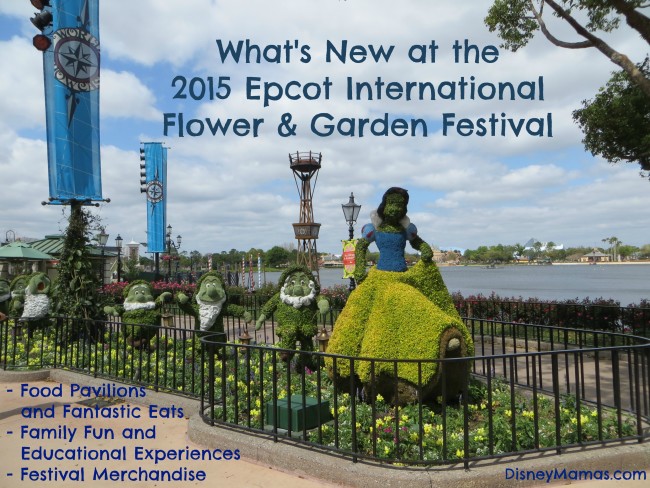 Food Pavilions & Fantastic Eats
The 2015 Epcot International Flower & Garden Festival will feature 11 outdoor kitchens as well as the Intermissions Cafe in the Festival Center. New this year is the Botanas Botanico Outdoor Kitchen, which is serving up dishes with a Venezuelan Flair. Menu items include a Seafood Ceviche (which my husband is excited to try) and a Sweet Yellow Corn Pancake that is calling my name softly.
2015 Epcot International Flower & Garden Festival Outdoor Kitchens
Botanas Botanico – Located between Morocco & France
Fleur de Lys – Located in the France Pavilion
Florida Fresh – Located near the Germany Pavilion
Hanami – Located in the Japan Pavilion
Jardin de Fiestas – Located in the Mexico Pavilion
Lotus House – Located in the China Pavilion
Pineapple Promenade – Located near International Gateway
Primavera Kitchen – Located in the Italy Pavilion
The Smokehouse: Barbeque and Brews – Located in the American Pavilion
Taste of Marrakesh – Located in the Morocco Pavilion
Urban Farm Eats – Located near Future World West
Now, when it comes to the food offerings at the pavilions there are countless options! I'm most excited about the return of Frushi, which can be found at Hanami Outdoor Kitchen! This was one of my favorite treats at the 2013 festival, and this year I'm not sharing! Other returning favorites include: Pulled Pig Slider with Cole Slaw from The Smokehouse, Frozen Desert Violet Lemonade from Pineapple Promenade and Tacos al Pastor from Jardin de Fiestas. In addition there are numerous new festival offerings I can't wait to try! Among the new treats I'm particularly excited about the Falafal Pocket at Taste of Marrakesh, Beef Brisket Burnt End Hash with Cheddar Fondue from The Smokehouse, and the Florida Blueberry and Lemon Curd Tart at Florida Fresh.
Disney Food Blog has put together a comprehensive list of food options that highly recommend checking out! Make sure to eat before checking it out, because it is guaranteed to make you hungry!
Family Fun & Educational Experiences
Making a return this year are both Mike & Sully's Monstrous Garden and Cactus Road Rally with Mater and Lighting McQueen Play Garden's. In 2013 my son had an absolute blast playing on the Oz and Cactus Road Rally Play Garden's and is quite excited to get to play again. Chris and I enjoyed sitting in the covered seating areas of the Oz play garden, casually eating Dole Whip with Rum and drinking Desert Violet Lemonade and are excited to relax there again.
Several new topiaries are making their debut this year as well! In addition to the returning favorites be on the lookout for Anna & Elsa, Miss Piggy, Winnie the Pooh, and a new Goofy, Chip & Dale topiary. And don't forget that the topiaries come alive at night with twinkling lights! It's a magical experience for the whole family.
Also worth checking out are the various gardens throughout Epcot. Many will feature educational activites, or smaller play areas for children. New gardens this year include the Prehistoric Plants, Disney Pixar's Inside Out Emotion Garden, and the Shakespeare Garden to name a few.
One more great family feature for the 2015 festival is the Monkey Kingdom Sand Sculpture presented by Disneynature. We loved the Brave Sand Sculpture back in 2012 and I can't wait to see this one!
Weekends will bring some additional educational activites to the 2015 Epcot International Food & Wine Festival when they hold hands-on presentations on the Greenhouse Stage as well as demonstrations on the Fresh Epcot Stage. Fridays through Sundays you will also find gardening and horticulture specialists in the Festival Center who can provide tips and tricks for creating the perfect backyard garden.
Also new this year are free cooking demonstrations at 3:00 every Friday, Saturday and Sunday. These short (approximately 15 minutes) culinary demonstrations will be held at the Port of Entry store at the entrance to World Showcase. Demonstrations will be held by Disney chefs, where they will show you how to prepare one of the delicious dishes featured at the festival.
And don't forget about the Garden Rocks Concert Series, featuring a different musical act from decades past.
Festival Merchandise
What special event would be complete without featured merchandise? This year's Flower & Garden Festival features some incredible new merchandise, and it has been slowly debuting on the Disney Parks Blog since the middle of February. I'm particularly excited about the featured festival cookbook! The Taste of Epcot cookbook will feature festival recipes from around the world. Additional merchandise features the Sorcerer Mickey topiary from the Epcot entrance, including a pair of green grass Mickey ears topped with his blue Sorcerer Hat, collectible pins featuring additional topiaries, pavilion specific merchandise, an adorable Duffy bear dressed in a flower costume, a limited edition Magic Band featuring Anna and Elsa, a line of festival specific Dooney & Burke purses, and much, much more. I'll be picking up the Mickey's Landscape Services baseball cap for my husband.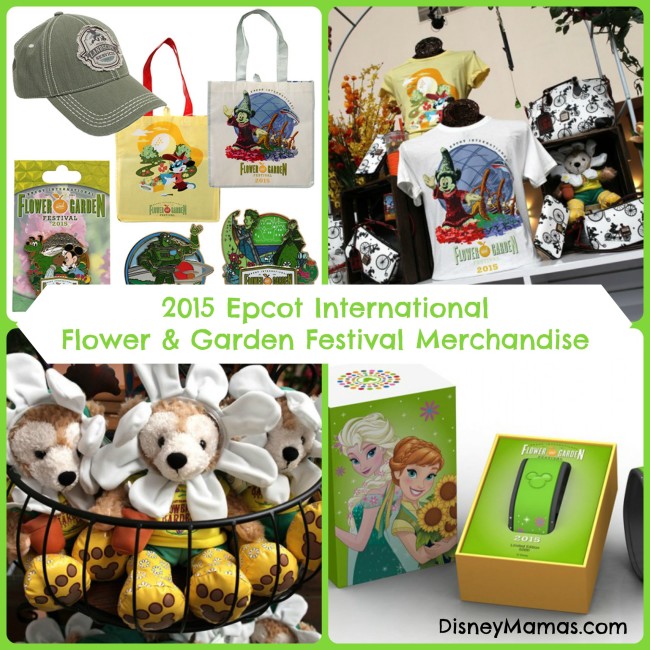 Well, are you excited yet!? Will you be attending the 2015 Epcot International Flower & Garden Festival? I'd love to hear what you are most looking forward to this year! Drop a comment below or visit us on Facebook to let us know!
Thank you for joining me today. Your next stop on the Magical Blogorail Loop is Home is Where the Mouse Is.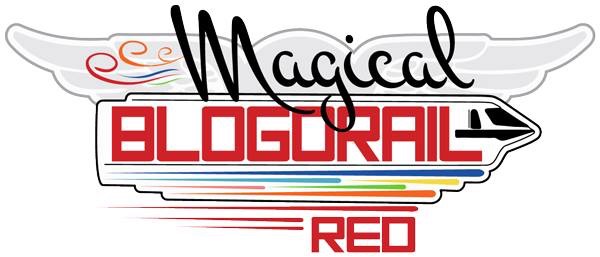 Here is the map of our Blogorail should you happen to have to make a stop along the way and want to reboard: