Welcome to the 2014 Virtual Food & Wine Festival! Last year a group of Disney Bloggers got together to create this wonderful epicurean virtual event, and we are thrilled to be joining them this time. We will be sharing our special culinary talents as we prepare a virtual version of Epcot's popular International Food & Wine Festival! Here at DisneyMamas.com we are preparing Garlic Shrimp with Tomato, Lemon and Broccoli Rabe from Australia. This recipe was featured in the 2013 Festival Cookbook. We paired it was a Mango Lassi from Sanaa at Animal Kingdom Lodge Kidani Village for our son, and the Aulani Sunrise Cocktail for my husband, Chris, and myself.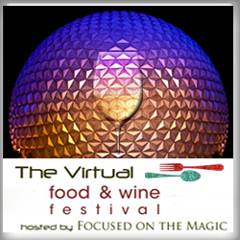 Over the summer Chris and I did some food sensitivity testing and found out that between us we have sensitivities to gluten, wheat, eggs, dairy and soy. As a baker this has made for some interesting transitions. So, when I started looking for a recipe for our virtual food & wine festival I knew it needed to be something that was basically allergen-free. I started looking for recipes, and knew I had found a winner when I stumbled across this incredibly shrimp recipe. And, as a bonus, it was quick and easy, and beyond delicious (yet a bit too spicy for our son).
The key to this recipe is quality shrimp, and the fresher the better. You want about a pound of shrimp from the butcher/seafood counter at your grocery store. When looking at the display, the number displayed on the sign with the shrimp is your indication of how many shrimp you are getting per pound, and for this recipe you want just over a pound of medium shrimp. Along with your shrimp you want some fresh broccoli rabe, or broccolini if you can't find the broccoli rabe, a whole lemon, chopped garlic and a jar of lovely sun-dried tomatoes in olive oil. Oh, and chili powder, salt and pepper.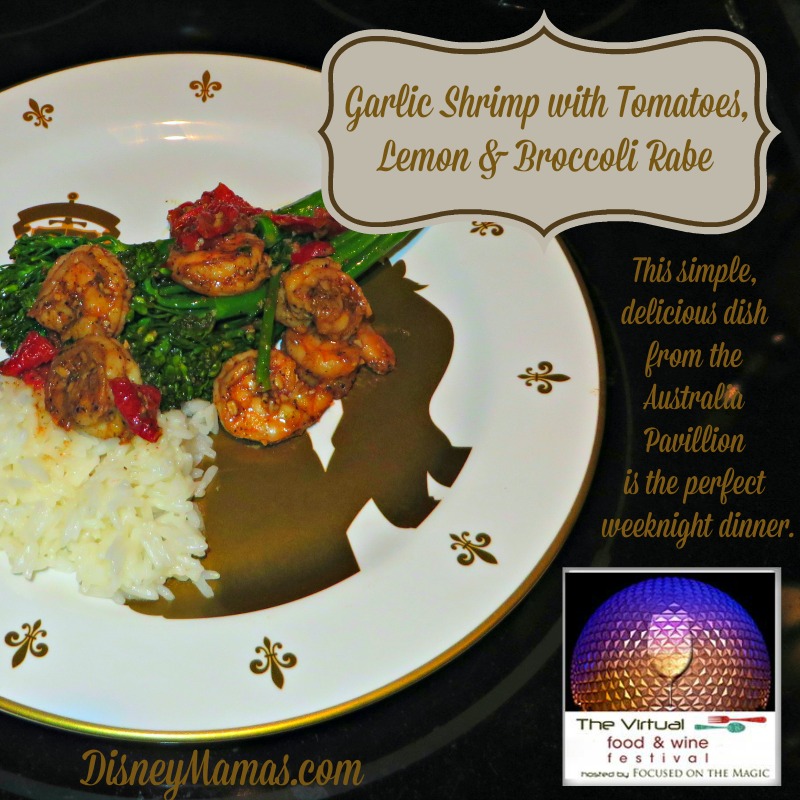 Garlic Shrimp with Tomatoes, Lemon & Broccoli Rabe
Serves 8
Ingredients:
24 medium shrimp (16/20), peeled & deveined
1 tablespoon coarse salt (I used course-ground sea salt)
1 tablespoon freshly ground black pepper
1/4 tablespoon chili powder (use less if you are serving people who don't particularly care for spicy foods. These definitely had a kick!).
3 tablespoons extra virgin olive oil
1 large jar sun-dried tomatoes, divided

3 tablespoons oil from the sun-dried tomatoes
1/2 cup sun-dried tomatoes, drained & chopped

2 tablespoons chopped garlic (you can buy a jar of already chopped garlic. It saves a lot of time and keeps in the fridge).
3/4 pound broccoli rabe, cut into thirds
Juice & zest of 1 medium lemon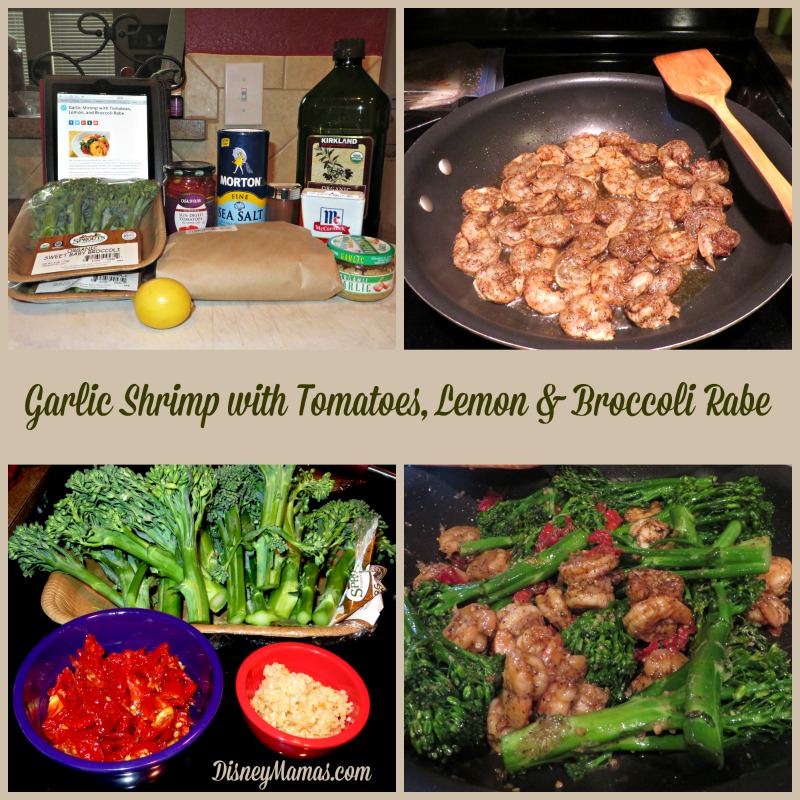 After gathering your ingredients, toss shrimp into a quart-size ziplock bag with your salt, pepper and chili powder and shake well to evenly coat the shrimp.
Heat your olive oil and sun-dried tomato oil in a large skillet or saute pan over medium heat.
Add your shrimp and cook for about 2 minutes, tossing at least twice.
Add your broccoli rabe, sun-dried tomatoes and chopped garlic to the shrimp. Cook an additional 2-3 minutes, tossing at least twice. I turned the heat off and put the lid on my skillet for 3 minutes or so to help steam the broccoli rabe. I knew my son wouldn't eat it if it were too crunchy. This is totally optional.
Remove from heat and stir in the lemon juice and zest.
Serve with a side of your choice. We served ours on top of some jasmine rice.
Aulani Sunrise Cocktail
Serves 2
Ingredients:
16 ounces pineapple juice
4 ounces vodka
2 ounces grenadine syrup
2 ounces sweet & sour
Pineapple wedges for garnish
Add all liquid ingredients to a shaker and fill with ice. Shake vigorously for at least 30 seconds, then pour into glasses and enjoy!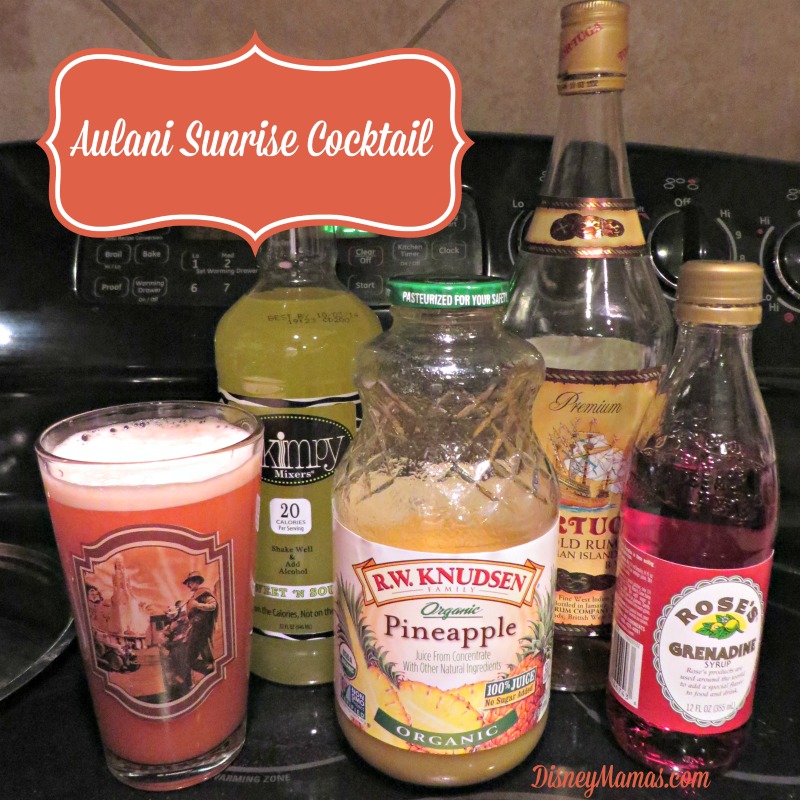 Kitchen Note: We aren't really vodka drinkers, so we substituted the vodka for rum and it was wonderful. Next time I'm going to use coconut rum to see what difference that makes!
Mango Lassi
Serves 2
Ingredients:
1 cup mango chunks (we used frozen)

If using fresh mango you may need to use a nylon sieve to rid stringy fibers.

pinch of salt
1/2 cup cold mik
1/2 cup plain yogurt
2 teaspoons sugar (add more to taste)
Add all ingredients to a blender and blend until smooth. Pour and enjoy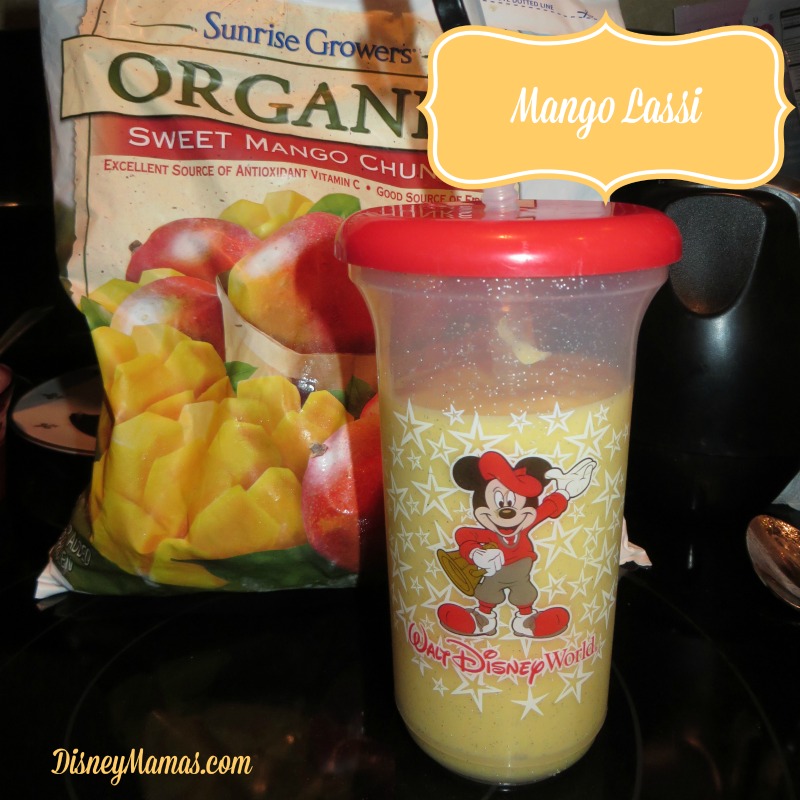 Kitchen Note: We made this allergen free by substituting the milk for coconut milk and the yogurt for coconut yogurt. It was delicious and only added to the tropical taste.
Overall this meal was quick, simple and delicious! If you give it a try be sure to stop back and let me know what you thought of the taste!
I hope you'll stop by the other pavilions in our Virtual Food & Wine Festival over the next few weeks! Our International Marketplace is brimming with flavor!