I'm going to admit something shocking…I HATED wedding planning when Chris and I got married in 2004. I dreaded meeting with vendors, picking out flowers, trying on dresses, making decisions and pretty much every wedding planning detail you can imagine. Except cake tasting. Because I love cake. I just couldn't figure out why people got so excited about all the little details. To me it was all too much. The wedding industry was forcing me to make a much larger production of my wedding than I wanted to, and it made me absolutely crazy. So, when I started doing the online planning, and then the actual planning, for our Vow Renewal with Disney Fairy Tale Weddings I could not believe how incredibly simple they made the process. Our Escape Collection Vow Renewal was so easy to plan that I could scarcely believe it.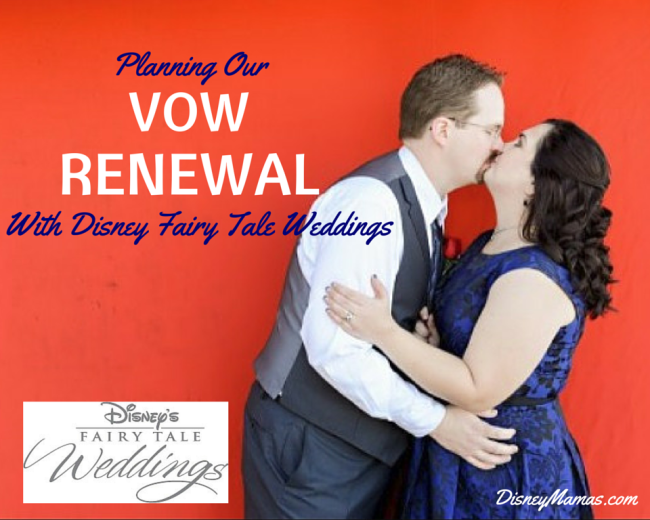 Once Chris and I had settled on an Escape Collection Vow Renewal we sent off an inquiry to Disney Fairy Tale Weddings through the form on their website with specific information about our event such as the date, time and location. Within about 48 hours we received a reply with additional information, and asking that we confirm our expected date and anticipated guest count for an Escape event. Once that had been sent back we quickly heard back from a Disney Fairy Tale Weddings Consultant and started the process of officially getting the event on the calendar. Our consultant, Pam Pearce, was fantastic. We found out quickly that our desired date, November 27th, was not available since it happened to fall on Thanksgiving Day (nice to know that they get the holidays off too), so we discussed date options with Pam and settled on Friday, November 28th at 10AM at Sea Breeze Point. Besides discussing the date, time and location, Pam also helped us through all the initial planning questions, and explained all the portions of the event to us. We officially executed a contract with Disney Fairy Tale Weddings right about a month after starting the entire process.
Then we really started planning things!
We were assigned our official wedding planner, Kristin Kimberlin, and she provided us with all the tools we would need to customize our Escape event to fit our needs. Kristin was incredible, and so patient with our never-ending questions. Anything she wasn't sure she followed up with through the right department and got back to us quickly. She was a joy to work with.
For each of the Disney Fairy Tale Weddings collections there are a set of options for the couple to go through in preparation of their day. For the Escape Collection, these include choosing your location, bridal bouquet, groom's boutonniere, cake, beverages, music, transportation, and photography package. You can make all of your choices using the online tools available on the Disney Weddings website, or you can do them on paper through the planning kit sent via email from your planner.
We pretty much stuck with the basic Escape event inclusions, only adding a boutonniere for my father, who was officiating, and our son, and also added on a few soft drinks and juices to our beverage package, and Swarovski Mickey's to my bouquet and Chris's boutonniere. Because let's be honest, what's a Disney Wedding event without a little Mickey in the flowers.
For a while we toyed with the idea of holding a formal reception, and went through the whole menu selection and deposit. Ultimately we wound up cutting the reception as both my parents and Chris and I were diagnosed with some food sensititivies that were going to make it a bit challenging to stick with the menu options available, and when we found out for sure that it was just going to be us and my family it seemed like an unnecessary expense. So, we booked a lunch at Sanaa after the event, and it was fabulous, and just right for our party.
After we finished all of our initial planning we were pretty much in a waiting game until closer to our event. We touched base with Kristin periodically, just to keep the communication lines open, and then had a final planning phone call with her a couple of weeks prior to our event in order to go over the BOE and answer any last minute questions. It was all so easy! The week of the event we talked to Kristin on our arrival day at Walt Disney World, and then again the night before just to confirm details, and then Friday happened without a hitch. We'll talk more about out actual vow renewal in another post though, because there is a lot to share!
Planning our vow renewal with Disney Fairy Tale Weddings was a stress-free process all around. Disney seriously makes weddings and vow renewals so easy! For anyone considering a Disney event and feeling a bit overwhelmed by the process, relax. Give them a call, talk to Disney Fairy Tale Weddings, and rest assured that they have everything under control. Even my mom, who is a wedding planner and florist, was impressed by the overall ease of planning and execution.